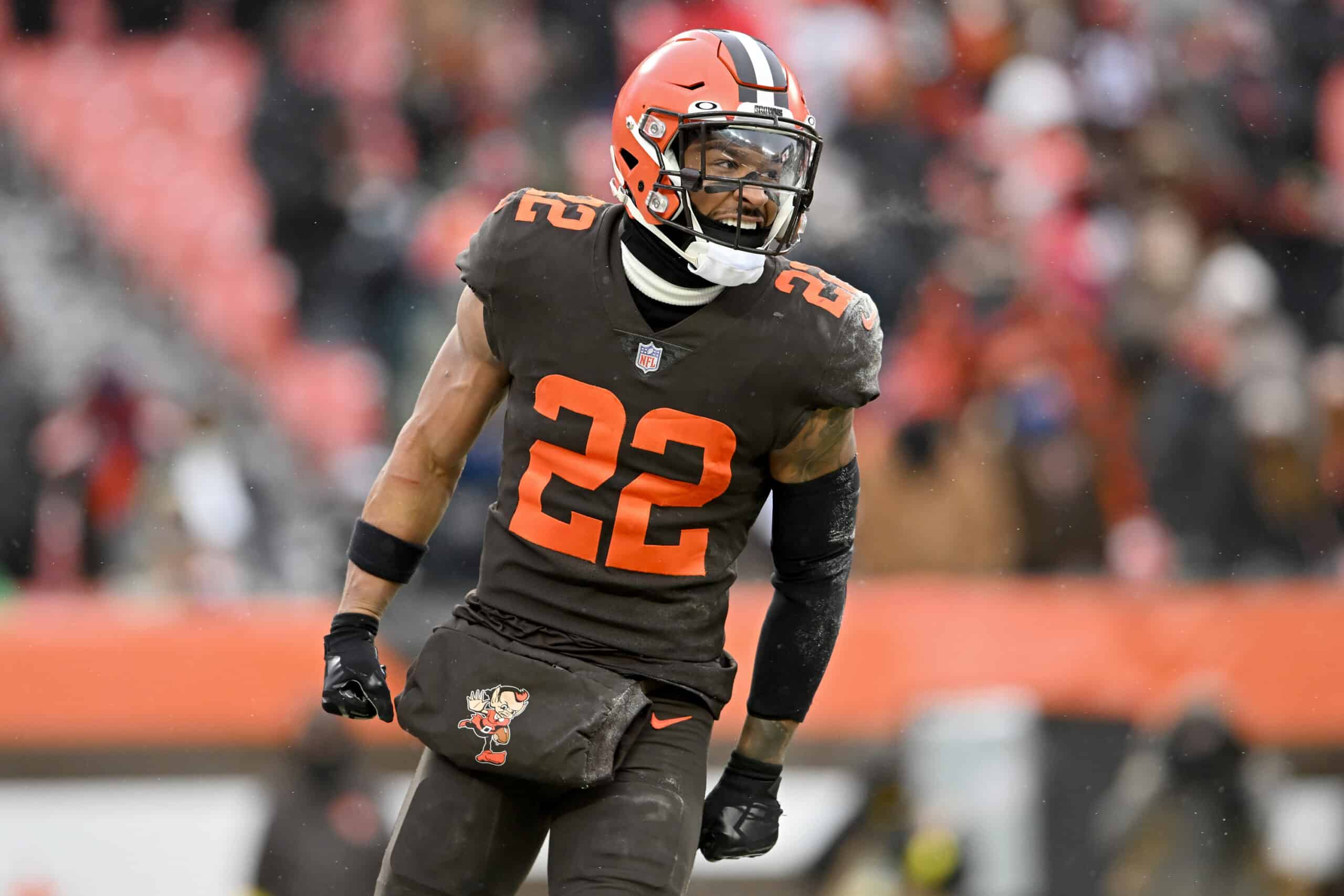 Cleveland Browns safety Grant Delpit started the year with a lot riding on this season.
Inconsistent play and an inability to stay on the field plagued his first two seasons.
Finally, in year number three, Delpit is starting to blossom.
They became clear to even the most casual observer on Sunday as Delpit recorded the first multi-interception game of his professional career.
It's also the first time Delpit has tallied an interception in back-to-back weeks since entering the league.
Many now think Delpit can be a key piece of the Browns' defense moving forward.
One encouraging sign for the #Browns defense is that S Grant Delpit continues to put together solid performances. The third year pro is really starting to become a force on this defense. pic.twitter.com/ZpnvMIUQZB

— Tyler Johnson (@T_johnson_TJ) December 30, 2022
Is Delpit's emergence this season for real, or should fans temper future expectations?
Making Plays
Looking back at Delpit's strengths and weaknesses coming out of the 2020 draft, they line up with the start of his pro career.
He's struggled in coverage, sometimes to a concerning degree, but has remained physical with his play.
The fact he's picked off the opposing quarterback in consecutive games for the first time as a pro shows the strides he's made with his coverage ability this season.
The Grant Delpit INT #Browns pic.twitter.com/1q1vGvtymP

— Browns fan UK (@brownsfanuk) January 1, 2023
DBU member Grant Delpit pic.twitter.com/b56rfOYeKZ

— Boppa 🧟‍♂️ (@ihatebbls) December 24, 2022
Granted, the pick against New Orleans came off a tip, but being in the right place at the right time is worth something.
Plus, Delpit only continues to get better against the run as he's recently displayed.
I really like watching Grant Delpit play in the box. He makes a hell of a play here on 3rd & short. I can't stop wondering if another defensive coordinator could get much more out of this kid. #Browns pic.twitter.com/Mk0XlWdza3

— Roberto Shenanigans (@Rob_Shenanigans) December 24, 2022
Grant Delpit was straight-up balling today. #Browns https://t.co/38Ux8q6E8f pic.twitter.com/Zs3HXFPvQy

— Roberto Shenanigans (@Rob_Shenanigans) January 1, 2023
The jump in Delpit's ability to just make plays happen this year has been astounding.
Last year, Delpit finished with 66 total tackles, 3 pass deflections, and 1 interception.
This year, he's already up to 103 total tackles with 10 pass deflections and 4 interceptions.
Safeties need to make things happen defensively in today's NFL.
Delpit's been doing that all season long.
Best Ability is Availability
"Your best ability is availability", as the great Bill Parcells once said.
Here in 2022, Delpit has embodied that mentality.
Grant missed his entire rookie season after an Achilles injury in August of 2020.
Fast forward a year later as Delpit continued to battle bumps and bruises but did appear in 15 games with 7 starts in 2021.
This season, Delpit has started all but one game for the Browns defense.
He's also been involved in 100% of the defensive snaps each game outside of Week 10 in Miami.
For a guy who may want a contract extension done this offseason, staying on the field has been a huge plus.
An active, healthy Delpit has proven to be of great value to Cleveland's defense.
Braun AND Brains
It's no surprise to see Delpit playing smarter ball with how much more he's been on the field this year.
Back in Week 15, he made an awesome play by shooting past a block from the Ravens' Justice Hill to bring down the ball carrier in the backfield.
Grant Delpit #22 #Browns pic.twitter.com/6rnmPKbVkF

— Brad Ward (@WardonSports) December 26, 2022
It's a really heads up play that isn't exactly coachable; it's just instinct.
As Delpit continues to see more snaps in a starting role, those plays will come more and more often.
What's Next?
Delpit will enter a contract year in 2023-2024 and could be looking at an extension this offseason.
He's due just over $1.5 million next season but continues to see his value rise on a weekly basis.
As a homegrown talent on a defense that needs all the playmakers it can get, I expect Andrew Berry and the front office to work something out with Delpit this winter/spring.