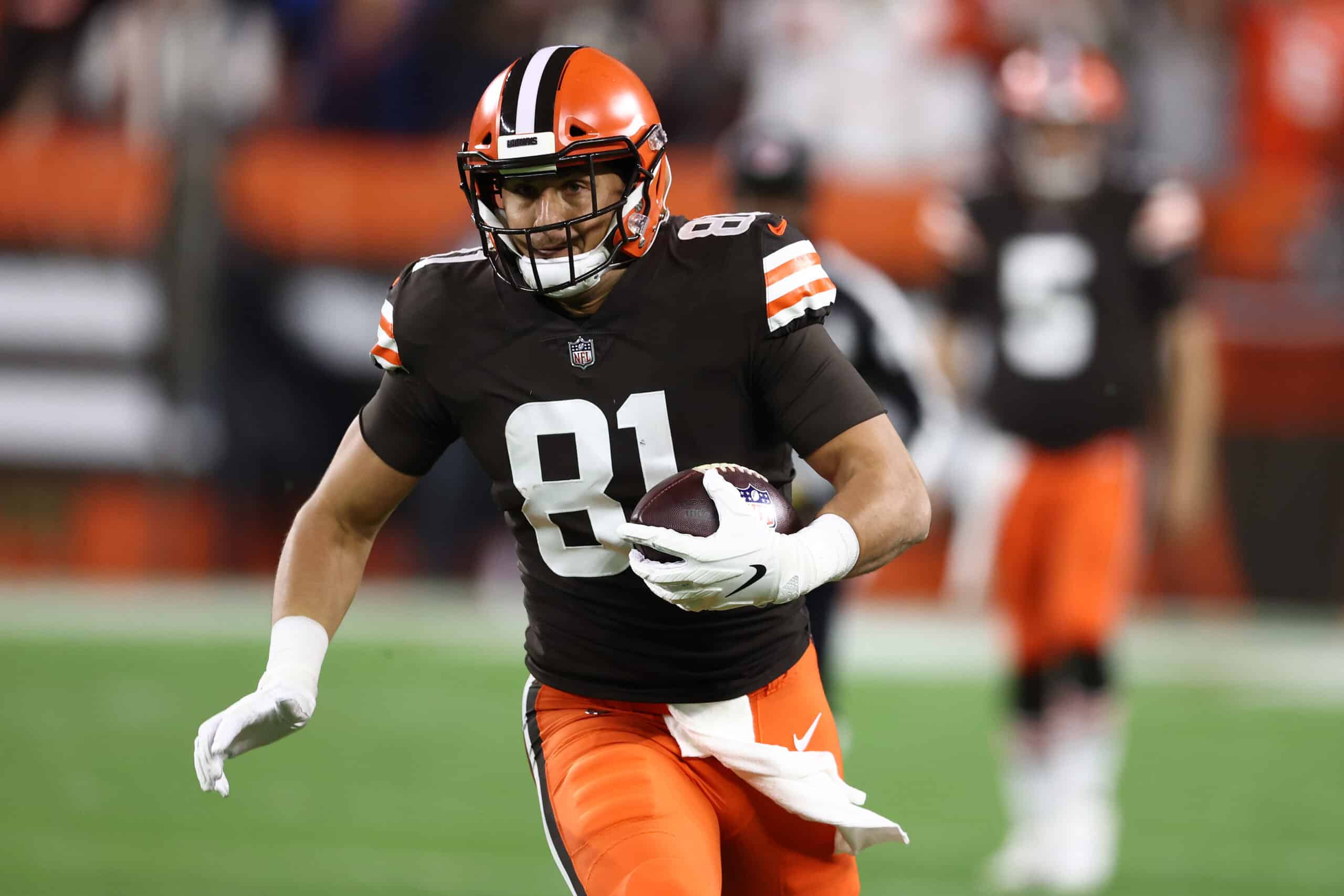 Fan reactions can be brutal when any NFL player has a bad game.
But when a Cleveland Browns player has his worst career season, the wrath of Brown fans sets a new standard.
Such is the case for tight end Austin Hooper, who carries the double whammy of a huge contract and a bad season.
OK, Browns get obligatory drop by Austin Hooper out of way early.

— Tony Grossi (@TonyGrossi) January 4, 2022
Throw in the pending free agency of the more popular teammate, David Njoku, and it gets real ugly.
But while calls to re-sign Njoku and cut-or-trade Hooper are plentiful, they are unrealistic for a couple of reasons.
Andrew Berry put a ton of stock in Hooper to thrive in Kevin Stefanski's tight end-dependent offense.
A lot of disappointments this year, Austin Hooper has to be high on the list though #Browns

— Jonathan Peterlin (@JPeterlin) January 4, 2022
And the bill for an excessive contract comes due in 2022 and 2023.
Berry might find a suitor willing to pay Hooper his $9.5 million salary for each of the next 2 seasons.
But is he willing to eat over $22 million in dead cap hits to dump his overpaid tight end?
Is The Contract Too Big To Trade? 
Berry took a calculated risk in signing Austin Hooper to a big contract in 2020.
He wanted to make a splash and prove the new Browns regime was legit.
Hooper and Jack Conklin were the biggest free agents at positions of need, and Berry got them both.
But to work the salary cap a bit, he used bonuses to defer the impact of Hooper's salary until 2022-23.
Austin Hooper's base contract is $9.5 million next season. #Browns

— Tom Withers (@twithersAP) January 4, 2022
Salary cap hits jump to $13.25 million in those seasons, after using only $4 and $8.5 million in the first 2 years.
But the Browns will take on a $22.5 million dead cap hit over the next 2-to-3 seasons if they cut or trade Hooper.
There is probably some way to mitigate the salary cap hits moving salary to bonuses or something.
But that does not necessarily make a Hooper trade any more attractive financially to the Browns.
The Njoku Factor 
Moving some of Hooper's salary to bonuses could clear more salary-cap space for a David Njoku deal.
Njoku played 16 games this season and matched or surpassed career highs dating to his rookie season.
He gained 4 yards more per catch than Hooper and caught a higher percentage of throws.
Hooper had a career-worst drop percentage and looked like he was running in water late in the season.
Manifesting Austin Hooper's contract going to David Njoku.

— Nick Karns (@karnsies817) January 4, 2022
But the pair have different roles, with Harrison Bryant the closest competitor to displace Njoku.
Njoku improved as a blocker but is unlikely to move into Hooper's block-first role.
Other than a pair of developmental tight ends on futures deals, the Browns only have Hooper and Bryant rostered.
And trading Hooper does not help Cleveland afford Njoku as much as renegotiating Hooper's deal might.
Was Hooper Really That Bad? 
Sometimes, the eye test doesn't jive with a player's statistical output, and stats can deceive about someone's impact.
But Hooper's career-worst stats support the memories of those of viewed Hooper's efforts this year.
Recency bias will keep the early portion of the second Steelers game fresh in our minds when we review the numbers.
Hooper earned a 9.8% drop rate and put up a paltry 62% catch rate on 2.4 receptions per game.
Austin Hooper, oof.

— Camryn Justice (@camijustice) January 4, 2022
But Hooper's subpar season is on track with most of the other Browns' receivers, Njoku being the exception.
Baker Mayfield's injury and awful passing year affected every player across the board.
Hooper is more likely to return to his career averages than repeat the output of 2021 next year.
And he remains a vital part of the blocking game, even if he is over-priced for that particular job.
 Browns Should Keep Hooper Around 
Lost in the "keep Njoku, dump Hooper" argument is the dearth of tight ends on the roster.
Cleveland can ill afford to lose anybody and would do well to re-sign Njoku and Stephen Carlson, at least.
Kevin Stefanski might not have to use 3 tight ends as often in front of a healthy Mayfield and more confident tackles.
But he still uses 2 at a time more than any coach in the league.
Austin Hooper touchdown pic.twitter.com/C8Zwv7yYvf

— Football Nerds (@FootballNerds_) December 12, 2021
Berry will do his due diligence in listening to offers and exploring the draft and free agency for help.
In the meantime, Hooper and Carlson are blockers who can catch (usually).
While Njoku and Bryant are receivers who can block pretty well.
And that's why keeping the band together is probably the Browns' best option.