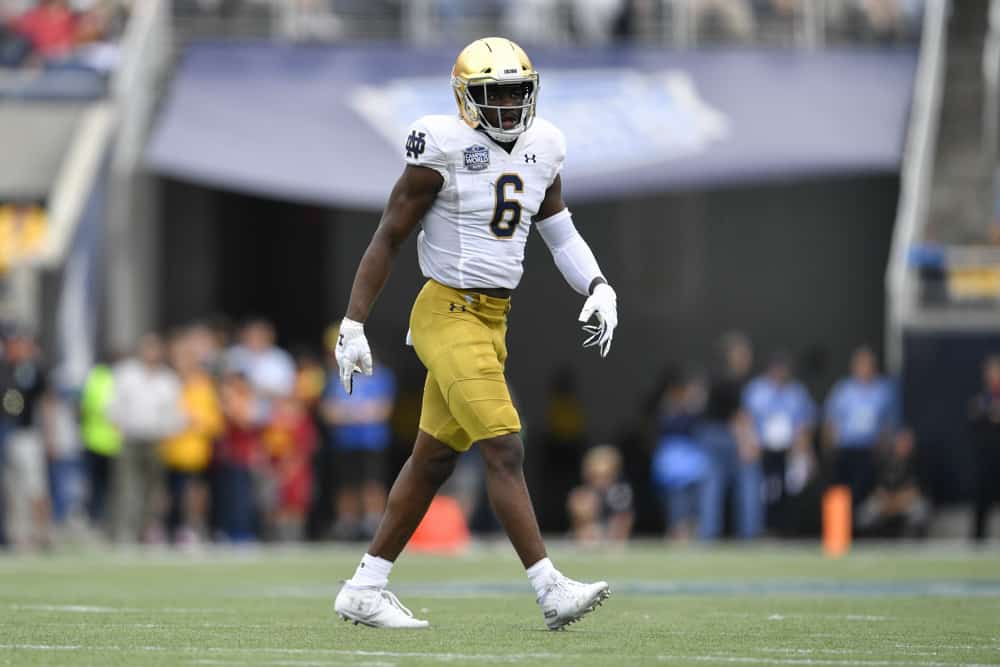 Far be it from us to put extra pressure on any of the Cleveland Browns rookies.
We'll leave that to their teammates, like the Browns' recently acquired linebacker, Anthony Walker.
Count Walker among the throngs intrigued by Jeremiah Owusu-Koramoah and the role he might play.
#Browns Anthony Walker called Jeremiah Owusu-Koramoah an "elite athlete."

Said JOK is just piecing it all together at OTAs, picking up the pace and learning different tools—getting better each day.

Said he reminds him of Darius Leonard.

— Camryn Justice (@camijustice) June 2, 2021
JOK has been called the steal of the 2021 NFL Draft, and lofty expectations are predictable, if unrealistic.
JOK has all the tools: speed, power, smarts, athleticism, and instinct.
But Walker's comparison to the Indianapolis Colts' All-Pro star might be premature.
#Browns LB Anthony Walker on LB Jeremiah Owusu-Koramoah: He's got elite explosiveness. No doubt he'll be a great player.

— Scott Petrak ct (@ScottPetrak) June 2, 2021
Or… it might be dead-on accurate, seeing as how Walker had an up-close and personal look at Leonard the past few years.
Better yet, Walker and Leonard combined for over 220 tackles per season since 2018.
If Owusu-Koramoah steps right into Walker's sidekick role in 2021, linebacker is suddenly a Browns' strength.
Why JOK Reminds Walker of Leonard
Walker didn't just throw a random statement out to the press this week.
He discussed the similarities between Leonard and Owusu-Koramoah's skill sets and ambition.
Both came out of college loaded with highly-touted abilities and resumes.
But they each understood what they didn't understand- how to best utilize those skills in the NFL.
Speaking of Owusu-Koramoah, Walker said,
"Elite athlete as far as explosiveness, quickness, speed, instincts and all of that stuff, he has all of the tools. Now, it's about transitioning the game to the NFL level. We all struggle with it coming in from college and now you're seeing a pro-style offense and understanding different route concepts and all of that stuff.''
Then Walker gave a compliment to the rookie that should have coaches and fans excited.
"He (Koramoah) made a play today that he probably wouldn't have made two weeks ago,'' Walker said.
JOK's ability to pick up the nuances of the NFL and best use his skills in Joe Woods' defense is vital.
Leonard made a huge impact as a rookie because he understood the whole defense as much as his role in it.
Walker indicates JOK is picking up everything he needs to know to make the same impression just as quickly.
JOK: Rookie All-Pro Linebacker? 
Darius Leonard made the Pro Bowl as a rookie in 2018.
He racked up 163 tackles, including 111 solo tackles and 12 for a loss.
Can Jeremiah Owusu-Koramoah match that standard for the Browns?
Judging from the hype, game film, and Anthony Walker's unique perspective, sure he can.
Jeremiah Owusu-Koramoah

LB2 in the 2021 NFL Draft

— PFF College (@PFF_College) February 17, 2021
But he probably won't, and that is not a knock on JOK.
Joe Woods will make great use of his rookie linebacker.
But it will probably be in a different role than what Leonard played as a rookie.
That's not to say JOK won't stand out, even among an impressive array of teammates.
You will not find a more impressive play in coverage from a linebacker prospect than this one from Jeremiah Owusu-Koramoah

The processing speed here is unrealpic.twitter.com/SKq7WvO6sk

— Mike Renner (@PFF_Mike) April 15, 2021
His hitting power, coverage ability, and chase-down speed offer a potential highlight on every play.
But just because he can do it, doesn't mean he'll have to do it in this defense.
Besides, we don't want to put that kind of pressure on an NFL rookie.
We'll leave that to Walker and the rest of his teammates.