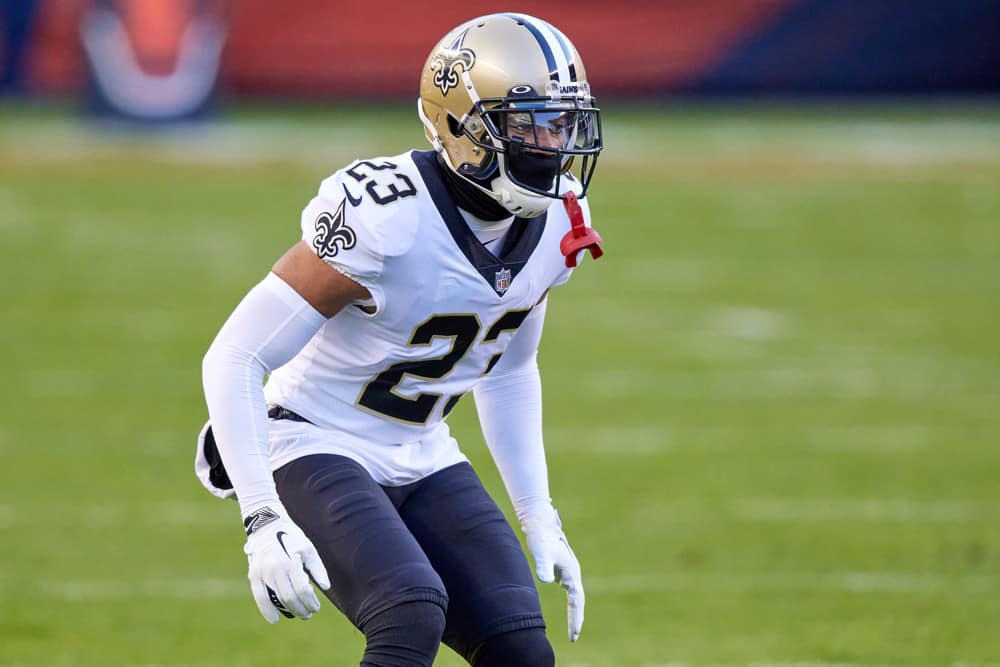 Just a couple of days ago, J.J. Watt put the Twitter world in a frenzy with a reference to Mitochondria.
Cleveland Browns fans were well-represented among the deluge of cryptologists deciphering Watt's message.
But today, the greater Cleveland area is a-twitter, if you'll pardon the pun, thanks to Marshon Lattimore's latest post.
Just trying to put Cleveland on the map be patient and don't cross me!

— Marshon Lattimore (@shonrp2) February 23, 2021
Does this mean Marshon Lattimore is coming to Cleveland?
That is not much of a revelation, since he hails from the area and has friends and family nearby.
But… is he coming to the Cleveland Browns?
New Orleans faces a salary cap challenge, not just this season, but in 2022.
They are likely to lose a couple of key free agents this season.
The NFL salary cap this year will be a minimum $180M per @AdamSchefter. The @Saints currently have $255M in salary for next season…

Not looking good. #NFL pic.twitter.com/jMiYx8Acn4

— BUSR (@PlayBUSR) February 18, 2021
And Marshon Lattimore, along with starting tackles Terron Armstead and Ryan Ramczyk hit the market next year.
One way to save some of their homegrown talent is to trade anyone they don't think they can re-sign.
Releasing or trading Lattimore frees up $10 million in 2021 cap space for the Saints.
But you don't release 3-time Pro Bowl cornerbacks.
Might New Orleans give permission to Lattimore to explore what kind of extension he could get from Cleveland?
Why It Makes Sense For Cleveland 
It is no secret Andrew Berry needs to fortify Joe Woods' defensive backfield.
And it is not a common occurrence to find a talent like Lattimore on the trade market.
Cleveland owns 9 picks heading into the April NFL draft, and probably doesn't need to sign 9 rookies.
Lattimore is still relatively young, turning 25 in May.
Locking up Lattimore and Denzel Ward for the next 5 seasons makes Woods' job infinitely easier.
Marshon Lattimore comes up with a HUGE pick!#PHIvsNO pic.twitter.com/Ligu2ThllL

— New Orleans Saints (@Saints) January 13, 2019
If Grant Delpit, Ronnie Harrison, and Greedy Williams hit their potential, he might coordinate a powerhouse.
But Lattimore won't come cheap, with early expectations of a $20 million per year free-agent market value.
If Greedy Williams comes back healthy and plays well, does Cleveland need to spend that much on another corner?
Signing Lattimore could be a public relations boost, as he is not only from the area but also a former Buckeye.
Lattimore could make things easier on Andrew Berry by providing some team-friendly considerations, a la Kareem Hunt.
Handing out another expensive extension to go along with Nick Chubb, Ward, Wyatt Teller, and Baker Mayfield should give Berry some cause for some concern.
But it doesn't rule out such an impact trade.
Why It Makes More Sense For New Orleans
New Orleans is in a salary cap bind, as is well-reported.
But the situation might be even worse than we know.
Their tackles and Lattimore could each command $20 million/year extensions.
And they could threaten to hold out in 2021 if those extensions aren't offered before the season.
Saints' GM, Mickey Loomis, is a genius at manipulating the cap and contracts.
Marshon Lattimore put the clamps on Mike Evans 🔒

(via @thecheckdown)pic.twitter.com/1ExJHYO6Tj

— SportsCenter (@SportsCenter) January 18, 2021
He can push back cap hits with deferred bonuses, fake contracts, and other devices.
But free agents can play hardball, too, and you can only play the game so long before the bill comes due.
Trading Lattimore now before any rumors of holdouts surface can yield more than a desperation deadline deal.
On the field, it will leave 32-year-old Janoris Jenkins with an unknown entity across the field.
But it could help New Orleans re-sign safety Marcus Williams for significantly less than a Lattimore extension.
Lattimore's former Ohio State coach Urban Meyer, now in charge of the Jaguars, might drive the trade price up.
New Orleans might also be leary of the 7 touchdowns allowed by Lattimore in 2020.
Admittedly lazy at times against lesser competition, the cornerback still set a career-high in tackles and his completion percentage allowed was just 52%.
What That Trade Might Look Like
New Orleans would obviously benefit from draft picks who make the roster at a low salary.
But the team also insists they are not ready to tank a season.
Berry could claim to be wary of Lattimore's touchdowns allowed, too, and try to lower the price.
But he should expect to use 3 draft picks on a young former first-rounder with 3 Pro Bowls under his belt.
That might include the Browns first-rounder with a pair of late picks, or three mid-rounders.
Denzel Ward is 23 years old, Marshon Lattimore is 24 years old. Both grew up in Cleveland, both went to Ohio State University 👀#Browns

— clebrownsnetwork (@clebrownsntwork) February 24, 2021
Unless… the Saints find another player on a rookie contract that interests them.
Despite concern over the nerve damage in his shoulder, Greedy Wiliams is expected back.
He would cost just $1.3 million this year and just $700,000 in 2022 before a potential fifth-year option kicks in.
Packaging Wiliams with a late-round pick and conditional future pick(s) based on Williams' health makes sense.
New Orleans could save face by landing an excellent man corner for the one they'd lose, at a lower cost.
And the Browns eliminate an unknown to make their free agent and draft plans more certain.