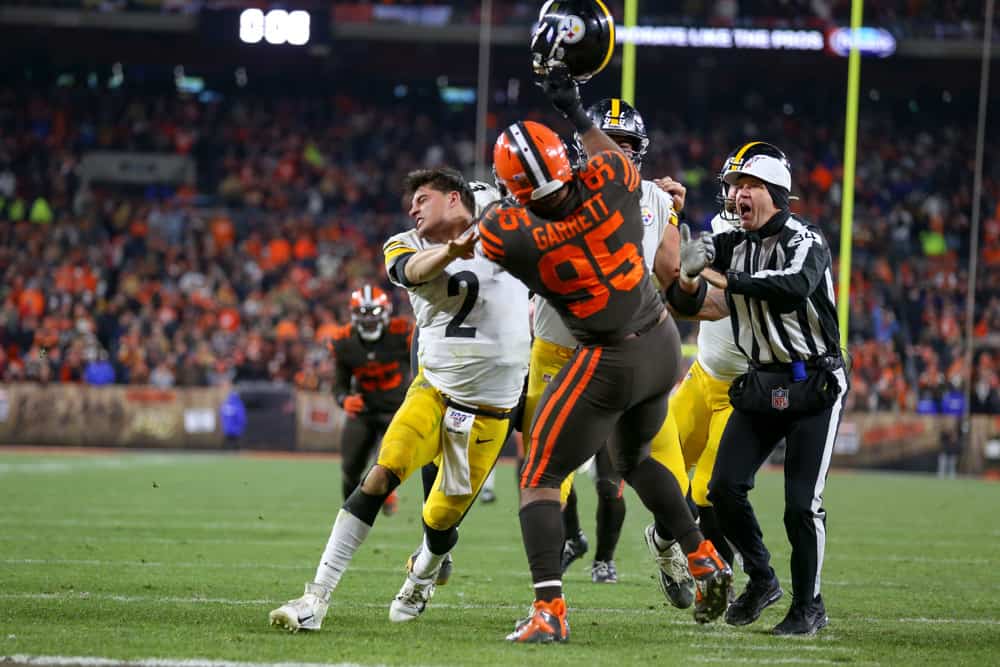 Mason Rudolph getting the start for the Pittsburgh Steelers in Week 17 brought up the obvious storylines involving him and Myles Garrett.
Is there still bad blood between the two?
Have they spoken since last year when Garrett infamously hit Rudolph over the head with the quarterback's own helmet?
Will there be a confrontation Sunday?
Neither player has said too much when asked, but Rudolph did at least express a desire to speak with Garrett.
Mason Rudolph says he's "happy to hear Myles out, if he wants to approach me, wants to talk." …

Adds he respects Garrett's game again.

"He's a menace in the backfield. He's very disruptive. … we obviously are very aware of that and we treat him with respect."

— Brooke Pryor (@bepryor) January 1, 2021
Rudolph Willing to Speak with Garrett
There are two different versions of the event that took place last year.
Garrett has claimed Rudolph used a racial slur, while the quarterback has continually denied doing so.
Saying he would "hear Myles out" insinuates he still believes he did nothing wrong.
The best thing for both individuals would be to leave this situation in the past.
#Browns Myles Garrett won't hesitate to hit Mason Rudolph: "He'll get hit just like everybody else. I'm not going to put a pillow under his head before I hit him, but I'm not going to do anything extra."

— Mary Kay Cabot (@MaryKayCabot) January 1, 2021
Both of them have kept their talk on it to a minimum this week and have at least been cordial about each other in the media.
Of course, their actual thoughts could be totally different.
There was no way the media would ignore this storyline and you can expect to hear plenty about it during Sunday's broadcast.
And if the two do speak there will be a ton of speculation on what was said.
Bigger Storylines in Play Sunday
The Browns need a win Sunday to get into the postseason and finally shift the focus from drama to actual football.
The playoff implications are the only thing the team is worried about.
Answering questions about Garrett and Rudolph almost serves as a distraction from what a loss would mean.
But once again, they knew the questions were coming the moment Rudolph was named the starter.
Mason Rudolph says Myles Garrett hasn't reached out to him in any capacity, but says he has a lot of respect for him and the team.

"This game is too big to worry about anything external that happened years ago."

— Brooke Pryor (@bepryor) January 1, 2021
This decision by Mike Tomlin is great news for Browns fans based on how Rudolph played in the matchup last year.
He tossed four interceptions in what was supposed to be a celebrated 21-7 victory.
The end of the game obviously spoiled that.
Rudolph and Garrett Don't Need to Chat
It is perfectly fine if Rudolph and Garrett don't speak at all before, during, or after Sunday's game.
They can put the ugly scene from 2019 behind them for good and leave it as a media-driven storyline.
Rudolph doesn't even need to forgive Garrett.
Hopefully, he has moved on by this point anyway.
But Browns fans are still hoping for a big day from Garrett.
Him getting into the backfield and taking Rudolph to the turf several times would be a great sight and should mean the Steelers offense is struggling without Ben Roethlisberger.
In any other year this storyline would dominate the game.
But things have been different in 2020, and now 2021, to where a playoff berth being on the line is the focus in Week 17.
That is a welcome change.
The only way the Rudolph talk continues in Cleveland is if he finds a way to beat the Browns.
But such a thought is too much to handle right now.