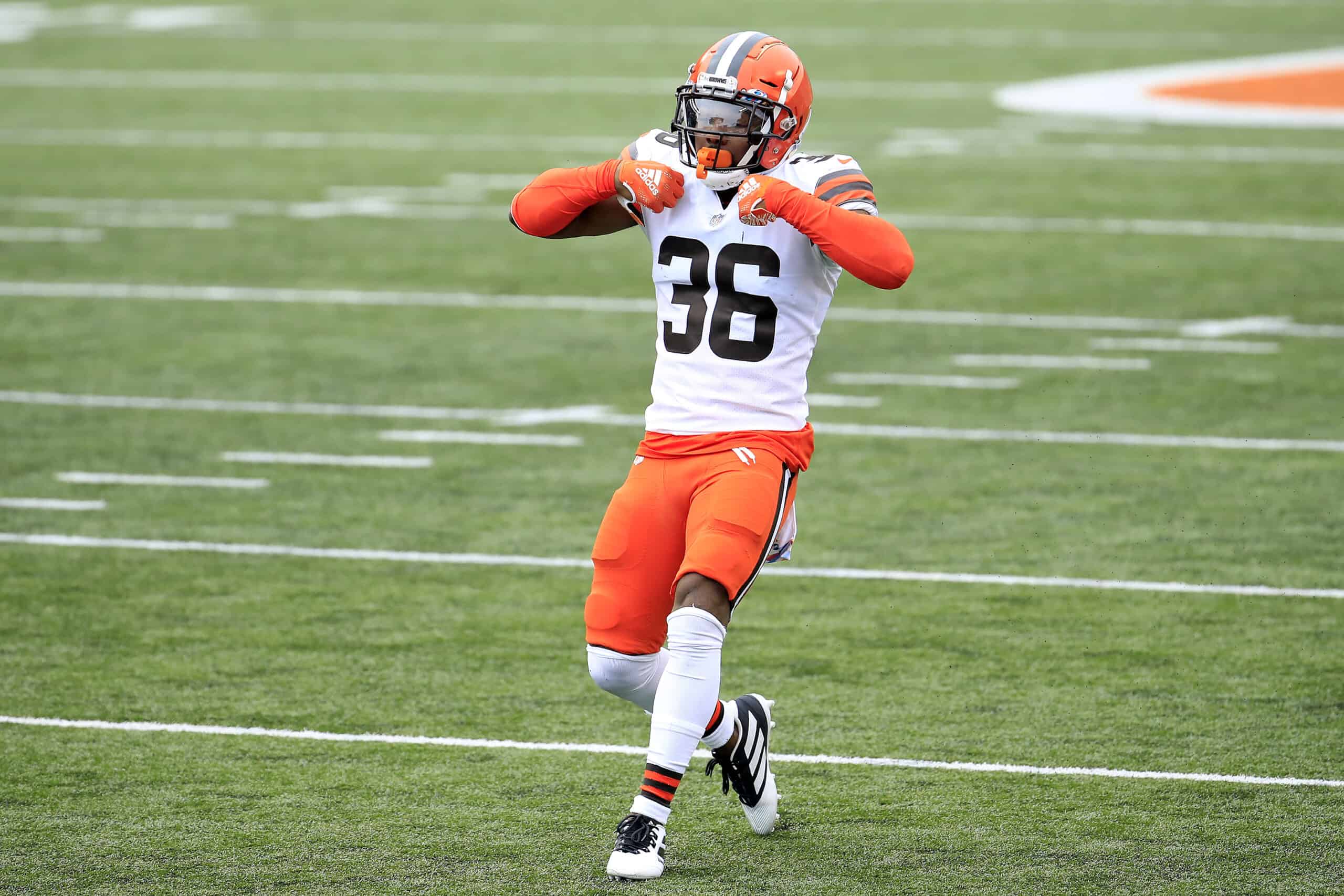 The Cleveland Browns have not had a lot to cheer about lately.
The team's two-game losing streak has been problematic for their aspirations of winning the AFC North division.
However, there has been a diamond in the rough.
The past two games have shown us what MJ Stewart is capable of when put in a starting role and given a lot of snaps.
MJ Stewart is most definitely the Browns' most underrated defender.
Here is why.
Stewart's Stats Are Good
In the past two weeks, Stewart's level of play has been on point.
He had 8 solo tackles against the Raiders and followed that up with 9 in the Packers game.
#Browns MJ Stewart is having a day.

— Camryn Justice (@camijustice) December 25, 2021
Stewart also forced a fumble against the Raiders.
In the Raiders game, he played 97% of the snaps, and in the Packers game, 100%.
This means he performed consistently well over the course of both games while playing the majority of minutes.
He is gaining a great reputation of always being in the vicinity when the Browns defense makes a big play.
Every time there's a big play, just know MJ Stewart is somewhere in the vicinity…………….

— Papi Shampoo (@DWil__15) December 25, 2021
He Has Done It Before
The Interception by Cornerback #36 MJ Stewart Jr that helped the Browns go up 14-0 on the Steelers pic.twitter.com/oNzZHFTuvq

— Laurie Fitzpatrick (@LaurieFitzptrck) January 11, 2021
Stewart has performed well in big moments prior to this season.
He intercepted a Ben Roethlisberger pass in the Browns' wildcard playoff victory and had 13 solo tackles in both of the Browns 2020 playoff games.
Stewart has the Steelers' number.
In addition to intercepting Roethlisberger, he also picked off Steelers backup quarterback Mason Rudolph in the final regular season game of the 2020 season.
Interception. Roethlisberger overthrows Snell. Intercepted by MJ. Stewart. He also had the interception last week against Rudolph. Browns take over at the Pittsburgh 46.

— Dale Lolley (@dlolley_pgh) January 11, 2021
Hopefully, Stewart strikes against the Steelers for the third time with another interception in Week 17.
He Becomes A Free Agent For 2022 Season
Stewart was drafted by the Tampa Bay Buccaneers in the second round of the 2018 NFL Draft.
He joined the Browns in 2020 after the Bucs waived him.
His four-year $5.08 million rookie contract expires at the end of the season.
With his level of play, Stewart is making a case for an extension and to return to the Browns in 2022.