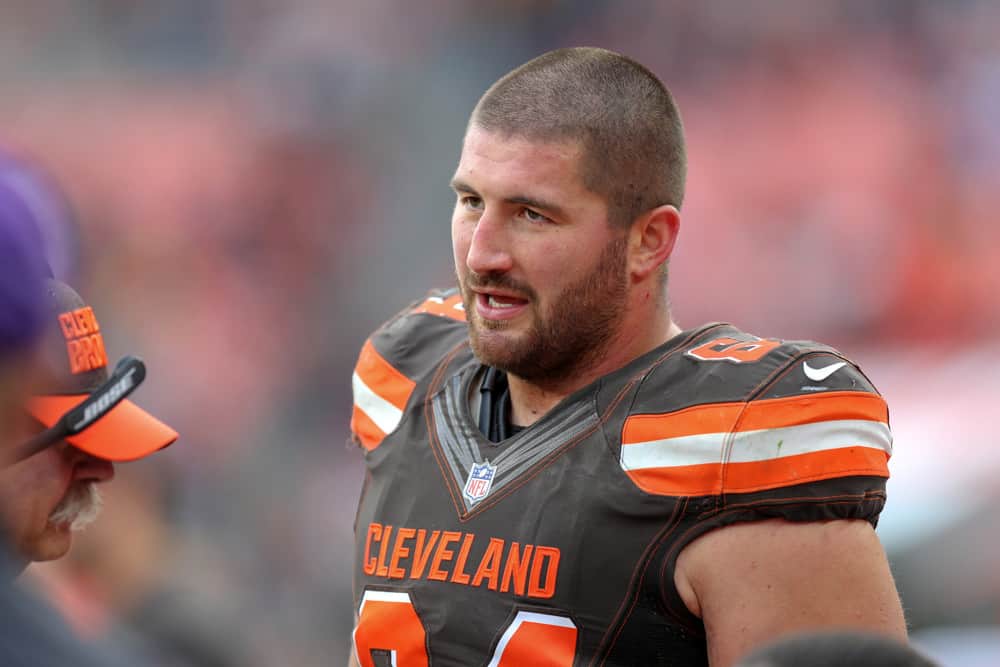 Cleveland Browns center JC Tretter wears multiple hats including his off-the-field role as President of the NFL Players Association.
In that capacity, Tretter was asked his thoughts about an NFL recommendation for teams to delineate between vaccinated and unvaccinated players with different colored wristbands.
Tretter, who is fully vaccinated, is opposed to the idea and is glad that the Browns are not implementing it.
Browns center, NFLPA president JC Tretter rips NFL for trying to shame unvaccinated players https://t.co/oNUFYLkpud

— Columbus Dispatch (@DispatchAlerts) July 29, 2021
What Tretter Said
JC Tretter, President of the NFLPA, says that the NFL is using the "wristband method" to differentiate between vaccinated and unvaccinated players is solely for shaming players publicly. Says it's nonsensical, especially when teams know which players are and aren't vaccinated.

— Hayden Grove (@H_Grove) July 29, 2021
Tretter did not mince words when talking about his feelings on this issue.
"It's just kind of a nonsensical idea. They say they need a differentiator between unvaccinated and vaccinated players. We already have a differentiator. The unvaccinated players need to wear masks. No other sports leagues use any sort of scarlet marking or helmet decal or wristband because they know it's not necessary and the teams know who's vaccinated and not vaccinated."
Tretter believes the NFL has another motivation for the policy noting that mask wearing is already required for unvaccinated players while in the training facility.
He thinks the league wants to shame the unvaccinated players by making their personal decision public.
Tretter says the people in the Browns building know who is and is not vaccinated, and that is all that matters.
"So what it really comes down to is the NFL wanted to put a policy in place to try to shame unvaccinated players publicly about their status and make that known to everybody on the field, and that shouldn't be the case because it's unnecessary. We all know who's vaccinated, who's not and it doesn't need to be a scarlet marking on peoples' helmets or wrists."
Coach Stefanski provided a brief answer when asked why the Browns are not implementing the wristband recommendation.
"We're not dividing the team over this issue."
Unfortunately, the COVID-19 pandemic will still be present for the 2021 season; hopefully, the outbreaks are minimal and not as disruptive as last season.