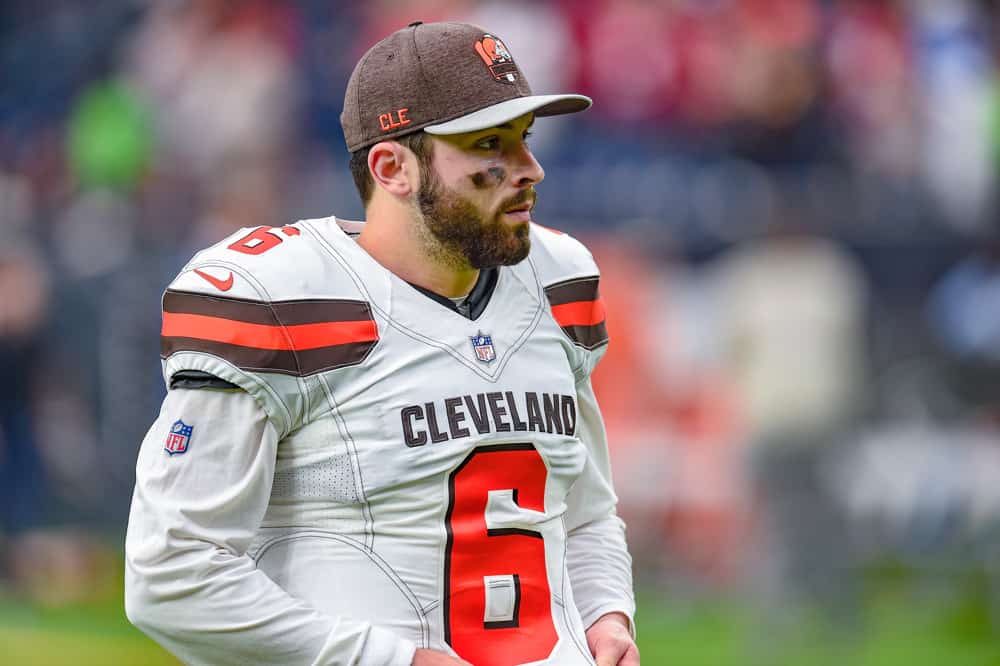 There has been much ado about J.J. Watt lately.
Since he announced that the Houston Texans released him after he requested it, many teams have been linked to Watt.
Almost daily there is a story linking Watt to the Cleveland Browns.
It is well documented what J.J. Watt wants in a future team.
He wants to play for a legitimate contender and to be paid.
However, his decision to join the Browns may come down to his thoughts on one Browns player.
That player would be Baker Mayfield, according to Watts' needs.
I've been told these are likely to be JJ Watt's most important considerations in choosing his next team, remembering his priority is winning Super Bowl:
1. Quarterback.
2. Supporting personnel.
3. Money

— Ed Werder (@WerderEdESPN) February 17, 2021
Which brings up the question, what does Watt think of Mayfield?
What We Know
Prior to the Browns vs. Texans game on November 15, JJ Watt provided his assessment of Baker Mayfield.
FWIW, this is what J.J. Watt had to say about Baker before their game last season: (via @HoustonTexans) #Browns pic.twitter.com/Ap3Zs98iPQ

— Jake Trotter (@Jake_Trotter) February 17, 2021
Mayfield had a lot of pressure on his shoulders in the critical third year of his career.
He delivered by nearly every measure.
Mayfield played smarter and made better decisions that resulted in less interceptions.
What The Browns Offer Watt
Considering the quarterback position in a vacuum is a bad idea.
J.J. Watt played with one of the best in Houston, Deshaun Watson, and the Texans could not win.
The Browns do offer the complete package.
Money is available.
The NFL Coach of the Year is on the Browns' sidelines.
A supporting cast of young and emerging players, not to mention Myles Garrett.
And an offensive attack that includes an outstanding line, running game, and receivers.
There are plenty of weapons.
Pittsburgh Does Not Offer This
Whether the Browns land J.J. Watt or not, one thing is certain.
No one wants a fellow AFC North competitor to get him.
That includes the Pittsburgh Steelers, once perceived as front runners for Watt.
If the Steelers can't bring the other Watt brother into the fold, what could be the reason?
Money could be a concern, but this latest revelation about the quarterback makes us wonder if Watt has questions about Ben Roethlisberger.
No one knows what Ben's future looks like.
One thing we know is that he is devastated that his long-time teammate and center Maurkice Pouncey retired.
"I'm still processing him retiring. That's hard for me." – Ben Roethlisberger on Steelers C Maurkice Pouncey's retirementhttps://t.co/lZXMBJQwey

— Steelers Nation (@SteelerNationCP) February 12, 2021
Do The Browns Want Watt?
Let's make it happen.. @JJWatt @Browns @MylesLGarrett ! pic.twitter.com/55vGJtsvev

— Mack Wilson (@5mackwilson1) February 17, 2021
Of course, the Browns players would welcome the veteran leadership and work ethic that JJ Watt brings with him.
His soon-to-be 32 year old body has been depleted by injuries.
So the question is, what is left in the tank for him?
2021 is the first year with a 17 game regular season; the impact of that on older veteran players including Watt is up in the air.
As for the money, what is his asking price?
The Browns need to improve their defense without question, but that does not mean that J.J. Watt is the right answer.
There may be viable and more affordable options in the NFL Draft.
Nick Chubb's contract extension is looming, and a decision on a long-term deal with Mayfield is as well.
With nearly a month to go until free agents can officially sign contracts (March 17), there is bound to be more stories and speculation about who J.J. Watt's future team is.