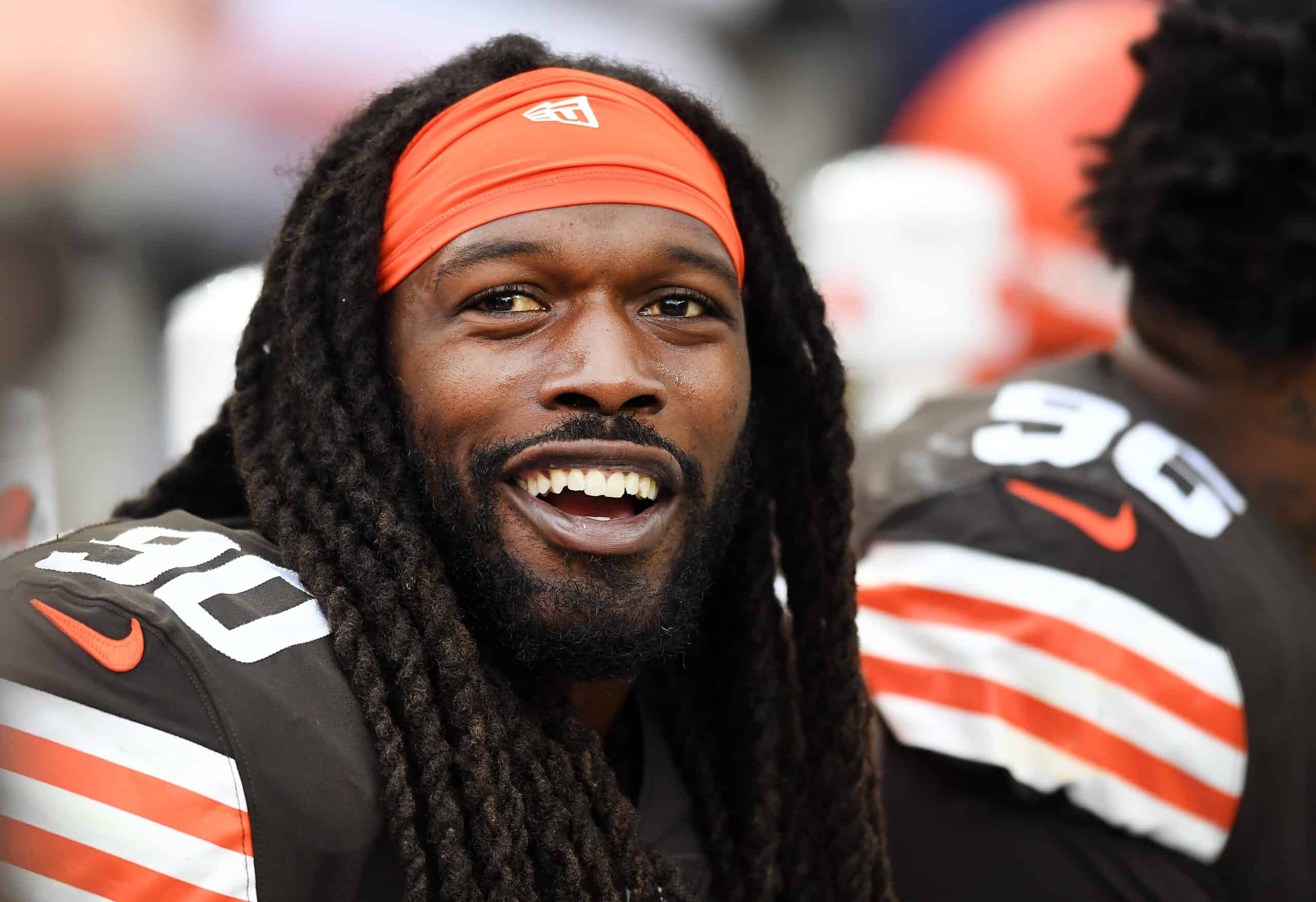 Jadeveon Clowney's sack of Baltimore Raven's quarterback Tyler Huntley on the final drive saved the Cleveland Browns from an almost disastrous ending.
Huntley sacked by Clowney 10-yd loss#Ravens 22 #Browns 24 Q4 pic.twitter.com/TRzCgcvIuh

— Sports 24/7 (@Sports24x7_) December 12, 2021
#Browns Denzel Ward and Jadeveon Clowney just saved this game.

— Camryn Justice (@camijustice) December 12, 2021
That play also may have saved the Browns season, for now. One thing became very clear as the Browns held on to win Sunday afternoon 24-22.
Jadeveon Clowney has earned the money Andrew Berry decided to pay him this past offseason and then some.
Balling on a Budget
Berry brought Clowney in on a one-year, $8 million contract (up to $10 million with incentives) that continues to look like a bargain bin find.
It's only the 56th most valuable contract out of all defensive ends.
Clowney has certainly been better than 56th if you were to rank players at the same position in the league.
Heading into the offseason, finding a more consistent pass-rushing piece to pair with Myles Garrett became a goal of the front office.
The Olivier Vernon experiment simply did not work out, and more production was needed.
With Clowney, the Browns defense has found that added production.
Heading into this past Sunday, both Garrett and Clowney were top-ten in pass rush win rate.
Garrett leads all rushers at 27%, while Clowney sits in sixth with 25%.
Having a guy that is top-ten in terms of winning their pass-rushing matchups while only having to pay that guy $8 million is a huge flex for Andrew Berry.
Aligning Clowney with Garrett seems to have rejuvenated Jadeveon after a disappointing 2020 season.
Remember, this is still a former number one overall pick that offensive lines feared for years while he spent time in Houston.
He's once again scaring offensive tackles everywhere with his explosiveness.
Double the Blockers, Double the Fall
One of the reasons Clowney is so valuable in Cleveland is that he doesn't allow opposing lines to constantly double-team Myles Garrett.
Per "@NFL_Stats", Garrett saw a double-team at a 24.1% rate in 2020, third-most in the NFL.
Clowney, even in a slow year in Tennessee, ranked fifth last season with a 23.6% double-team rate.
Highest double team rate for edge rushers this season pic.twitter.com/I8EGZcdvOE

— NFL Stats (@NFL_Stats) December 11, 2020
Even with both guys rushing together now, opposing lines still try to send multiple blockers at both guys.
Per Seth Walder of ESPN, both Clowney and Garrett are still among the most double-teamed edge rushers in the league.
Got a bunch of requests to update the edge rusher double team rate X PRWR chart, which warms my heart. Especially by Browns and Steelers fans debating Myles Garrett vs. T.J. Watt.

Happy to oblige! pic.twitter.com/NnTA0Sf76F

— Seth Walder (@SethWalder) December 9, 2021
Think of the havoc this wreaks on an offensive gameplan.
Tight ends and running backs are essentially wiped from having an impact on so many plays simply because they are needed to help stop the rush of either Garrett or Clowney (or both).
Staying Long-Term?
Clowney continues to make a case for getting a decent-sized payday after this season ends.
There's been disappointment littered throughout this Browns season.
However, Clowney has not been a part of that.
While so many guys have underachieved, Clowney has gone above expectations.
When it comes to contract negotiations this offseason, Clowney has helped himself immensely thus far.
Andrew Berry's pockets, nor the NFL salary cap, are limitless.
Clowney, along with a host of others, will be looking for payment after this season.
Guys like Baker Mayfield and Denzel Ward have long-term financial situations the front office needs to worry about too.
Clowney's production should net him a slight increase in salary at the very least.
Teams desperate for a pass rush may open the checkbook a bit more for him.
Keeping him in Cleveland next to Garett long-term is something Browns fans should want, but only at the right cost.