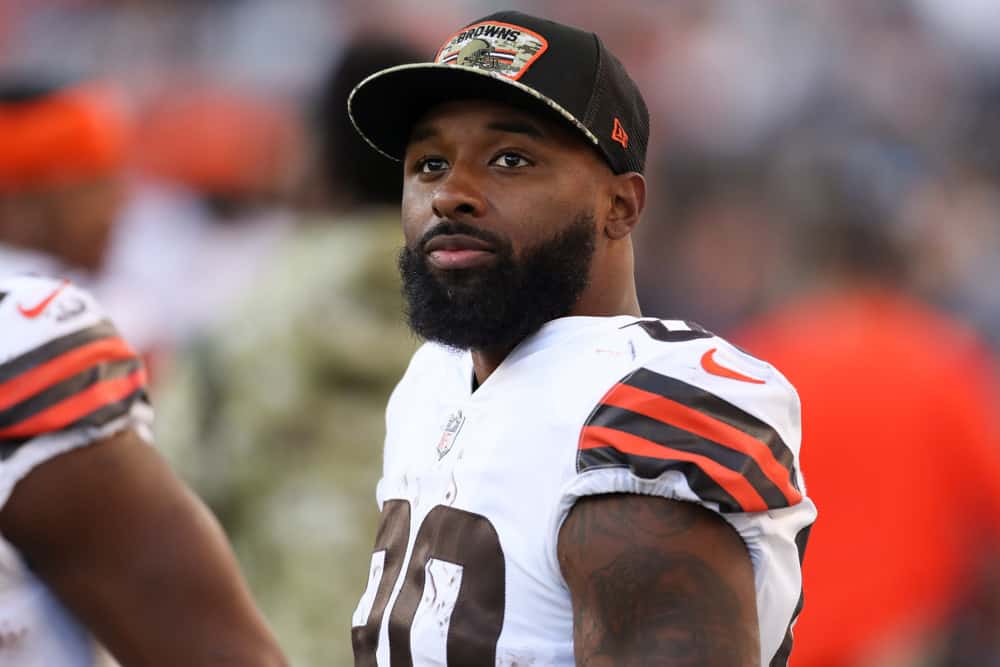 Cleveland Browns wide receiver Jarvis Landry was candid about the team's recent struggles and his friend Odell Beckham Jr.'s departure to the Los Angeles Rams.
The five-time Pro Bowl receiver answered reporters' questions Tuesday at his second annual Thanksgiving food drive at Parma Senior High School in Parma, Ohio.
"It definitely was something that hurt," Landry told reporters about Beckham's departure. "It stung. It still does."
#Browns Jarvis Landry on the departure of his BFF Odell Beckham Jr. Landry spoke at his 2nd annual Thanksgiving Food Drive, during which he helped distribute more than 1,000 meals to local families in need pic.twitter.com/B802n03JDI

— Mary Kay Cabot (@MaryKayCabot) November 17, 2021
After Beckham signed with the Rams, Landry posted the following message on his Instagram Story:
"Handle ya business," Landry wrote. "Meet you in the (Super Bowl) Brudda."
On Tuesday, Landry said he didn't know why he wasn't getting the ball as much as he normally would and didn't have an explanation for the Browns' struggles passing the football.
"I haven't been able to get the ball so much either, but at the end of the day, I mean, I've been able to do what (I can with) the opportunities I'm given," Landry told media members. "And yeah, I'm battling some things, but on Sunday, I always give everything that I have, and that won't ever change."
#Browns Jarvis Landry doesn't know why he's not getting the ball more pic.twitter.com/uQsTEzZzrN

— Mary Kay Cabot (@MaryKayCabot) November 16, 2021
Before a sprained MCL forced Landry to sit out four games this season in Weeks 3-6, he had only missed one game in his eight-year NFL career.
Landry returned for the Browns' Week 7 win against the Denver Broncos.
In six games this season, Landry has 23 receptions on 34 targets for 219 yards.
David Njoku (352 yards), Donovan Peoples-Jones (330 yards) and Beckham (232 yards) have more receiving yards than Landry this season for the Browns.
However, Landry is tied for second on the team in raw targets with Beckham.
Tight end Austin Hooper leads the team with 35 targets in 10 games.
In 2021, Landry's 5.6 targets per game lead the Browns.
Landry is down from 6.7 targets per game in 2020.
However, removing the Week 2 game where Landry only played two snaps, he's been targeted 6.6 times per game in the other five games he's played.
While Landry does not have a receiving touchdown so far in the 2021 season, he did have a rushing touchdown in the Week 1 loss to the Kansas City Chiefs.
Cleveland has run the ball effectively,  averaging 154.1 rushing yards per game, which is tied with the Baltimore Ravens for best in the NFL entering Week 11.
Still, the Browns' 23.1 points per game rank 18th in the league.
It indicates the struggles of the Browns' passing game, especially considering quarterback Baker Mayfield has played with a torn labrum and fracture in his left shoulder since Week 2 of the 2021 season.
The Browns average 209.7 passing yards per game, which ranks 26th in the NFL.
While Landry finished Sunday's 45-7 loss to the Patriots with four receptions on five targets for 26 yards, he only had one reception when Mayfield left the game in the third quarter with a right knee injury.
It marked Mayfield's only completion to a receiver at that point in the game.
While Mayfield's health has impacted his play, he is expected to start Sunday against the Detroit Lions as he deals with the shoulder injury, knee injury and a sore foot.
"He's a tough man, and he's doing all the things necessary to make sure that he can be out there with us," Landry said. "As playmakers, when the ball's in the air, we're doing our best and understanding and knowing that it's the situation where he's got to get healthy, but we're still out here making plays with each other, for each other, and he always gives his best. That's all you can ask for."
#Browns Jarvis Landry says playmakers are doing their best when the ball's in the air but Baker Mayfield's "got to get healthy" and has battled pic.twitter.com/Q2XyyghahC

— Mary Kay Cabot (@MaryKayCabot) November 16, 2021
The Browns (5-5) are considered 10-point favorites Sunday against the Lions (0-8-1).
Editor's Note: Quotes are courtesy of videos posted to cleveland.com Browns beat reporter Mary Kay Cabot's Twitter feed.