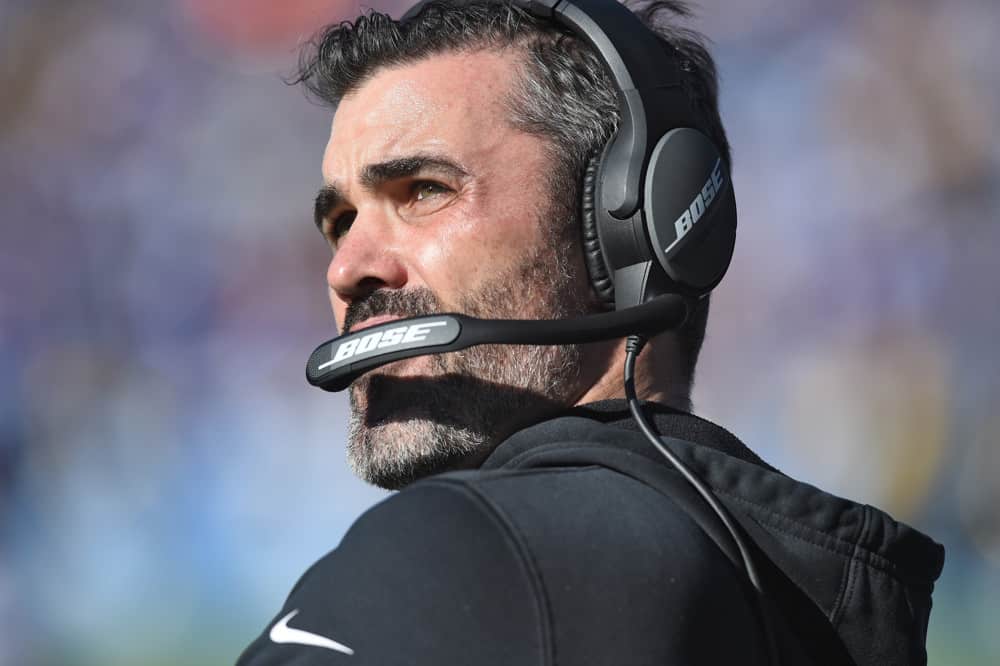 Kevin Stefanski comes to the Cleveland Browns as another supposed offensive guru.
Freddie Kitchens and Hue Jackson before him each got jobs based on alleged offensive prowess
Browns fans may prefer Stefanski to have a normal coaching staff with an offensive coordinator after so many odd arrangements over the past few years.
There was the feuding with Todd Haley in 2018, followed by Todd Monken bashing his own team in 2019.
But as of right now, the new head coach has not even decided if he will hire an OC.
#Browns notes updated with Kevin Stefanski saying he has "no problem waiting" until after the Super Bowl to hire Joe Woods as defensive coordinator, he'll lean heavily on Bill Callahan and it remains to be seen whether he'll add an offensive coordinator https://t.co/zf5nadum2K

— Nate Ulrich (@ByNateUlrich) January 23, 2020
This pending decision can work both ways for different reasons.
Why Stefanski is Fine Without an OC
Not hiring an offensive coordinator would not be a big deal if Stefanski fills out the rest of his staff with talented individuals.
Adding Bill Callahan as an offensive line coach was a huge win.
Callahan has head coaching experience and is one of the most respected offensive line coaches in the NFL.
The #Browns are expected to hire Bill Callahan to coach their offensive line, sources say. Important addition of a former head coach for Kevin Stefanski's staff.

— Tom Pelissero (@TomPelissero) January 20, 2020
Stefanski will also be adding positional coaches and quality control coaches.
There will be a full team of individuals helping to run the offense, just without a true coordinator that ends up being Stefanski himself.
While he has no past experience running this type of staff, the formula exists and isn't some radical move.
Why Stefanski Needs an OC
A first-time head coach not having an offensive coordinator is especially concerning for Browns fans after seeing Kitchens and Monken not get along.
Monken was technically the offensive coordinator, but he seemed to lack the normal duties of someone in that position.
Stefanski also only has one year of experience as a full-time offensive coordinator.
Assuming he can just flawlessly run an offense without a top assistant on his staff may just be another example of the Browns setting up a coach to fail.
Kevin Stefanski on calling offensive plays: We'll work through that https://t.co/35z0LW9Kuj

— ProFootballTalk (@ProFootballTalk) January 14, 2020
There is never a problem with having too much experience in a coaching room.
The key is just for Stefanski to pick his own guy.
That was not happening in the past in what continued a long list of failed arranged marriages within the franchise.
If the new coach gets someone of his choosing, it would be foolish not to bring in an offensive coordinator.
It is not like such a move is out of the budget.
One of Two Big Questions
We are talking about Stefanski hiring an OC when the team is still without a general manager.
As of late Thursday, there's no movement on Browns general manager job and VIkings VP George Paton, I'm told. Browns taking deliberate approach.

— Jeremy Fowler (@JFowlerESPN) January 23, 2020
The new GM may want some input on who Stefanski plans to hire and could offer up a few choices as well.
For some reason, the "will they or won't they" with hiring an offensive coordinator is a recurring Browns story.
This may be due to Stefanki wanting to get more input, or he is also taking a slow and deliberate approach to choosing his top assistant.
That is not normal in the NFL.
Yet it is a new approach for the Browns and one that may not be too drastic if the staff is in place soon after the Super Bowl.