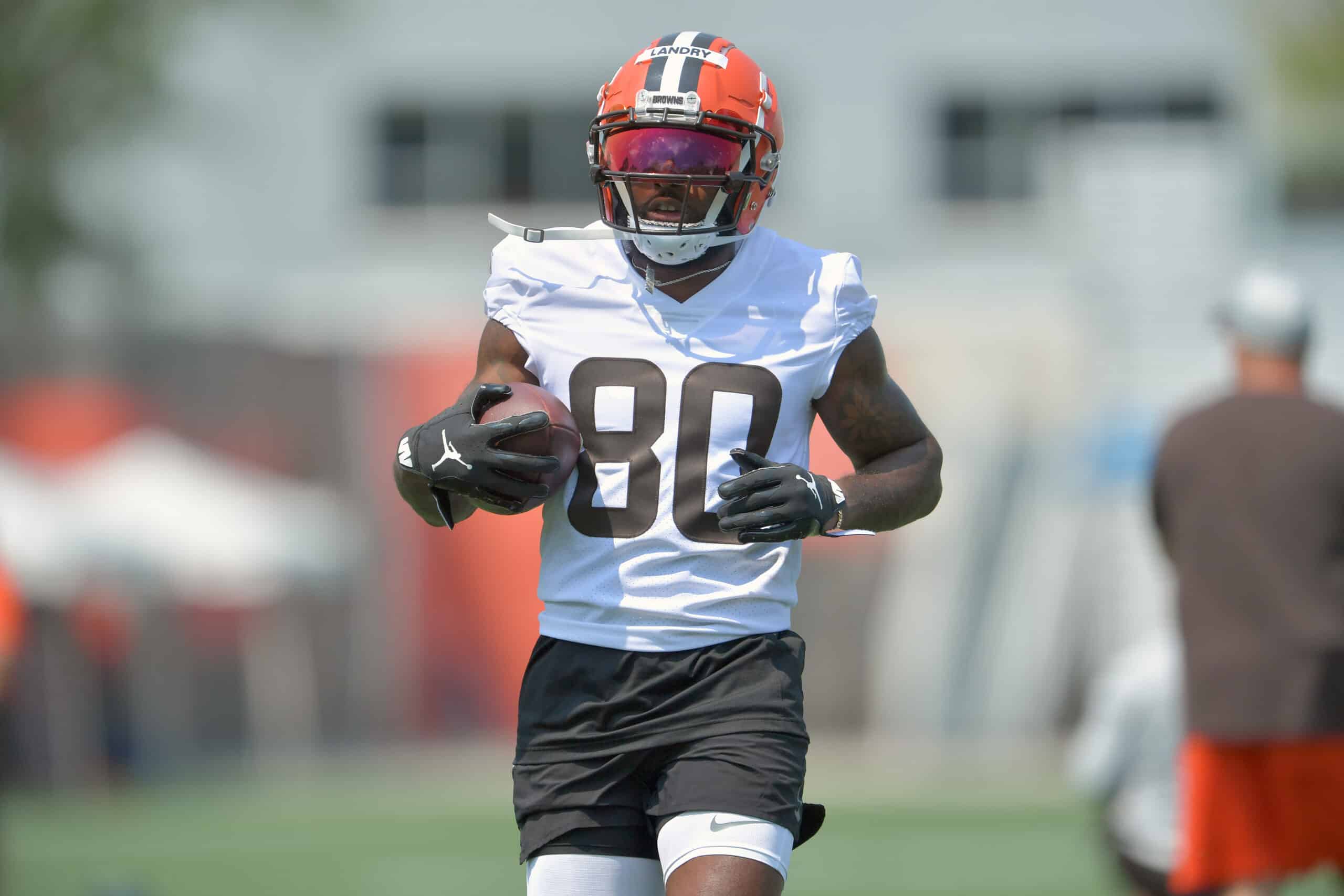 Jarvis Landry got knocked out of the Cleveland Browns' season opener less than a minute into the game.
Baker Mayfield hit Landry with a quick toss that Landry turned into a 9-yard gain.
He was initially hit high, but a second Texan defender wrapped him up at knee level.
Browns believe WR Jarvis Landry has a sprained MCL and he will undergo further testing, per source.

— Adam Schefter (@AdamSchefter) September 19, 2021
Landry was slow to get up and the attention paid him by teammates indicated he was in some pain.
Cleveland later announced Landry suffered a probable MCL strain.
Such an injury results in swelling that makes it difficult and painful to bend or put pressure on the knee.
Landry has been a remarkably durable player, playing through injuries several times in his career.
#Browns HC Kevin Stefanski said Jarvis Landry has an MCL injury and we'll get images on that in the morning. Stefanski said Baker Mayfield has left shoulder injury and is sore, he gutted it out

— Nate Ulrich (@ByNateUlrich) September 19, 2021
He missed one game last season due to Covid protocols.
But an MCL strain typically takes about 6 weeks to heal, with some variation for degree and pain tolerance.
Landry will have an MRI Monday to verify the injury and make a more accurate prognosis.
Other Receivers Pick Up The Slack 
Jarvis Landry is the leader of the Browns wide receiver group and a dependable clutch target.
When Houston was matching Cleveland's offense score for score, it seemed certain Mayfield would miss him.
Mayfield only threw 6 more passes to his wide receivers on the day.
Justin Reid getting some Browns revenge after last year, pops out a ball on Donovan Peoples-Jones pic.twitter.com/CLyiJGb4eH

— Rivers McCown (@riversmccown) September 19, 2021
And that is only if you count Demetric Felton as a wide out.
Rashard Higgins (2), Felton (2), and Donovan Peoples-Jones caught all five of their collective targets.
But Peoples-Jones coughed up the ball after his reception on a fine defensive play.
And Anthony Schwartz appeared to pull up early on a pass thrown his way that led to an interception.
#Browns Kevin Stefanski said Anthony Schwartz made a mistake not following through on the play that ended in the INT/Baker injury. Said that's a mistake he won't make again.

— Camryn Justice (@camijustice) September 19, 2021
Mayfield hurt his left (non-throwing) shoulder on the play, and the running attack dominated the rest of the game.
Overall, Mayfield finished an impressive 19/21 for 213 yards and a touchdown.
Felton turned a short pass into an exciting 33-yard score.
What It Means For The Browns 
If Jarvis Landry is to miss any time, it removes the main veteran presence in the receiver group.
After 6th-year veteran Rashard Higgins, the Browns field 2 rookies and a second-year player.
Davion Davis is eligible to return from the suspended list and Ja'Marcus Bradley is on the practice squad.
That group will look more solid if Odell Beckham Jr. returns to the field for Week 3.
OBJ still has not taken any contact since injuring his ACL last November.
#Browns OC Alex Van Pelt said Rashard Higgins, who got 4 snaps, was the 4th WR Sunday. Noted he's coming back from minor injury and will get larger role as season progresses.

— Scott Petrak ct (@ScottPetrak) September 16, 2021
But teams should think twice about stacking the running box and forcing Mayfield to throw.
Cleveland's young receivers have speed and can make teams pay for sneaking safeties in close.
And Rashard Higgins still catches anything Mayfield throws to him.
Mayfield's shoulder injury appeared to affect him during the game and could be a bigger concern.
But it is unlikely Stefanski would win any discussion about keeping him off the field against Chicago next week.