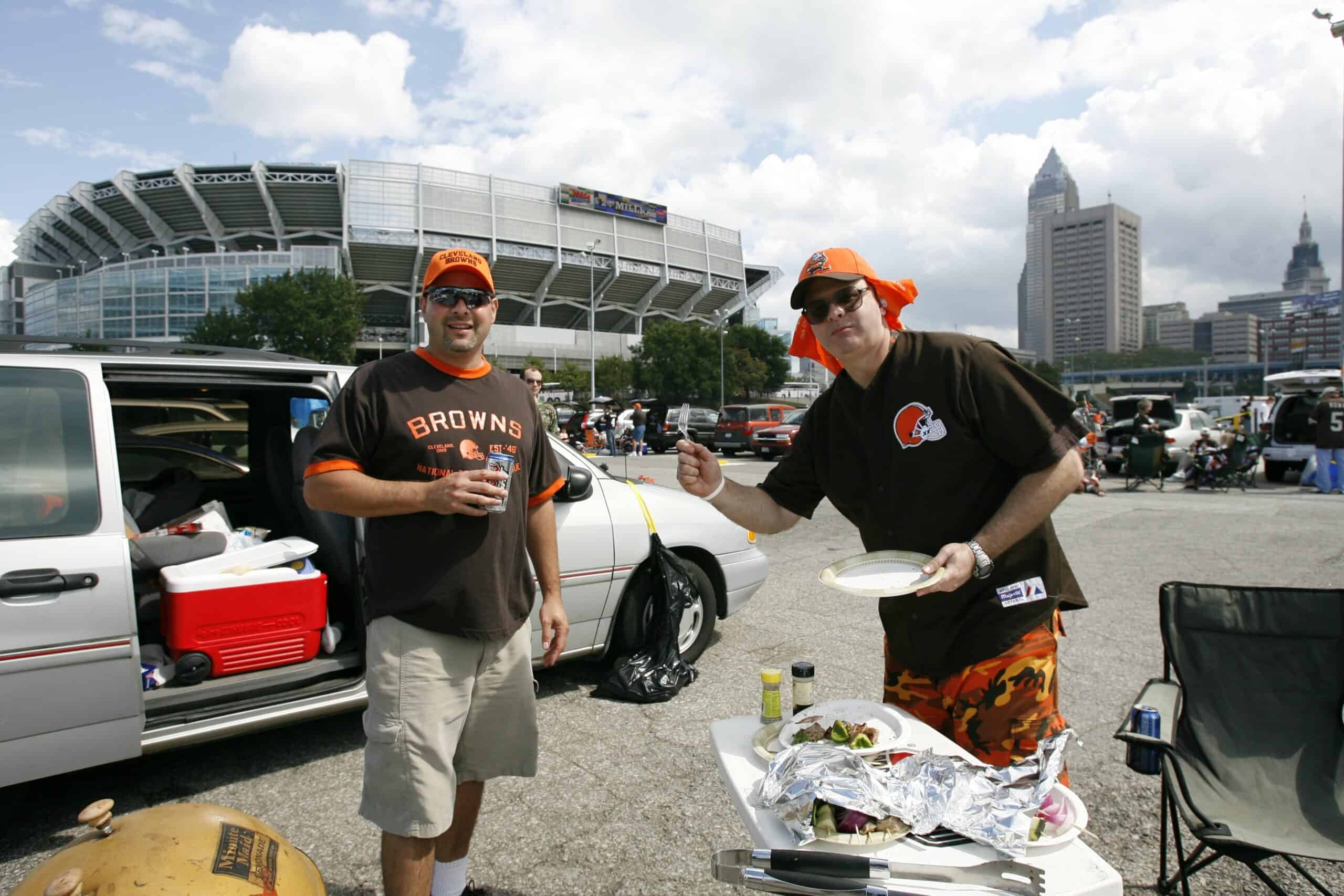 Cleveland Browns fans weren't waiting long to start lining up for spots in the famous Muni Lot for Sunday's home opener against the Houston Texans.
Throughout the day Saturday, fans began lining up around city streets as they awaited the opening of the Muni Lot this morning.
This tweet shows the dedication, and creativity, of the brown and orange faithful in northeast Ohio.
WOW! Browns fans are lined up in DROVES to enter the Muni Lot tomorrow morning at 7 a.m. At least 70 vehicles with fans sleeping in them overnight. #Browns pic.twitter.com/03ILFMEqQq

— clevelanddotcom (@clevelanddotcom) September 19, 2021
And here's the scene from this morning as we get closer to kickoff.
The Muni Lot is back #Browns pic.twitter.com/HQ6Sbpvyoz

— Daryl Ruiter (@RuiterWrongFAN) September 19, 2021
It is a GLORIOUS morning at the Muni Lot! #Browns pic.twitter.com/2krgolUcSx

— clevelanddotcom (@clevelanddotcom) September 19, 2021
It's a beautiful scene for Cleveland Browns fans everywhere.
If you follow the team, you know exactly how special (and crazy) that parking lot can get on the weekends during football season.
This was missed in full capacity in 2020.
Now with things starting to return to normal in 2021, seeing a full Muni Lot is a lovely reminder of that.
Of course, the usual Muni Lot humor makes its return this season as well.
As this tweet describes, the Muni Lot may actually have the real MVP of this season on its grounds.
Shout out to the real MVP today: the last trash can as you leave the Muni Lot@KenCarman pic.twitter.com/abPfPmUou2

— Joe Ski (@JahD1191) September 19, 2021
Let's Party, Cleveland
We all know at least a handful of people each Sunday that could not care less about football, yet, they find themselves in the Muni Lot sporting Browns apparel.
The Muni Lot may technically just be a parking lot, but any northeast Ohioan knows it's much more than that.
It's a place where, for years, fans braced themselves for what was more often than not a miserable afternoon.
However, tailgating with friends and strangers alike in the crazed atmosphere of the Muni Lot made things a bit better on those Sunday afternoons.
Now, these Sunday mornings feel like the pre-game to the big party.
Expectations are high for the Browns this season, and rightfully so.
Fans know this, of course, and will be showing up to First Energy Stadium with more passion than ever this year.
The scenes we see on Twitter from the Muni Lot are, again, a reminder that the Browns are back.
As radio voice of the Browns Jim Donovan said last season, "the only thing missing is all of you", in reference to the fans.
Well, now those fans are back, and the energy should carry right from the Muni Lot on into First Energy Stadium.
#munilot #Browns pic.twitter.com/l4KHlivfFd

— Yvette (@yvettemlaboy) September 19, 2021