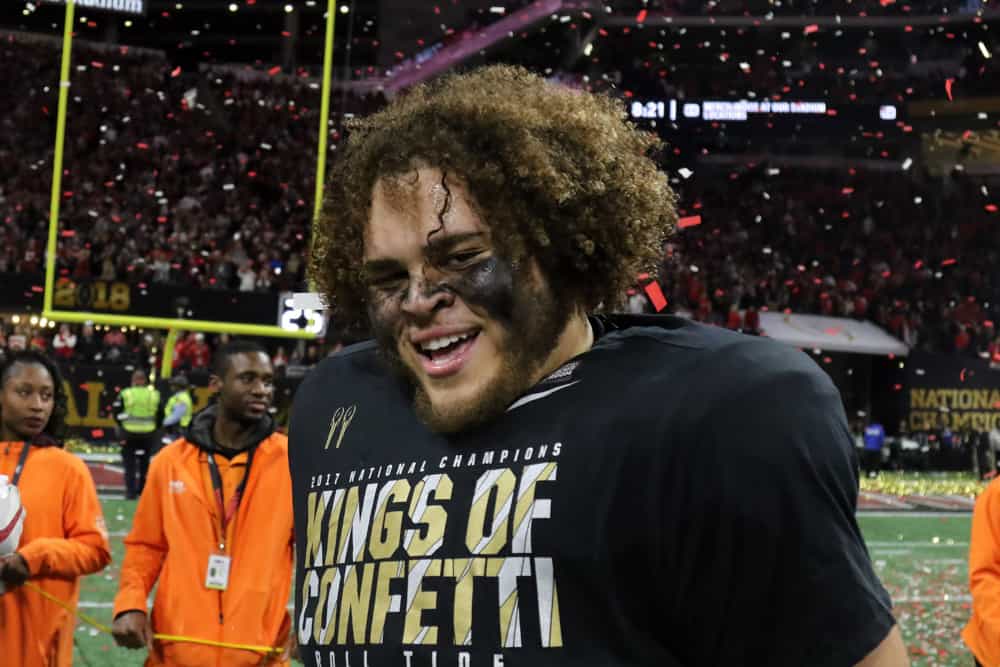 Bill Callahan is rightfully considered among the best offensive line coaches in the NFL.
More than a handful of All-Pro tackles learned their trade under Callahan's tutelage.
That includes players like Tyron Smith, Zach Martin, and Brandon Scherff who all changed positions on the line.
But with the virtual offseason and lack of preseason games, turning Jedrick Wills into a left tackle before the season began proved to be a challenge.
Two games into the regular season, it appears the Cleveland Browns rookie and coach have met that challenge.
Jedrick Wills Jr. vs Cincinnati

🔸Pass-block snaps: 24
🔸QB pressures: 1
🔸QB sacks: 0 pic.twitter.com/NqKeLGdYgh

— PFF College (@PFF_College) September 18, 2020
Jedrick Wills held up well against the Baltimore pass rush and excelled versus Cincinnati.
Kevin Stefanski ran the offense he told us about against the Bengals, including the zone blocking techniques.
Wills was a force in the running game, too, even pulling to lead Nick Chubb through the right side.
Early results what they are, Wills faces stiffer tests in the weeks ahead.
But given what fans have seen, Cleveland's decision to draft him ahead of established left tackles is justified.
It Wasn't Always Pretty in Preseason 
To the casual observer, Olivier Vernon seemed like he was picking on the Browns rookie in the preseason.
But if it wasn't Vernon running around or through Wills, it was Porter Gustin pushing Wills around.
Anyone worried that Jedrick Wills got beat for a sack by Porter Gustin? pic.twitter.com/9OmbsMmbEl

— The Brown Spider!!! #D4L (@BrownSpiderCLE) August 31, 2020
Fullback Andy Janovich reflected on Wills' early efforts in a postgame Zoom call.
"I think (Olivier Vernon) helped him a lot. Just the terrible pass rushes that he had, it was hard to watch sometimes, but it made him a better player."
Whether Callahan suspected Wills would show as much mastery as he has so far, the last play of the second scrimmage had to leave some doubts.
Baker Mayfield felt the heat as defensive end Robert McCray ran past Wills and made a beeline for the quarterback.
If not for the red jersey, Mayfield likely would have been sacked.
As it was, the last scrimmage pass of Mayfield's preseason turned into a pick-six.
Stefanski Feeling Pretty Good About Wills 
Mayfield wasn't sacked against the Bengals, and barely felt pressure coming from Wills' side.
Stefanski used more roll outs and play action to help his passer and his line.
But that doesn't make Wills' efforts any less remarkable.
Jedrick Wills getting up and through the alley on DART like he's running the rock. Young man is so athletic.

Also, Wyatt Teller peeling here late to pick up 57's blitz saves this 3rd down. Teller has put together two very impressive starts to begin 2020. #Browns pic.twitter.com/yMpoKrZ4Mf

— OBR Film Breakdown (@TheOBRFilmBDN) September 19, 2020
In the postgame presser, Stefanski had this to say,
"Jedrick had some really nice plays out there last night, and it is never perfect. I promise you there are things we are going to work on, but he is showing the mentality of what we want this offense to look like and certainly what we want the offensive line to look like."
Mayfield was sacked more than any other quarterback on a sacks-per-pass basis in 2019.
It is not secret that even with a solid group of skill players, Cleveland's success hinges on keeping Mayfield secure.
If the first two games are any indication, Jedrick Wills can provide that success.