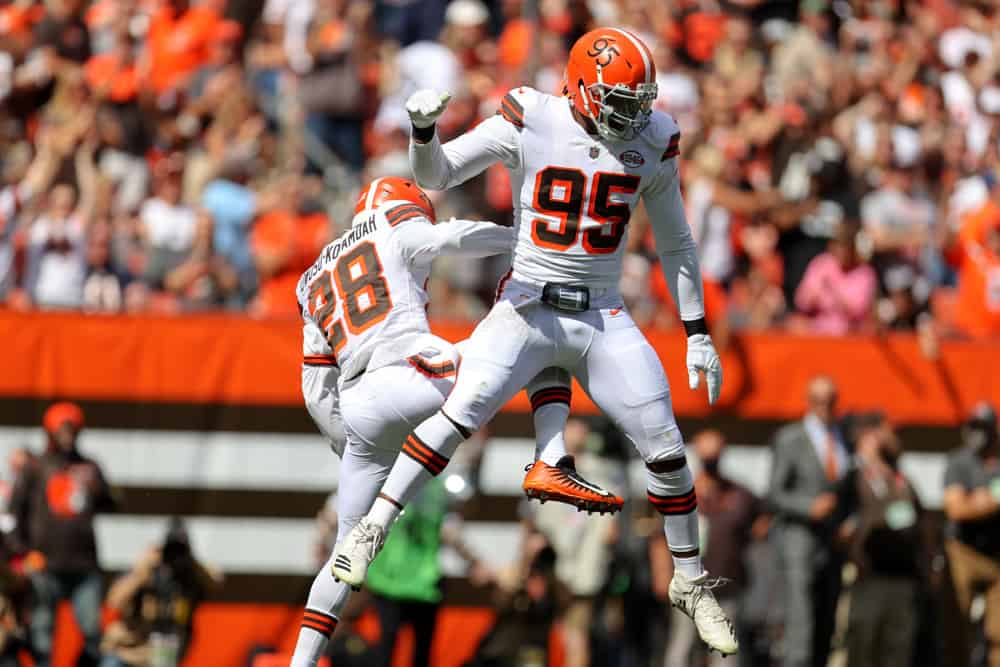 Through five weeks, it seems like the Cleveland Browns have already experienced a lot of ups and downs.
There have been a few players consistently performing at a high level each week.
One of those players is rookie linebacker Jeremiah Owusu-Koramoah out of Notre Dame.
JOK has played lights out, and the latest PFF scorecard of linebackers shows it.
The highest-graded LBs in the NFL this year 💪 pic.twitter.com/Pz59vN4lAc

— PFF (@PFF) October 15, 2021
JOK is in great company in the PFF ratings with Matt Milano of the Buffalo Bills and Alexander Johnson of the Buffalo Bills.
JOK in 2021
Owusu-Koramoah's snap count has increased as the season has gone on.
In the loss to the Los Angeles Chargers, JOK played 68 snaps.
He was instrumental in stopping the Chargers running game.
Chargers running back Austin Ekeler only had 66 yards rushing on 17 carries.
How does JOK do it?
He uses his amazing speed to close the gap very quickly.
It is almost as if he comes out of nowhere to get in on a play that no one would expect him to get to.
once #28 JOK can track the ball he is shot straight out of a cannon pic.twitter.com/DN0ZyvtFO1

— Nate Tice (@Nate_Tice) October 11, 2021
JOK has 15 solo tackles.
He has a half-sack which he shared with Myles Garrett in the Chicago Bears game.
Jeremiah Owusu-Koramoah played out of his mind in the 1st half. This kid is special. Here's a couple highlights. And that sack is not a designed play. JOK saw an opening to the QB and he took it. #Browns pic.twitter.com/nhPu7B6WnW

— Roberto Shenanigans (@Rob_Shenanigans) September 26, 2021
Previous PFF Rookie Of The Week
JOK has been on the PFF radar for weeks.
He was already won PFF Rookie of the Week one time, and it is only Week 6.
PFF's Rookie of the Week

Jeremiah Owusu-Koramoah 💪💪 pic.twitter.com/faabFWHorY

— PFF (@PFF) September 28, 2021
Many believe if he continues playing at this high level, he will be in contention for Defensive Rookie of the Year consideration.
Interesting. The Cleveland Browns currently claim the league's highest-graded offensive & defensive rookies among those who played in at least four games. Granted, Demetric Felton needs more reps. But Jeremiah Owusu-Koramoah should already be in the DROTY conversation.

— Brent Sobleski (@brentsobleski) October 14, 2021
Throat Contusion
JOK did have a scare after the Week 5 game.
He was taken to the hospital for a throat contusion; he later said the contusion happened in the first quarter.
Though he said it was uncomfortable, he continued to play.
#Browns JOK said throat contusion happened in first quarter, kept playing, is good.

— Scott Petrak ct (@ScottPetrak) October 13, 2021
It is an eerily similar injury to what Cincinnati Bengals quarterback Joe Burrow.
Thankfully both JOK and Burrow were okay.
It is safe to say he will be ready to face Kyler Murray and the Arizona Cardinals on Sunday afternoon.