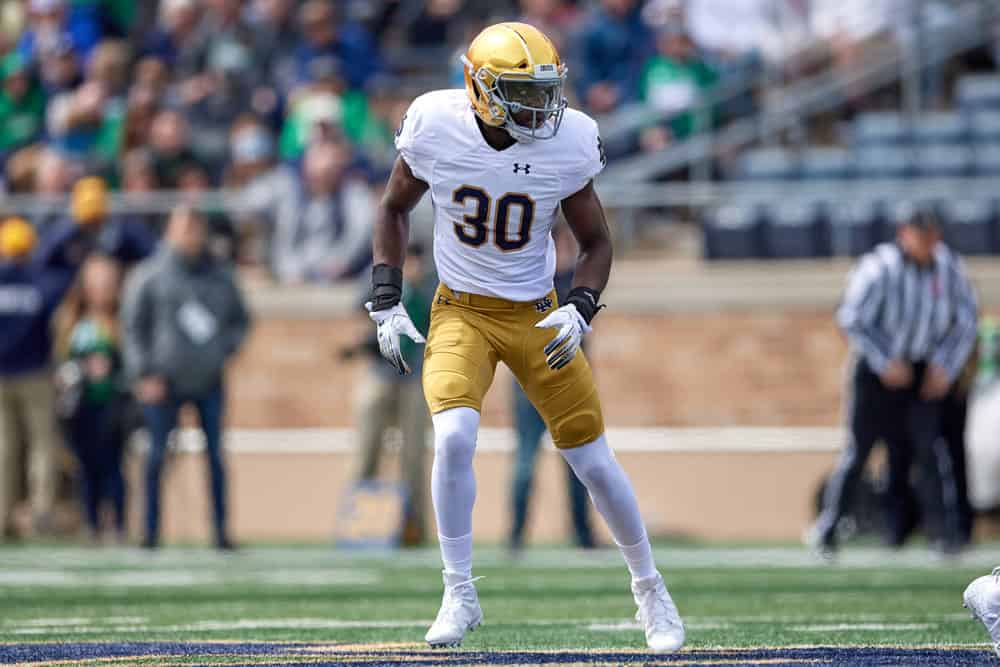 The Cleveland Browns are thrilled that they were able to draft Jeremiah Osuwu-Koramoah in the second round of the 2021 NFL Draft.
Mock drafts had JOK going in the first round; however, as he dropped, the Browns traded up from 59th to 52nd to get him.
ESPN's Adam Schefter reported today that JOK had a minor heart issue revealed late in the due diligence of the draft process which apparently raised red flags for some teams.
Jeremiah Owusu-Koramoah had a heart issue that came up late in the process and was a concern for most teams, which is why he fell out of the first round and to pick No. 52 with Cleveland, per sources. Doctors ultimately cleared Owusu-Koramoah but it did contribute to him falling.

— Adam Schefter (@AdamSchefter) May 3, 2021
The details of the heart issue are not known, but the important part is that doctors cleared JOK.
JOK's Skill Set
JOK brings speed and versatility which are universal traits among the Browns free agent signings and draft picks.
His Notre Dame defensive coordinator, Clark Lea lauded JOK with praise last fall.
"I think that he is the evolution of the game at the second level. I think he is exactly the kind of guy that we're seeing become more relevant and more coveted, both in college and in the pros… With 'Wu,' when I watch that tape, you see explosive athleticism all over the place. Defensively, he does so many things on that film, but there are times where he's so explosive through the line of scrimmage and I'm talking about as a linebacker. Now he plays rover for us, which is like a nickel position essentially, and that kind of folds in a different skill set. I was so impressed with his second level linebacker film. The way he found windows to the ball, the way he accelerated in a bent position, it separated him completely…"
GM Andrew Berry Was Happy To Get JOK
AB confirms #Browns strongly considered JOK at pick 26…

Instead, they get him 26 picks later… at 52.

— MoreForYouCleveland (@MoreForYou_CLE) May 1, 2021
Berry was asked about the drafting process for JOK.
He described the anxiety in the Browns draft room as the second round picks were announced, and JOK continued to remain on the board.
"We probably had a building of 30 people all pacing together."
"We certainly didn't expect him to be there when he was, but we're fortunate that he was and we think he's going to add something to our team."
When asked about the heart issue, Berry seemed unconcerned.
"No, he didn't run a 40 at his pro day, and we knew he was sort of a little dinged up, but he participated otherwise in his pro day.  No, there's nothing that would prohibit him going forward with us…I can't begin to speculate in terms of what made him, I guess, allegedly drop, but I can say that we were very comfortable with him from a medical standpoint."