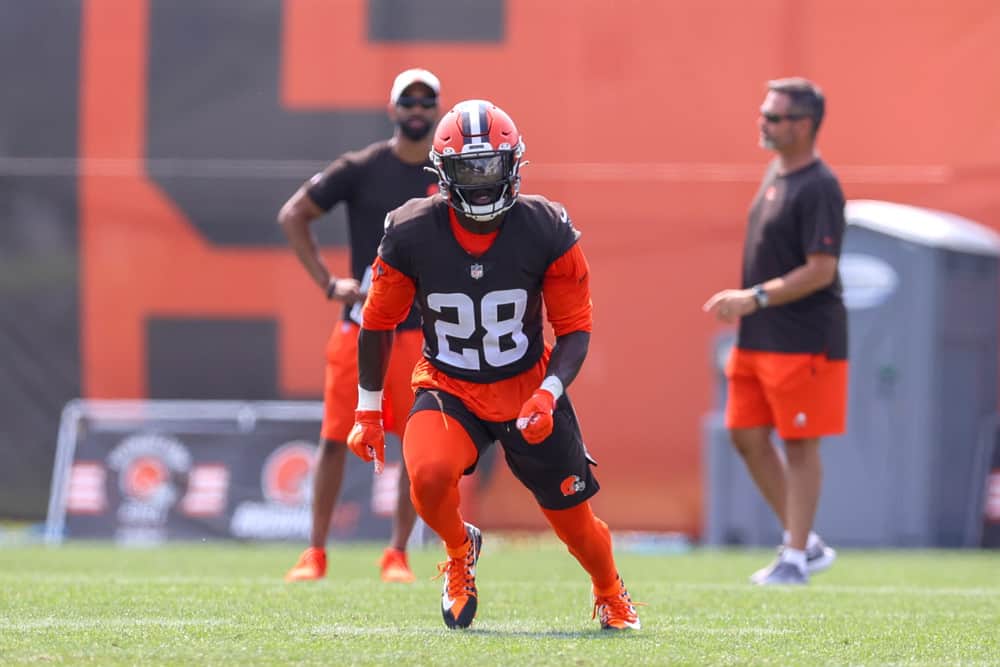 The Cleveland Browns play the Atlanta Falcons in the team's third and final preseason game on Sunday, August 29.
Coach Kevin Stefanski announced on Friday that quarterback Baker Mayfield and a select group of starters will play in the game.
This will be their first appearance in a football game since the divisional playoff loss to the Kansas City Chiefs in January.
At the same time Coach Stefanski announced this, he also indicated that rookie linebacker Jeremiah Owusu-Koramoah (JOK) will not play in the Atlanta game.
As expected, #Browns LB Jeremiah Owusu-Koramoah won't play vs #Falcons because of the stitches in his forehead. Can't wear a helmet yet

— Mary Kay Cabot (@MaryKayCabot) August 27, 2021
As previously reported, JOK had a weight room accident earlier this week which was severe enough that he needed stitches in his head.
#Browns Stefanski said during his podium interview that Jeremiah Owusu-Koramoah had a weightlifting accident and has stitches in his forehead. "He'll be okay," Stefanski said

— Mary Kay Cabot (@MaryKayCabot) August 24, 2021
Thankfully, he is not in the concussion protocol.
Rather, he cannot play because the helmet interferes with the stitches.
Coach Stefanski has not divulged the details of the weight room accident but joked that JOK will need to wear a helmet in the weight room in the future.
#Browns Kevin Stefanski said Jeremiah Owusu-Koramoah won't play Sunday because the issue with his helmet and his stitches from a lifting accident.

"It's unfortunate, we'll just make him wear a helmet in the weight room next time."

— Camryn Justice (@camijustice) August 27, 2021
JOK's Training Camp
He had a delayed arrival at camp because he was placed on the Reserve/COVID-19 list.
When he did get here, he made his presence known with excellent practice sessions and preseason plays.
Jeremiah Owusu-Koramoah (28) REALLY flashed on film in his NFL preseason debut. Undersized, fast LB – but really impressed with how fast he triggered. pic.twitter.com/GnLDE4fuVE

— Josh Cohen (@JCohen_NFL) August 16, 2021
#Browns LB Jeremiah Owusu-Koramoah first career sack, albeit preseason. pic.twitter.com/wMIy426hfD

— Turner Maney (@turnermaney) August 15, 2021
Opportunity Knocks
No one wants to see players get injured; however, the next man up mentality remains.
Preseason injuries are the worst. But this paves the way for Jeremiah Owusu-Koramoah to see the field earlier in Cleveland. https://t.co/hewdLVE2qH

— Chris Trapasso (@ChrisTrapasso) August 20, 2021
Jacob Phillips is lost for the season, and Sione Takitaki is dealing with a hamstring issue.
This means that JOK has an opportunity to secure a starting position on the roster.
It looks to be in the works as JOK got reps with the first team last week.
#Browns rookie LB Jeremiah Owusu-Koramoah predictably makes practice debut with first-team D.

— Nate Ulrich (@ByNateUlrich) August 19, 2021
The good news is that this little setback is not expected to interfere with JOK's availability for the Week 1 game against the Kansas City Chiefs.
Though Coach Stefanski has not named his starters yet, no one will be surprised if JOK is among them.
I was told if everything goes to plan, #Browns rookie LB Jeremiah Owusu-Koramoah will start week 1 in Kansas City. pic.twitter.com/eSseNxrxsv

— MoreForYouCleveland (@MoreForYou_CLE) August 23, 2021
Watch the Browns, with JOK on the sidelines, take on the Falcons on Sunday Night Football on August 29 at 8:00 PM EDT.