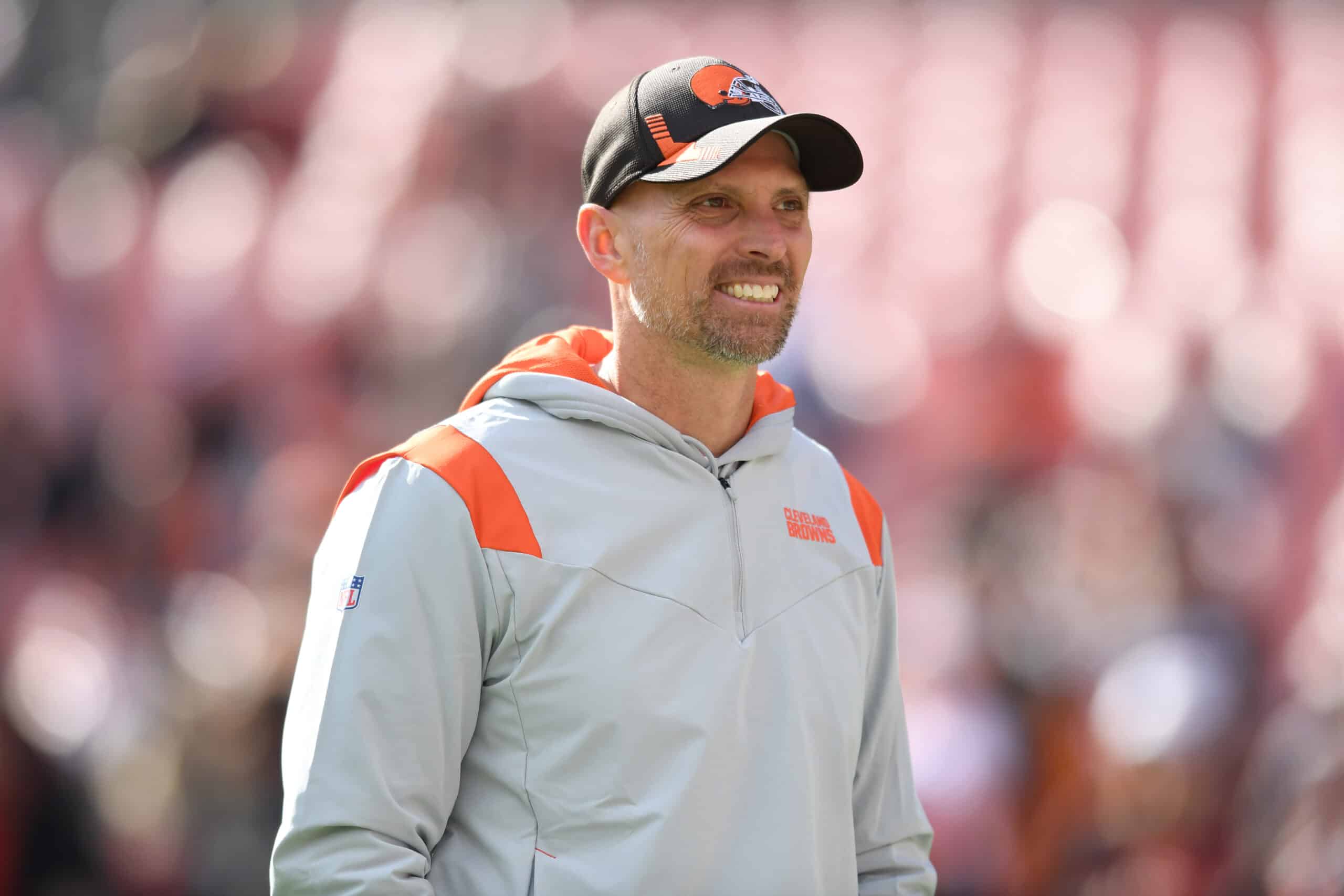 Kevin Stefanski might have more openings on his Cleveland Browns coaching staff than he expected.
Wide receivers coach and passing game coordinator Chad O'Shea visited the New York Jets today.
Jets head coach Robert Saleh spoke to O'Shea about his offensive coordinator position.
Stefanski's wide receiver coach has some NFL coordinator experience under his belt.
The #Jets interviewed #Browns WR coach/passing game coordinator Chad O'Shea for their offensive coordinator job today, per source.

— Tom Pelissero (@TomPelissero) January 20, 2023
He worked under Brian Flores when Flores was the head coach in Miami.
Flores let O'Shea go after just one season despite the Dolphins' 28-point average over their final 5 games.
Word was that Flores wanted to implement a less complicated offense for his young team.
And that played into Stefanski's hands as O'Shea became available to join his cerebral collection of coaches.
O'Shea Has The Credentials 
Chad O'Shea just finished his 20th season of coaching in the NFL.
Over that span, his teams won 12 division titles, five conference championships, and three Super Bowls.
All 3 of those championships came during his time as wide receivers coach in New England.
Cleveland scored 408 points in O'Shea's first season under Stefanski, the second-best total in franchise history.
They said Amari Cooper's career went to Cleveland to die.

Amari Cooper just set a career high with 9 TD receptions. pic.twitter.com/vzxlkjC9Dy

— Nick Karns (@karnsies817) January 1, 2023
Those points included the second-most touchdowns ever scored by the team (48).
Amari Cooper fell 1 yard short of a top-10 (by yardage) wide receiver performance this season.
His career-best 9 receiving touchdowns were tied for 4th-best among wideouts.
And while at Miami, O'Shea helped Davante Parker break out with a top-5 wide receiver performance.
Other Interview News 
New York is not the only team interested in Chad O'Shea.
Bill Belichick put a quick end to the Patriots' "no-offensive-coordinator" experiment of 2022.
O'Shea is reportedly on the shortlist of potential interviews for their open coordinator position.
New England is very familiar with O'Shea after he spent 10 seasons as their wide receivers coach (2009-2018).
#Browns WRs coach Chad O'Shea could be a name to watch in New England if they decide to officially add an offensive coordinator position. (Via @AlbertBreer) pic.twitter.com/QFBHc4ZTH7

— MoreForYouCleveland (@MoreForYou_CLE) January 11, 2023
O'Shea's opportunities could prove timely as the Browns look to install a new, more explosive passing offense in 2023.
Meanwhile, Bill Callahan turned down an opportunity to compete with O'Shea for the Jets' offensive coordinator job.
Callahan, whose office is right next to Stefanski's for good reason, will stay in Cleveland for the foreseeable future.
Cleveland's offensive line coach signed a contract extension Friday, as per Mike Garafalo of the NFL Network.