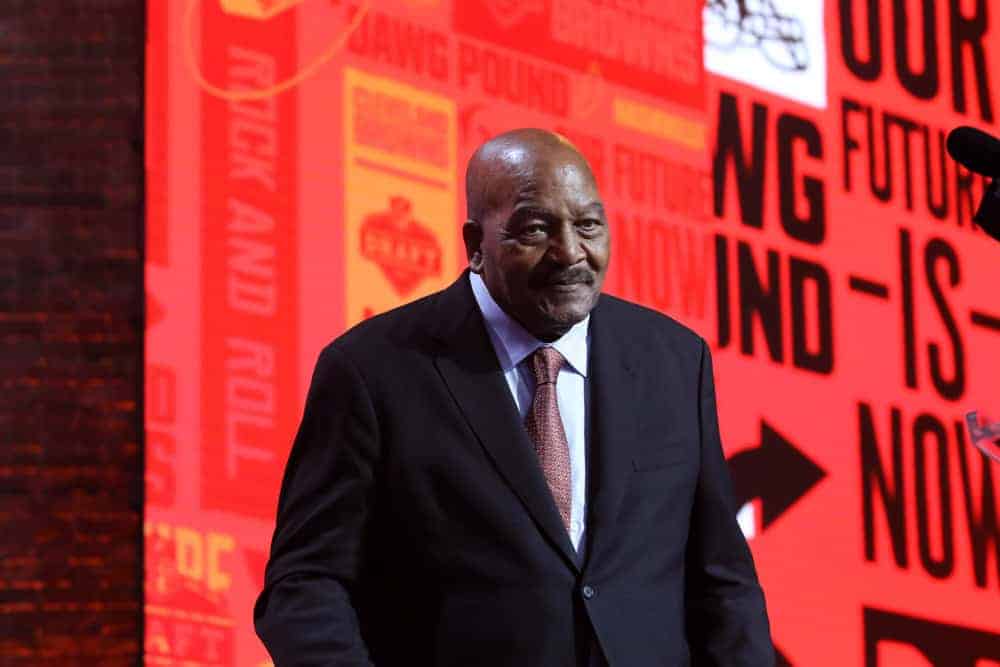 In the Friday night's unveiling of the NFL's all time team on NFL Network, Jim Brown took the honor of being the first player named.
The Browns namesake and legendary coach Paul Brown were also honored as one of the first 2 of 10 coaches named to the team.
Browns legend Marion Motley was also among the 12 running backs named to the all-time team.
Jim Brown joined hosts Cris Collinsworth, Rich Eisen, and Bill Belichick to reflect on the honor.
"At my age, to be relevant, is not too bad," said the 83-year-old Brown.
A star athlete at Syracuse, the Browns chose Brown with the 6th pick in the 1957 draft.
They watched him go on to rush for 12,312 yards and score 756 points in his career.
Brown was a 3 time MVP and won the rushing title 8 times in his 9-year career with the Browns.
Highest career averages by 11,000-yard rushers
5.2 … Jim Brown
5.0 … Barry Sanders
4.7 … Adrian Peterson
4.7 … O.J. Simpson
4.6 … Fred Taylor
4.5 … LeSean McCoy
4.4 … Eric Dickerson
4.4 … Walter Payton
4.3 … Tony Dorsett
4.3 … Frank Gore
4.3 … Marshall Faulk

— Reuben Frank (@RoobNBCS) November 19, 2019
Chris Collingsworth on Brown:
"It looked like a dad playing football in the backyard with his kids, and the kids are wrapped around his legs and you're sort of dragging — and you certainly don't want to hurt the poor little kids — that's what it looked like," Collinsworth said. "It was like a different sort of being was playing football with some young kids on the field."
"I'd always heard so much about him as the person and breaking the color barrier, and then I got to watch the tape," Collinsworth said. "The tape is so stunning that it is almost hard to describe. It looks like someone messed up and put a guard or a tackle in the backfield."
"You could have played in any era, probably at any position…There's nobody other than you that should be the first person in this group." – Bill Belichick

The great Jim Brown was the first player named to the #NFL100 All-Time Team 👏

📺: NFL 100 All-Time Team on NFL Network pic.twitter.com/I2x4reeyVa

— NFL Network (@nflnetwork) November 23, 2019
Paul Brown, who led the Browns to 4 AAFC championships, was also an easy choice for the AA-time team committee.
Brown won 3 NFL championships in his 17 seasons in Cleveland.  He finished with 167 wins and was considered an innovator of the game.
Bill Belichick on Brown:
"He's the greatest coach in the history of professional football, clear and simple," Belichick said. "Everything we do today, everything I do today, Paul Brown did. It all started with Paul Brown. He took football from being a sport to a profession."