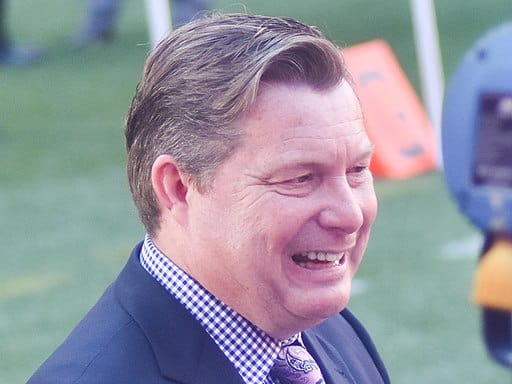 The sports world has always been filled with colorful broadcasters.
No matter the sport, certain broadcasters have a flair for the dramatic that stick with their audience for eternity.
In baseball, there was Vin Scully for the Dodgers and Ernie Harwell for the Tigers.
Basketball has Marv Albert and Doris Burke.
Hockey had Doc Emerick and Don Cherry.
Football has had a wealth of voices including Frank Gifford, Pat Summerall, and John Madden.
The Browns have their own fixture in the broadcast booth every week.
Since 1999, Jim Donovan has called games for the team and provided some memorable quotes.
Up or down, thin or flush, Donovan has seen it all in Cleveland in the past few decades.
His voice has provided calm during the ongoing lean years the Browns have experienced.
This is the story of the life and career of Jim Donovan.

Early Life and Career
James Francis Donovan III was born on July 17, 1956, in Boston, Massachusetts.
Donovan caught the broadcasting bug early.
When his father took him to watch Patriots, Celtics, and Bruins games, the younger Donovan would bring a voice recorder along.
He loved the players on the field, court, and ice, but Donovan was fascinated by the people calling the games.
As he watched games in person, Donovan would "call" them in real-time into his recorder.
By the time he was ready for college, Donovan chose Boston University to learn the finer points of communication.
It is noteworthy that a fellow communications student by the name of Howard Stern was enrolled in BU at the same time.
In 1978, Donovan graduated from BU and took a job as the sports director at WJON radio in St. Cloud, Minnesota.
Not long after, Donovan moved to Vermont to provide play-by-play for basketball and hockey games for The Satellite News Channel based in Burlington.
He also did play-by-play and sportscasting for WVMT radio and WEZF-TV at the time.
For one season, Donovan was the play-by-play announcer for the Vermont Reds, a minor league affiliate for the Cincinnati Reds.

Donovan Moves to Ohio   
In 1985, Donovan moved his family (wife Meghan and daughter Cheryl) to the Cleveland area after taking a job as the weekend sports anchor for WKYC television.
The following year he was moved to the weeknight sports anchor position where he has been ever since.
From 1987-1997, Donovan called play-by-play for NBC Sports' NFL games.
His knowledge of sports extended to calling swimming and soccer play-by-play during the 1992 and 1996 Summer Olympic Games.
In 1994, Donovan was called on to voice the play-by-play for soccer's World Cup.

Donovan Becomes the Voice of the Browns
When the Browns returned to the NFL as an expansion team in 1999, Donovan became the radio play-by-play man for the team.
He has been paired with former Browns offensive tackle Doug Dieken for 22 years.
In 2006, WKYC and Sports Time Ohio bought the local television rights to the Browns.
That led Donovan to host a number of Browns related programs for the station.
Although Cleveland has not given much for Donovan to work with since '99, he has made a number of memorable calls.
For example, there was the 2002 game where running back William Green broke a huge 64 yard run against the Atlanta Falcons.
As Green broke into stride, an enthusiastic Donovan yelled, "Run, William, run!"
"…it was the end of the regular season and the Browns had to win to make the playoffs," said Donovan in 2019.  "William Green was always a half-step away from breaking a big run. Finally, he gets this play where the blocks are perfect, he gets through the first wave and it was just, "Run, William, Run!"
In 2018, the Browns were mired in an awful season that ended with a 1-15 record.
On the day they won their only game, Donovan was overcome with joy and exclaimed, "Is this how it feels!?"
"IS THIS HOW IT FEELS?"

Jim Donovan's call + @TheSchoGoesOn53's fourth-quarter interception!#NYJvsCLE pic.twitter.com/VRF6LQec5a

— Cleveland Browns (@Browns) September 21, 2018
Gotta add Jim Donovan's call at the end of the game: "is this how it feels??? Is this how it feels to win?"

— Justin (@jayemdubbya) May 24, 2020
"…the day they won was Christmas Eve," said Donovan last year.  "From the crowd reaction, you would've thought we were headed to the AFC Championship game.  'Is this how it feels?' just came out. It was an honest feeling."
Health Scare
During his evening newscast on May 25, 2011, Donovan shared with the viewers that he would be taking a leave of absence to undergo a bone marrow transplant.
Donovan had been battling leukemia for 10 years before his announcement.
He returned three months later to continue his duties for the Browns and for WKYC.
While going through treatment for the disease and undergoing the bone marrow transplant, people from all over the country sent in cards, trinkets, and other items of love for Donovan.
"And I'm not even from here," said Donovan in an interview last year.  "I'm from Boston."
In 2013, Donovan was able to meet Dallas Gentry, the person who donated his bone marrow.
"If he hadn't donated, who knows where I'd be," said Donovan.  "It's not easy to find a match for a bone marrow procedure, but I was given one."
Awards and Accolades
During his time as a broadcaster, Donovan has received numerous awards.
He is a three-time Lower Great Lakes Emmy winner.
He was also named Cleveland Press Club All-Ohio Best Sportscaster in 1988.
In 2005, Donovan was a Cleveland Association of Broadcasters Hall of Fame inductee and, in 2009, he was a Cleveland Press Club Journalism Hall of Fame inductee.
And, in 2016, Donovan was given the Cleveland Sports Awards Lifetime Achievement Award.
Jim Donovan, @wkyc sports anchor & voice of the @Browns, receives the Lifetime Achievement Award. #CLESportsAwards pic.twitter.com/0sXpwnY1jj

— Greater Cleveland Sports Commission (@CLESports) January 29, 2016

After 20 years of covering the Browns, Donovan remains joyful, happy, and optimistic about his future as well as the Browns future.
He continues to be the fixture that provides Cleveland fans with a unique ambience that is Browns football