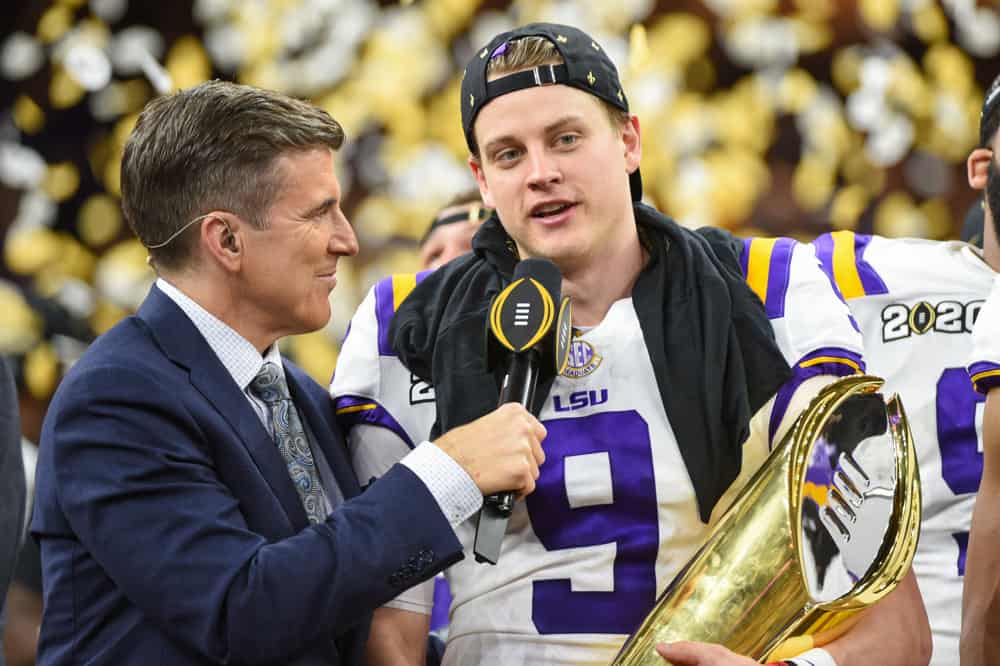 Joe Burrow is from The Plains, Ohio, a small-town that lies southeast of Columbus.
Cincinnati and Cleveland are each over two and a half hours away, so I imagine there's a somewhat even split with the town's fandom.
Besides, Ohio State football dominates football season anywhere near Ohio's capital anyways.
Since that's the case, it's no wonder Burrow accepted an offer from the Buckeyes before transferring to LSU.
Joe Burrow did have a favorite NFL team growing up, however.
With all the success he's had, you'd think he grew up idolizing the stellar quarterback play of Tom Brady's Patriots or Peyton Manning's Colts, right?
Nope.
In fact, Burrow said earlier today at the NFL Combine that he was a fan of the Cleveland Browns during his childhood.
Joe Burrow says he was first a Vikings fan (lived in North Dakota in first and second grade), then was a Saints fan in Ohio because he liked Reggie Bush and Drew Brees, then sort of became a Browns fan

— Jonathan Jones (@jjones9) February 25, 2020
The backstory to that tweet certainly adds up.
A former manager of mine was from North Dakota, and he bled Minnesota Viking purple.
Being a quarterback, it's also only natural to be a fan of Drew Brees and the success he's sustained over the years.
But, the Browns?
What's the reasoning or explanation there?
Joe Burrow said he was a Vikings fan as a young kid, liked the Saints because of Reggie and Drew, then was a Browns fan for a bit living in Ohio. "I was kind of a bandwagon fan," he said

— Katherine Terrell (@Kat_Terrell) February 25, 2020
Burrow indeed explained that he was a bit of a bandwagon fan.
The problem is, why pick the Browns as a bandwagon team?
Burrow was born when the Browns were gone from Cleveland and was about three when they returned.
As we all know, he's only seen two winning Browns seasons during his lifetime.
Perhaps it was the 2007 team that went 10-6 under the efforts of Derek Anderson and Jamal Lewis but missed out on the postseason.
Americans do love a good underdog story as well.
And if there is any team that fits the bill of "underdog" on a consistent basis, it's the Browns.
The College Football Playoff national champion may still be a fan of the orange and brown today as well.
Daryl Ruiter from 92.3 The Fan in Cleveland posted this video of Burrow explaining how he has a profound respect for Baker Mayfield and embracing the challenge of being the quarterback for the Browns.
🎥: Joe Burrow wants to go No. 1 overall, never said he didn't want to play for #Bengals, won't work out at NFL Combine, was a bandwagon #Browns fan & admired how Baker Mayfield approached Cleveland challenge pic.twitter.com/tDXvjfYhPp

— Daryl Ruiter (@RuiterWrongFAN) February 25, 2020
Burrow mentions how there are ups and downs that tend to come with number one overall picks, which Baker was two years ago in the draft.
Burrow is projected to follow suit and be selected first overall this year by the Bengals.
Looking at how Baker has approached the NFL, isn't a terrible idea for Joe.
Again, being the first pick in the NFL Draft is an insane amount of pressure thrown onto you immediately, especially if you are supposed to be a franchise-saving quarterback.
It's almost certain that Burrow has kept a close eye on Mayfield, as well as Kyler Murray this past year, to further understand what all it takes to truly make it in the NFL.
The key for Burrow should be to learn from their bad moments as well.
With Baker, there were plenty of issues both on and off the field this past season.
He took a big step back following a fantastic rookie campaign, so bouncing back in year three will be crucial.
Bengals fans are hoping Burrow has the same, or better, rookie success without the immediate regression.