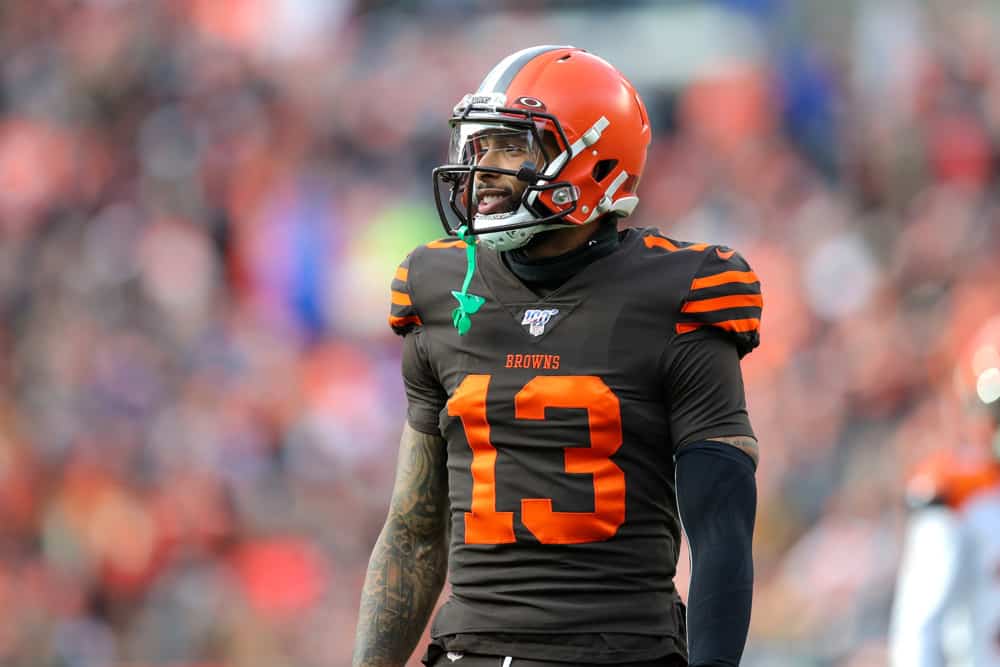 Stop me if you've heard this before – Odell Beckham Jr.'s team has insisted all offseason that it has no plans to move him, but the rest of the NFL doesn't buy it.
The dynamic Cleveland Browns receiver heard both his new coach and GM claim they expect him to remain with the team for the 2020 season. Despite that, trade rumors continue to persist. Heck, when projecting the New England Patriots' 53-man roster, Greg A. Bedard of Boston Sports Journal included Beckham.
Considering the fact we're almost a year removed from New York Giants GM Dave Gettleman insisting "we didn't sign Beckham to trade him" – right before doing exactly that – it's admittedly not surprising that nobody believes Cleveland wants to keep him.
It wouldn't be overwhelmingly shocking if the Browns did decide to move on from Beckham this winter. That said, there are plenty of reasons to hope they don't, none clearer than the fact it's just far too early for them to give up on him.
Beckham's 2019 season clearly represents a step down from what we typically expect from him. Logging a full 16 games for the first time since 2016, he finished the year with just four touchdowns on 1,035 yards receiving. His catch percentage (55.6%) and yards per game (64.7) have never been lower and, at times, it became easy to forget he was even on Cleveland's roster.
The issues eventually tumbled over to off-the-field headlines, as Beckham reportedly spent a good chunk of the season begging opponents to trade for him after the season. Ice the cake with bizarre stories like his "assault" in LSU's locker room after the NCAA National Championship game, and it might be easy to see why the Browns would want to cut ties in the coming days.
Yet, you could still argue trading Beckham would be a questionable call on Cleveland's part. This is due mostly to the fact the team completely wasted its first season with the three-time Pro Bowler.
Beckham spent the entire 2019 campaign playing through pain, as a sports hernia suffered over the summer sapped him of some of his trademark explosiveness. Said injury also made it difficult for him to develop a rhythm with quarterback Baker Mayfield, as the two very rarely seemed to be on the same page.
On top of this, it's safe to say coaching played a big factor in Beckham's disappointing season.
Throughout the year, rookie coach Freddie Kitchens struggled to get the ball to his star wideout. At times, he forced it Beckham's way too often. Other weeks, you'd have thought Kitchens was purposely ignoring him. In fact, of his 16 games played last year, Beckham received no more than seven targets in eight of them.
A common argument for this is, "well sure, Beckham is extremely talented, obviously opposing defenses spent the game double-teaming him and ensuring he couldn't make an impact."
Spoiler alert – this wasn't the first time Beckham faced double coverage. He joined the Browns after logging 5,476 receiving yards and 44 touchdowns in five seasons. I struggle to believe defenses waited until last year to suddenly start adding extra coverage on him.
With a new coaching staff to work with in 2020, the hope is Beckham can finally be properly utilized with the Browns.
But that's just the point. Essentially, Beckham's first season with the Browns was squandered. We've yet to see him meet his full potential in Cleveland, and still don't know how much he can offer the team.
Beckham spent 2019 misused and underutilized, all while playing hurt the entire season. Said context makes it difficult to deem the whole experiment as a failure after one year.
If anything, it makes the fact he still logged over 1,000 yards a little more impressive.
Yes, Beckham's presence is often followed by headache-inducing headlines. At times, he can become an unnecessary distraction. Should Cleveland hang on to Beckham this offseason and still not see the type of production we've come to expect, it'd be time to consider moving him.
Ousting him now, though, would be seen as a waste. Beckham was acquired to push the Browns' offense to a new level, and frankly, we still haven't had the chance to see that come to fruition.