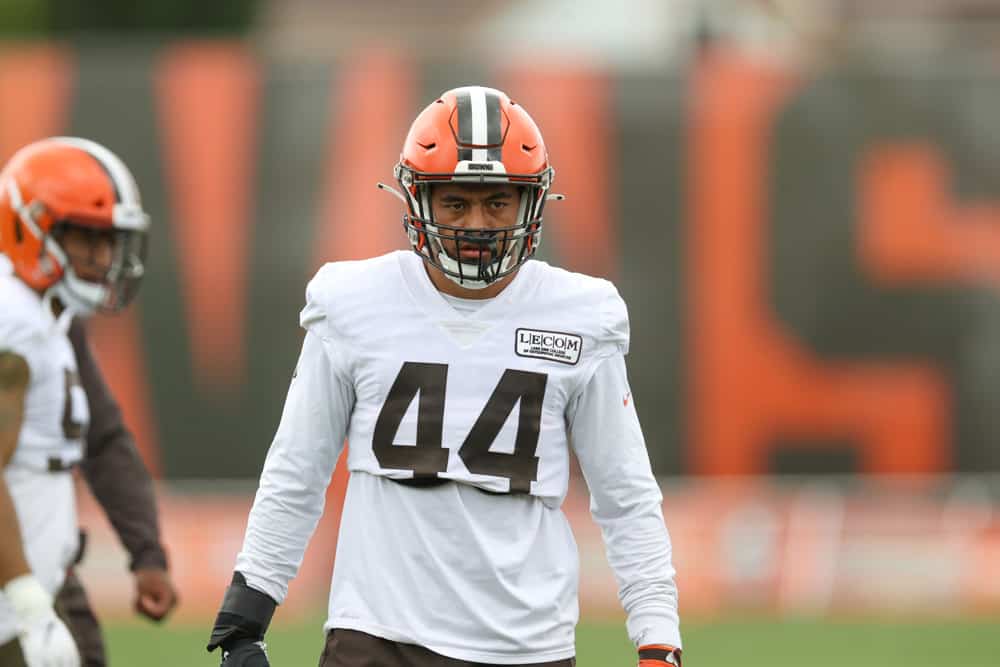 The Cleveland Browns are getting good news by way of players coming off the Reserve/COVID-19 list.
Today, the team activated DE Joe Jackson and LB Sione Takitaki.
We've activated DE Joe Jackson and LB Sione Takitaki from the reserve/COVID-19 list

Details » https://t.co/UGTEaY0R19 pic.twitter.com/dcG09bVAol

— Cleveland Browns (@Browns) December 4, 2020
Both previously tested positive for COVID-19.
Jackson has been on the list since November 24, and Takitaki was added the next day on November 25.
It is unclear if or how much either will play in Sunday's game against the Tennessee Titans.
Players Previously Activated
Andy Janovich, who had been on the list since mid-November was activated on November 30.
Garrett, who also tested positive for COVID-19, was activated on December 1.
#Browns Myles Garrett ready to roll vs. #Titans on Sunday pic.twitter.com/K9dI2cYjb3

— Mary Kay Cabot (@MaryKayCabot) December 4, 2020
He will definitely play against the Titans, but it is yet to be determined how many snaps he will be in for.
#Browns defensive coordinator Joe Woods said the coaching staff will know by the end of the practice week whether Myles Garrett can handle full workload Sunday vs. #Titans

— Nate Ulrich (@ByNateUlrich) December 3, 2020
On Thursday, Coach Stefanski talked about seeing both Janovich and Garrett back on the practice field.
Regarding Janovich:
"Andy looked great. He's excited to get out here."
Stefanski on Garrett:
"He was out there yesterday. He looked good to me. We're going to make sure that we're smart about how we get him back out there. But checking in with him yesterday, he looked really good, and we'll see how he looks today and just keep an open dialogue."
Browns Reserve/COVID-19 List
DE Porter Gustin is the only player currently on the list.
He was put on November 26.
Good Timing
The return of these players couldn't come at a better time.
Cleveland has a tough game this weekend against the 8-3 Tennessee Titans.
The Browns have been a little shorthanded on defense with the majority of teammates on the COVID-19 list being defensive players.
Though not COVID-19 related, the Browns continue to be without Denzel Ward who is recovering from a calf strain and is slated to miss his second straight game.
Ronnie Harrison was put on IR with a shoulder injury he suffered in the Jacksonville game.
Must Win Game
Both the Browns and Titans need to win this game to stay where they are currently ranked in the AFC playoff picture.
Right now the Titans are one game ahead of the Colts in the AFC South so they are seeded third.
The Browns are seeded fifth with a wildcard spot.
There are seven teams advancing to the playoffs from each division this year.
This is a change from previous years when it was only six teams.