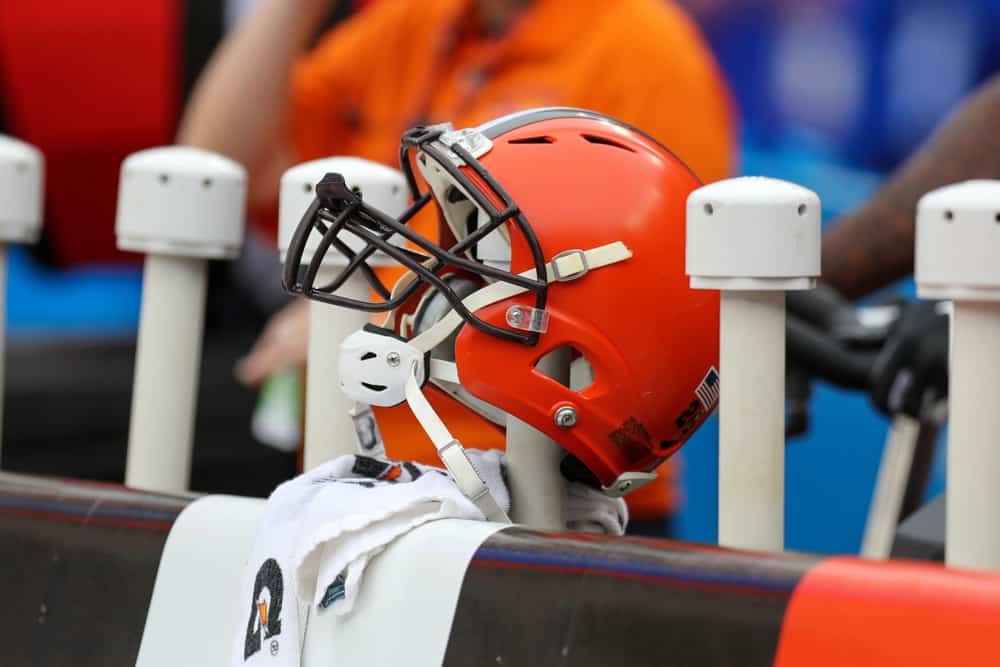 The Cleveland Browns have revamped their team this offseason after an underwhelming performance last season.
The organization made some smart decisions during free agency, but also snagged solid talent through the draft as well.
All of these players the Browns added should help in some way, but there are certain players that should bring a bigger impact than others.
Let's take a look at the top 5 offseason moves the Browns have made.
5. Karl Joseph
After last season, the Browns needed to add some help at the safety position this offseason.
They decided to go out and sign 26-year-old safety Karl Joseph to a one-year $2.5 million deal.
The #Browns have a safety: Karl Joseph's 69.9 defensive grade ranked 38th among 102 qualifying safeties in 2019, and his 78.2 run defense grade ranked 13th. https://t.co/cL4GfN3Qle

— PFF CLE Browns (@PFF_Browns) March 19, 2020
He spent each of the last four seasons with the Oakland Raiders.
Joseph collected 49 tackles, four tackles for loss, and one interception through nine games last season.
He has been a reliable safety when he's on the field, but has problems staying healthy.
The former first-round pick of the Raiders has not quite lived up to expectations yet.
However, it's a nice signing for the Browns and a good fit for Joseph.
He will get an opportunity to start at strong safety and prove that he deserves a multi-year deal.
It's a short-term solution for Cleveland, but gives them a reliable starter, assuming he can stay healthy.
4. Austin Hooper
After last season, the Browns knew that they needed to add some depth at the tight end spot.
They went after and signed the best tight end available on the free-agent market.
New Browns TE Austin Hooper is set to sign a four-year, $42 million deal, per source. He gets $23 million in the first two years, all of which is guaranteed.

— Albert Breer (@AlbertBreer) March 16, 2020
The Browns signed Austin Hooper to the biggest deal for a tight end in the league.
The two-time Pro Bowl tight end is well-deserving of that contract after how he's played over the last few seasons.
He hauled in 75 receptions, 787 receiving yards, and six touchdowns through 13 games last season.
The 25-year-old is expected to make a big impact on the Browns offense next season.
The opposing defenses already have to worry about Odell Beckham Jr. and Jarvis Landry, but the Browns gave them another player to be concerned about.
Hooper gives the Browns more firepower on offense, which was desperately needed after how Cleveland performed last season.
They gave him a massive contract, but hopefully, he'll be able to live up to the expectations next season.
3. Grant Delpit 
The Browns already added Joseph this offseason, but knew they needed more help at the safety position.
They selected LSU safety Grant Delpit during the second round of the 2020 NFL Draft.
He is a three-year starter in college that appears ready to take the next step at the professional level.
Good luck throwing the ball when Grant Delpit is in the area. pic.twitter.com/YjFISmmIWL

— SEConCBS (@SEConCBS) October 13, 2018
He collected 65 tackles, two sacks, and two interceptions through 14 games during his final season.
The Browns are hopeful that they have their future at free safety for years to come.
It was a solid move by the Browns who don't have much talent at the safety spot.
10-year veteran Andrew Sendejo should compete with Delpit for the starting free safety spot during camp.
It's not likely that Delpit will be a superstar, but he could very well be a reliable option as a starter and contribute to the team.
2. Jack Conklin
The Browns wasted no time adding to their offensive line this offseason.
They signed offensive tackle Jack Conklin to a three-year $42 million deal.
OFFICIAL: Welcome to Cleveland, @Jack_Conklin78!

We've landed major help for our offensive line with the addition of Jack Conklin » https://t.co/nvaEd3Go0l pic.twitter.com/y9z4XChoAj

— Cleveland Browns (@Browns) March 20, 2020
Conklin has spent each of the last four seasons with the Tennessee Titans.
He was selected to the first-team All-Pro during his rookie season in 2016.
He dealt with some knee injuries in 2018, but played all 16 games during his other three years with the Titans.
The Browns desperately needed help at the offensive tackle spot after last season.
Conklin is not expected to be a Hall of Fame type of player, but he should be a trustworthy option.
It is a great move by the Browns to get some consistency on the offensive line.
1. Jedrick Wills Jr.
Bringing in Conklin was a good start, but the Browns knew that the offensive line needed more help.
They decided to select Alabama offensive tackle Jedrick Wills Jr. with their first selection of the draft.
The Browns get Baker some more protection

Cleveland selects Alabama OT Jedrick Wills Jr. with the No. 10 pick in the #NFLDraft pic.twitter.com/EP4q2BmA8t

— B/R Gridiron (@brgridiron) April 24, 2020
Cleveland used the No. 10 overall pick on Wills, so they believe he can be a cornerstone to their offensive line.
Going into the draft, Wills was projected as one of the best tackles in the entire draft class.
The Browns have struggled to find a superstar offensive tackle since Joe Thomas retired.
It's unclear if Wills can be as dominant as Thomas, but he definitely has the potential.
The organization is hopeful that they have their lockdown offensive tackle of the future.
Wills is going to be an upgrade over Chris Hubbard, so the Browns are already in better position than they were a season ago.