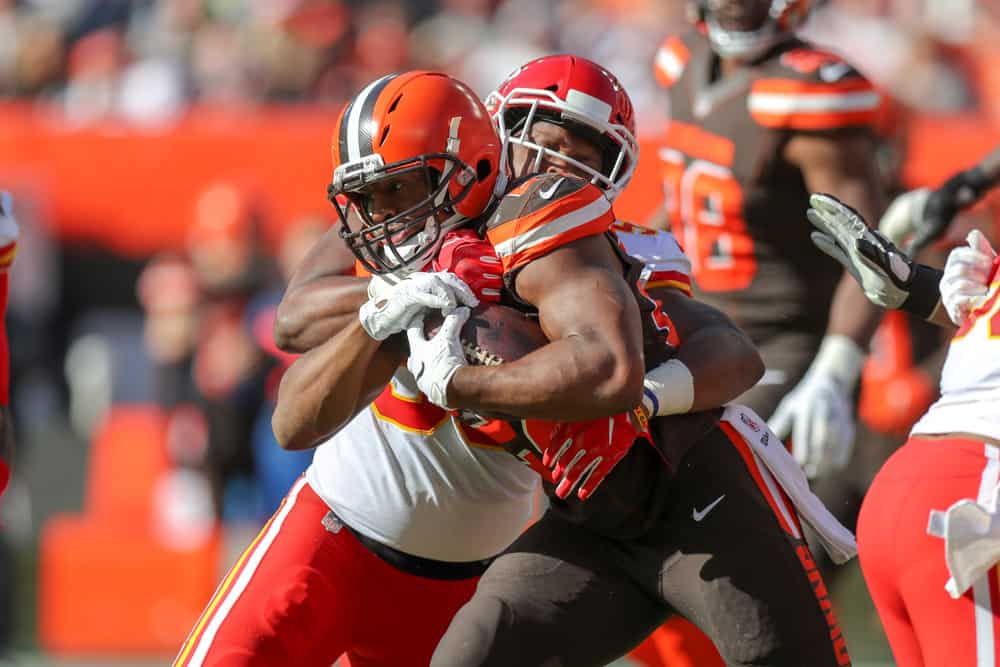 The Cleveland Browns were able to take down the Pittsburgh Steelers and advance to the next round of the playoffs.
It won't get any easier for Cleveland as they go head-to-head with the Super Bowl champion Kansas City Chiefs.
This team is looking just as strong as last year with a 14-2 record coming into the playoffs.
Cleveland comes in as huge underdogs, but honestly Browns fans are used to hearing that.
Cleveland was able to beat Pittsburgh, so maybe the Cinderella Story continues.
3. Nick Chubb Goes Over 150 Yards
One of the keys to getting the upset over the Chiefs will be getting the running game going on offense.
Luckily for Cleveland, they have a two-headed monster in Nick Chubb and Kareem Hunt.
Although, Chubb is the workhorse back and will need a big game here.
The two-time Pro Bowl running back finished with 76 yards on 18 carries versus Pittsburgh.
However, he was also able to get it done through the air as well.
Nick Chubb with the closer 💯 pic.twitter.com/2CTOqXiOHS

— Donmegah (@donmegah) January 11, 2021
The Browns saw what happened when Pittsburgh shut down their run game in Week 17.
They barely came away with the victory over the Steelers with their backups playing.
Kansas City does not have as strong of a run defense as Pittsburgh, which is good news for Chubb.
There is hope that he can rush for over 150 yards after notching almost 80 yards against the Steelers elite run defense.
2. Baker Mayfield Throws For Three Touchdowns
This is probably just wishful thinking, but maybe quarterback Baker Mayfield can do this.
He is coming off a three touchdown performance against the Steelers last week.
A game where Mayfield wasn't asked to throw quite as much after taking a 28-0 lead.
However, this matchup with the Chiefs is expected to be much more difficult for Cleveland.
Although, if there was anytime to believe in Mayfield it would be right now.
He had a fantastic second half of the season and is coming off a hot performance versus Pittsburgh.
#Browns Baker Mayfield with a phenomenal troll job on Colin Cowherd, turning his hat backward after his playoff WIN. pic.twitter.com/jKHwvfc3xW

— Camryn Justice (@camijustice) January 11, 2021
Since Week 10, Mayfield has thrown three touchdowns or more in a game three times.
Two of those times were against Pittsburgh and the other was versus the Tennessee Titans.
Neither team was easy competition, so maybe Mayfield shines the brightest when his back is against the wall.
1 Defense Holds Mahomes Under 300 Yards
The only way for Cleveland to win this game is to hold quarterback Patrick Mahomes in check.
It's a seemingly impossible task, but it has been done before.
During Mahomes' final two games of the regular season he was held under 300 yards in both contests.
Although, the Browns defense has been torched by just about every quarterback this season.
Mahomes is one of the best young quarterbacks in the league and is only getting better.
Highest-graded QBs in 2020:
🔹Aaron Rodgers
🔹Tom Brady
🔹Deshaun Watson
🔹Patrick Mahomes
🔹Josh Allen

🗣️ @PFF_Mike highlights the top-5 graded QBs pic.twitter.com/tCd2QSAxHL

— PFF (@PFF) January 9, 2021
Cleveland desperately needs defensive back Denzel Ward back at full strength.
They won't have much of a chance at stopping Mahomes without Ward playing like an elite corner.
This defense needs to step up and slow down Mahomes.