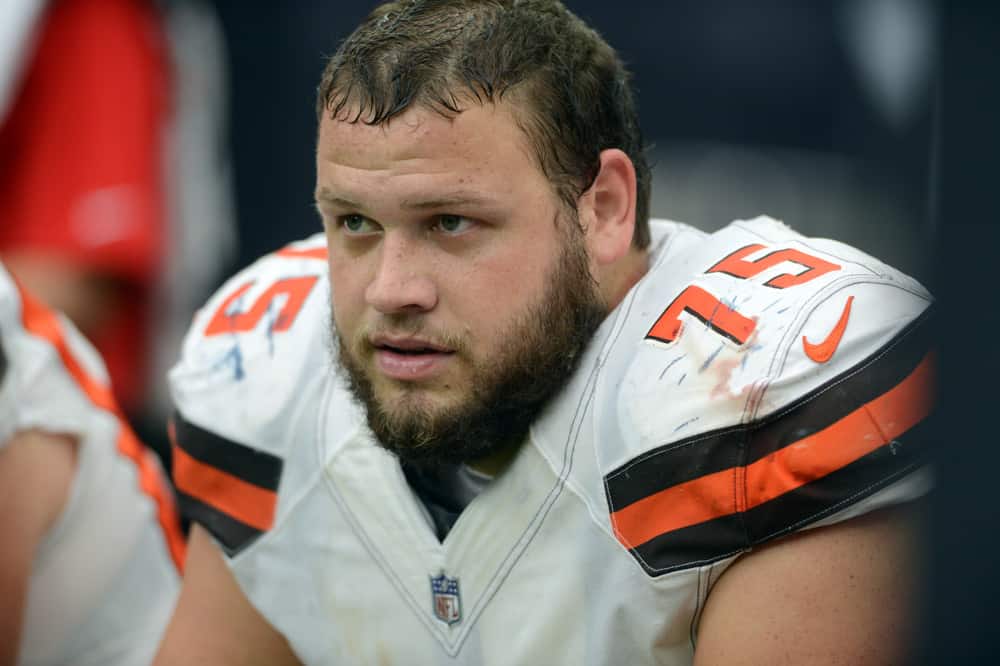 The Cleveland Browns have gone through a handful of head coaches over the last few seasons.
The organization has struggled to find success, so constantly losing usually results in coaches being dismissed quickly.
Quarterback Baker Mayfield is currently on his fourth head coach since joining the league in 2018.
The Browns hired former Minnesota Vikings offensive coordinator Kevin Stefanski to be their new head coach.
Six-year veteran left guard Joel Bitonio believes Mayfield's ability to throw on the run is perfect for this new scheme.
"Baker, I think he works in this offense great. He's going to be able to sell those runs and set up in the pocket," Bitonio said Tuesday during a Zoom call with local media. "It's not just drop-back passing 50 times a game, which is a benefit to the O-line, too. If you can sell the run and play action and boot and run keepers off the run game, it's going to give Baker another second or two to have guys get open and run routes.

"I think you've seen that with the big shots that a team like the 'Niners, a team like Minnesota took last year where they have these guys, [Stefon] Diggs and [Adam] Thielen and George Kittle and all these guys running down the field open because they're so worried about stopping the run."
In Mayfield's 29 starts, Bitonio said Mayfield has given a preview of what's to come.
"If you look at the stats from the last couple years, Baker's actually been a really good roll-out quarterback and a quarterback that's been able to throw off the run," Bitonio said. "So I think this offense fits him really well and I'm excited to get some reps and see him in it."
Bitonio has been through his share of the heartache since joining the Browns in 2014, so hopefully he's right.
The New Scheme
It is tough to find rhythm, especially as a quarterback when you have coaching changes as frequently as the Browns have had over the last few years.
However, this new scheme should rely heavily on play-action, which will work perfectly with third-year quarterback Mayfield.
Bitonio says that utilizing play-action efficiently will help the offensive line as well.
The offensive line won't have to block 40-50 dropbacks a game for Mayfield.
Austin Hooper is a good fit in #Browns new system under Kevin Stefanski. (Similarities to the Shanahan scheme Hooper learned as a rookie.)

— Andy Benoit (@Andy_Benoit) March 16, 2020
The offense as a whole should benefit if the new scheme is used correctly.
Mayfield will get a few extra seconds to find the open receiver, assuming he is able to sell the run and move around the field to find an open option on play action.
This is not the type of scheme that will work with most organizations, but Bitonio believes that Mayfield is the perfect quarterback for this system.
Can Mayfield Succeed in This System?
The Browns selected Mayfield with the first overall pick during the 2018 NFL Draft.
He came into the league with high expectations, but was able to live up to them during his rookie season.
Mayfield experienced a record-setting rookie campaign with 3,725 passing yards, 27 touchdowns, and 14 interceptions.
However, he regressed last season under then-coach Freddie Kitchens.
Mayfield threw for 3,827 passing yards with 22 touchdowns and 21 interceptions during the 2019 season.
Although despite his struggles, Bitonio believes that Mayfield is the man for this job.
Will This Scheme Work?
The Browns have a stacked offense, so this type of scheme might actually be perfect for their organization.
"We want to make the runs look just like the passes, the play actions look just like the runs, and it all kind of works itself together," Bitonio explained.
Cleveland already has Nick Chubb and Kareem Hunt who are already threatening enough for opposing defenses.
However, those defenses also have to stop Odell Beckham Jr., Jarvis Landry, and Austin Hooper in the passing game.
When play action works efficiently, the defense will be sold on the run and it will open up the passing routes for the quarterback.
Whether or not Mayfield works in this scheme remains to be seen, but the Browns could have a dangerous offense if this system works for them.