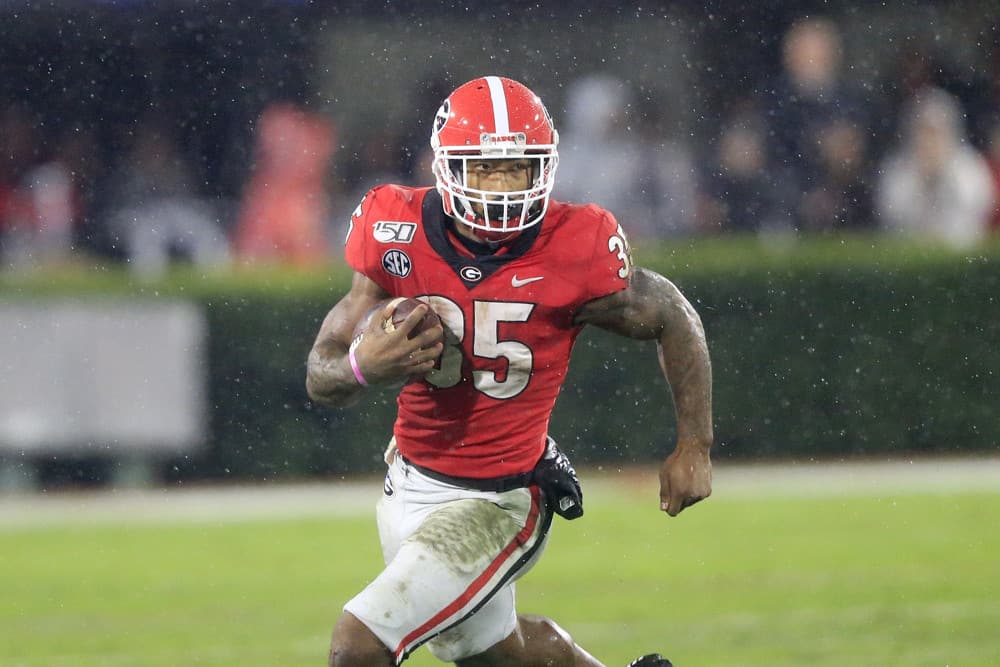 The Cleveland Browns have quickly signed 15 undrafted free agents in the 6 weeks since the NFL Draft.
Dubbed the potential "diamond in the rough" is Brian Herrien RB from the University of Georgia.
It was a bit of a surprise that he did not get drafted.
Brian Herrien is one of the most underrated college football players in America

— UGA Spike Squad (@UGASPIKESQUAD) November 16, 2019

Most experts projected him to be a middle-round selection.
Before we learn more about Brian Herrien who is, check out this OBJ-style catch.
1. Former Teammate With Nick Chubb
Both were Georgia Bulldogs for 2 seasons (2016-2018).
Nick Chubb always encouraged Herrien.
In the midst of the Bulldog playoff run in 2018, Chubb told Herrien he had something to talk with him about.
But things got so busy that they never had the chance to talk and before they could, Chubb was off training for the 2018 NFL Draft.
Herrien texted him to ask if he still had something to say or was just messing with him.
What Chubb had intended to be a face-to-face discussion to pass the torch ended up being a text exchange.
Chubb encouraged Herrien to "show them who you are."
It was a crowded backfield in those days at Georgia with Nick Chubb and Sony Michel, and Chubb wanted to reassure Herrein that both Michel and Chubb were confident he could be the starter.
Being reunited with Chubb has to make joining the Browns even more satisfying for Herrein.
2. Accustomed To A Loaded Roster
The Browns RB depth chart is full of potential.
In addition to Chubb and Herrien, there is Kareem Hunt, Dontrell Hilliard, D'Ernest Johnson, and fellow UDFA Benny LeMay from Charlotte at the RB position.
A full roster of talent is not unusual for Herrien as he played alongside Chubb, Michel, Elijah Holyfield, and D'Andre Swift at Georgia.
That full roster limited his playing time which may have contributed to not being drafted.
The upside is that he is fresh and has a lot of football left to play.
3. Capable of Making Explosive Plays
Given the opportunity, Herrien can expose defensive weaknesses.
Spending his NCAA career in the ultra-competitive SEC will prepare him for NFL-caliber competition.
Brian Herrien @brianherrienn with an amazing run!!!

#GoDawgs pic.twitter.com/Jy0zdrJ2Kc

— GEORGIA HEROES (@GeorgiaHeroes) October 6, 2019
4. Fan Favorite
No, his performance at the NFL Combine did not wow the scouts.
His 4.6 40 yard dash was part of the problem.
Also, he has never been the focused back.
However, fans, teammates, and coaches like his work ethic and attitude.
If he makes the team, he will be an asset in the locker room.
5. Has Special Teams Experience
Of the 15 UDFAs signed by the Browns, only Herrien and Ja'Marcus Bradley have special teams experience.
Herrien returned 10 kicks for 213 yards in his last two seasons at Georgia.
The Browns made a terrific decision in signing Brian Herrien.
There are no downsides.
He will have to work to make the team and make his mark competing against big-name players.
But that is nothing new for Herrien.
It will be interesting to watch his progress in training camp and through the preseason.
You can bet he will be leaning on his former teammate Nick Chubb as a mentor and friend in the process.