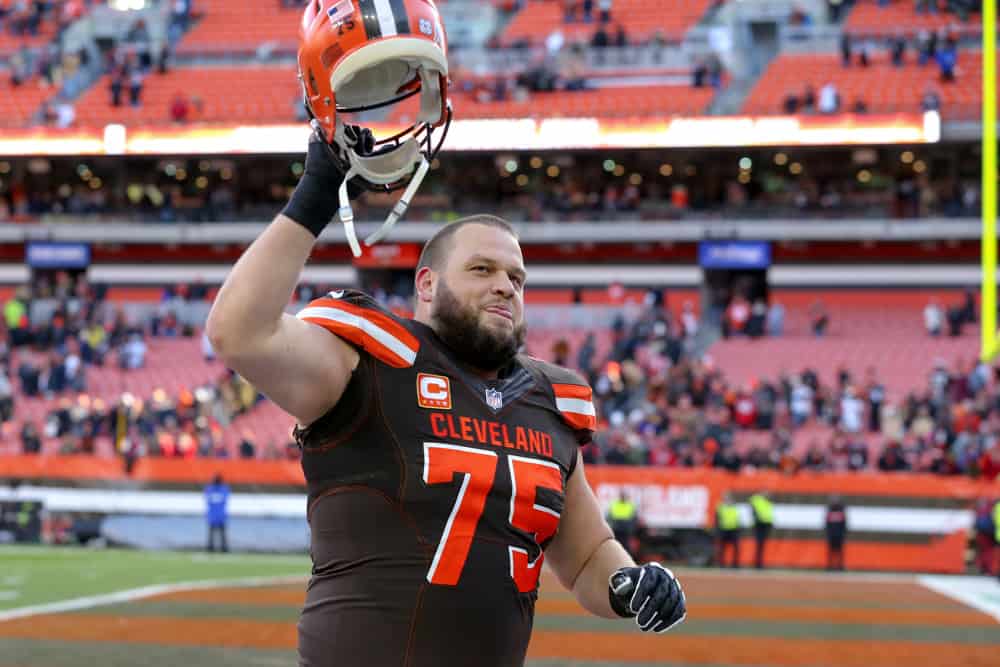 The postgame excitement after the Cleveland Browns defeat of the Pittsburgh Steelers in the wildcard playoff game last Sunday was off the charts.
We saw footage of fans gathering to celebrate the Browns return to town at 3 am.
3 a.m. and our fans were there to welcome us home.

We have the best fans. 🧡#WeWantMore pic.twitter.com/cWLFklozlT

— Cleveland Browns (@Browns) January 11, 2021
There was also locker room footage of Jarvis Landry and Kareem Hunt dancing.
Browns are blasting Corvette Corvette in the locker room. The perfect celebration. pic.twitter.com/JV4g5kFXsi

— Barstool Sports (@barstoolsports) January 11, 2021
Now we are learning that Joel Bitonio's neighbors celebrated after the game too, outside of his home.
Joel Bitonio
Bitonio was sidelined from last week's wildcard game after testing positive for COVID-19 shortly after the Week 17 win over the Steelers.
Like Coach Stefanski who also tested positive for COVID-19, Bitonio watched the game from his basement.
After the game, there was a little commotion outside his house.
"My neighbors know where I live, and after the game, they were outside of my house going crazy and lighting off fireworks. My wife got some of the footage on video." Bitonio said.
Last Week's Game Dedicated To Joel
Many of his teammates openly commented that last week's wildcard playoff was dedicated to Bitonio.
He is the longest tenured Brown, drafted in 2014.
Bitonio has been there through thick and thin so his teammates wanted to win last week so he could have a chance to play in a playoff game.
"He's important to our team. He's important to the Cleveland Browns and the history that we've accomplished this year. It sucks what he's going through to be able to be here for the time that he's been here and now be in this position and he can't even play the game because of the circumstances."
"I know we have other guys missing, but for Joel – somebody who's a great person, a great leader, a father, a great husband – to have put in his time here, endured a lot of things, the longest-tenured Brown and to not be able to play in the first playoff experience, it is very unfortunate. We feel for him. That would be the only thing taking away from the excitement."
Even GM Andrew Berry addressed Bitonio's unfortunate absence.
Berry said #Browns were "heartbroken" for Pro Bowl guard Joel Bitonio, who missed last week's game with COVID-19. Bitonio was activated today and will make long-awaited playoff debut on Sunday.

— Tom Withers (@twithersAP) January 15, 2021
Bitonio Is Activated
Among the many pieces of good news the Browns received this week was that Joel Bitonio was activated off of the Reserve/COVID-19 list.
The news youve been waiting for: The #Browns have activated Joel Bitonio from the reserve/COVID-19 list.

— Camryn Justice (@camijustice) January 15, 2021
Bitonio said that he didn't experience any symptoms so hopefully that means he returns to the Browns full strength for Sunday.
Bitonio in 2020
Joel Bitonio is coming off this third consecutive season of being selected to the Pro Bowl and to the All-Pro second team.
He has started in all 16 regular season games in five of his seven seasons in the NFL.
Because he has been through the lows in Cleveland, he is especially thankful for the opportunities the 2020 season has provided.
Prior to the Browns Week 16 game against the Jets, Bitonio said:
"You get here and you go through some tough seasons, and I was telling my wife the other day, it took me like four years to win 10 games at one point, where it was just so long. To experience a winning culture and just be on a winning program for once, it is something you want to be a part of and you dreamed of being a part of."