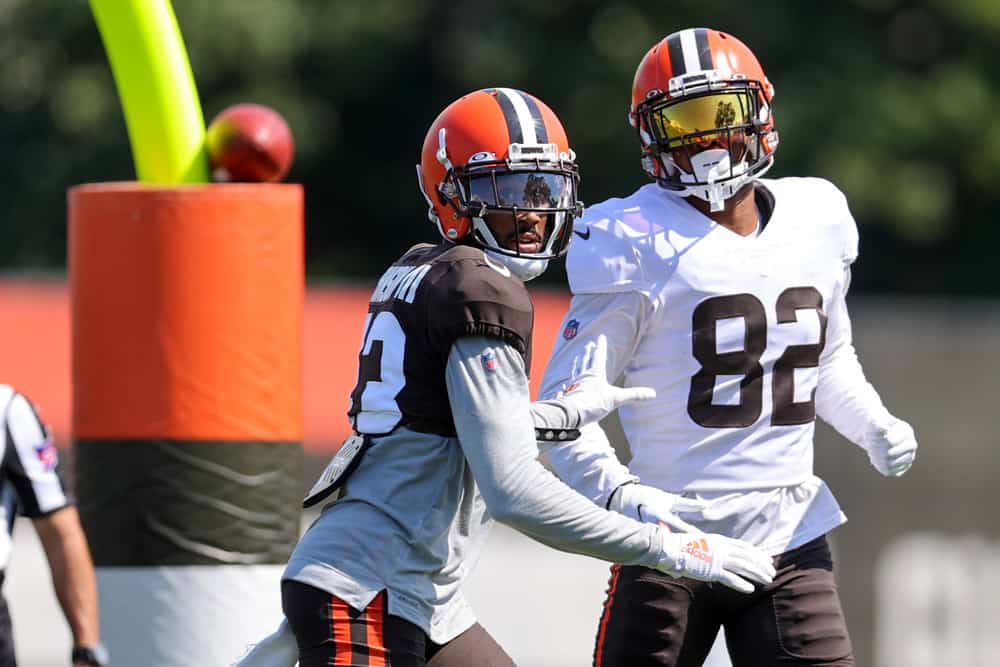 When Andrew Berry signed safety John Johnson as a free agent, there was little doubt he'd be a leader on the field.
But Johnson's social and vocal presence in and around the Cleveland Browns locker room makes him more than that.
He already has a handle on the emotions and motivations of each of his teammates.
And even though he wasn't with the Browns when they lost the AFC Divisional Game last year, he understands.
John Johnson on Kansas City: "it was the last game last year and the first game this year. There's definitely a vindictive vibe."

— Nick Karns (@karnsies817) August 24, 2021
His Los Angeles Rams team ended their season the same weekend, falling to the Green Bay Packers.
Maybe that helped Johnson explain how the team looks forward to their opening day contest in Kansas City:
. "That's the last (game) from last year, it's going to be the first one from this year so there's definitely a little — it's a vindictive vibe, you know," Johnson said on Tuesday, via Daryl Ruiter of 92.3 The Fan. "We definitely want to get back at those guys."
Realizing he might provide bulletin board material for the Chiefs, Johnson tempered his statement just a bit.
"But, you know, I always want to win the opener regardless of who it is so that's what we got to go out there and do."
Johnson certainly hit on what many of his Cleveland teammates are feeling, not to mention their fans.
Cleveland Faces Hurdles & History in Week 1 
Kansas City presents quite the challenge to any opponent, in any week.
But the history of Andy Reid in both KC and Philadelphia makes this early date seem more formidable.
Besides his overall 221-130 W-L record, the man simply doesn't lose in September.
Coupled with the Browns' well-documented opening day woes, few professionals will bet on Cleveland.
The Chiefs have won six straight Week 1 games, tied with the Packers for the longest current streak in the NFL. They've covered the spread in four straight.

Mahomes is 7-0 vs. AFC North teams.

Browns are 0-15-1 SU and 4-12 ATS in last 16 season openers. https://t.co/yLm0iEFzws

— Allan Bell (@AllanBell247) August 23, 2021
Cleveland has gone 16 seasons without an opening day win.
Only a 2019 tie with the Steelers interrupted the Browns' debut losing streak.
Even in last season's magical rebirth, opening day was one to forget.
But this Cleveland team is busting streaks and expectations left and right, so hope lifts its head in Berea.
Browns Might Have KC Right Where They Want Them 
From Kansas City's point of view, nobody can beat them on any given Sunday.
And the only way Cleveland stayed close in the playoffs was to knock out their Pro Bowl quarterback.
But Johnson chimed in on that narrative, too.
Johnson said one of the first things he did after signing with #Browns was watch tape of the #Chiefs playoff loss. pic.twitter.com/V0hRSXNTOc

— Tom Withers (@twithersAP) August 24, 2021
Talking about the game-clinching 4th-down conversion that iced the game for the Chiefs, Johnson said,
"That wasn't an unstoppable play. You just got to see it coming, you know, when Tyreek goes in motion and he's in the position where he can beat you… I think that's just something you got to like alert the whole defense before it happens."
Johnson's field vision and football savvy is why the Browns signed him, and they expect him to do just that.
Along with additional speed at all three levels of the defense, Berry built a team that can beat Kansas City.
It's possible that the Chiefs will enter Week 1 with a center, right guard and right tackle that have played zero combined NFL snaps.

On the plus side, the left side is terrific with Orlando Brown and Joe Thuney!

— Mike Clay (@MikeClayNFL) August 19, 2021
Cleveland's revamped pass rush has to be excited about testing the Chief's new offensive line.
Kansas City could have 4 new linemen, including as many as 3 rookies, protecting Patrick Mahomes in Week 1.
Myles Garrett, Jadeveon Clowney and the others expect to take some pressure off the secondary with their rush.
And maybe break another streak along the way.