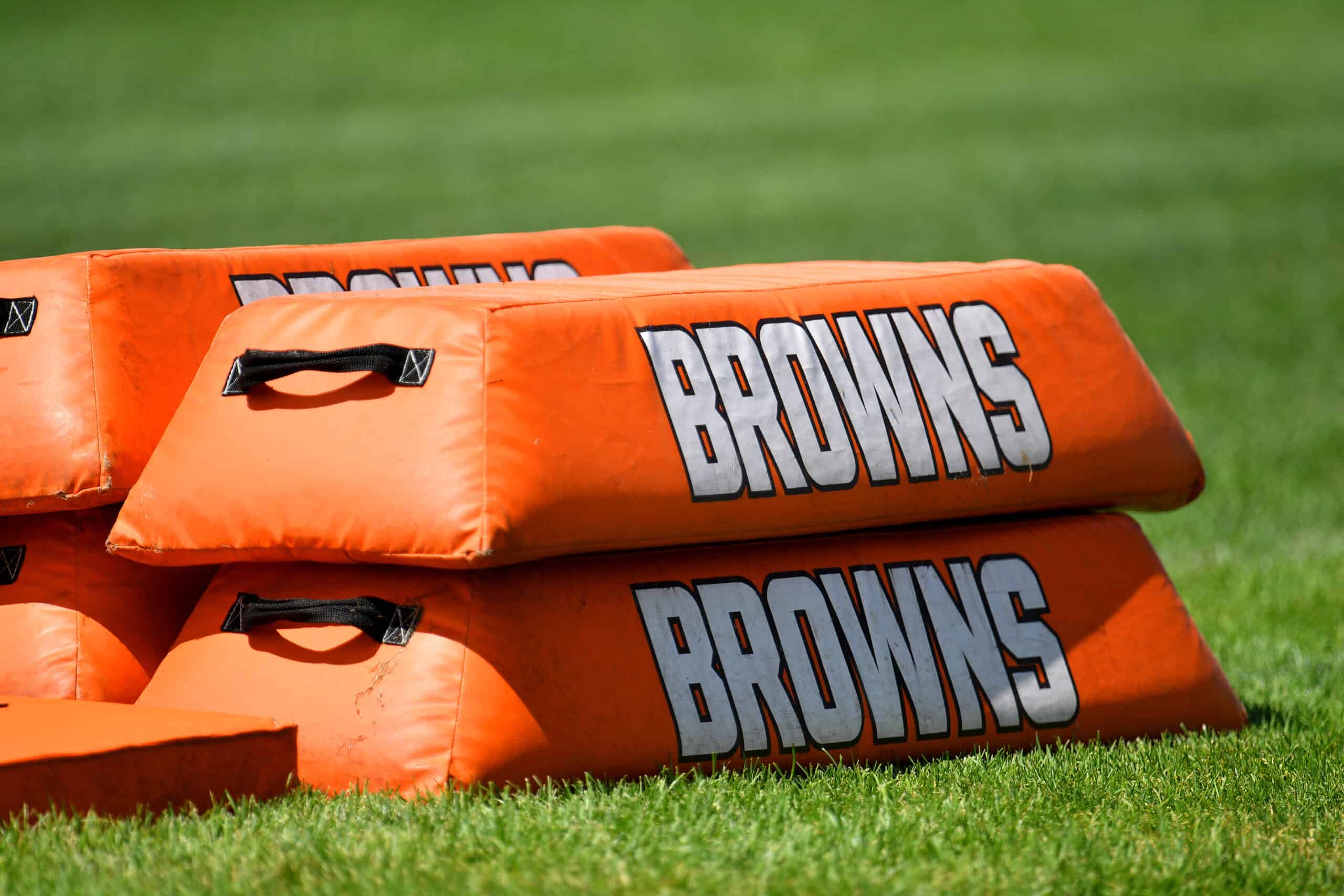 The Cleveland Browns had a productive practice session on Wednesday, August 25.
Here are some of the news and notes from it.
1. Njoku Keeps Grinding
Tight end David Njoku has looked spectacular through camp and the preseason.
Here is another example of his great hands on the receiving end of a Case Keenum pass.
Long. Live. The Chief.#BrownsCamp | @David_Njoku80 pic.twitter.com/EUde8F2OJ1

— Cleveland Browns (@Browns) August 25, 2021
Coach Stefanski is definitely taking notice.
#Browns coach Kevin Stefanski on Njoku: "I see a very determined player and I like where David's at"

— Nate Ulrich (@ByNateUlrich) August 25, 2021
2. Anthony Schwartz Is Back On Practice Field
As we slowly march toward Week 1 on September 12, getting healthy players back on the practice field is excellent news.
#Browns back today: WR Anthony Schwartz, DEs Porter Gustin & Takk McKinley & CB Denzel Ward.

— Daryl Ruiter (@RuiterWrongFAN) August 25, 2021
Though the rookie Schwartz has not been on the field much in the preseason because of a hamstring issue, he was working out with the WRs today.
#Browns OBJ, Jarvis Landry and Anthony Schwartz working together today. pic.twitter.com/xYqOpAVjKp

— Camryn Justice (@camijustice) August 25, 2021
Coach Stefanski believes Schwartz can make an impact in Week 1.
#Browns coach Kevin Stefanski on rookie WR Anthony Schwartz (hamstring): "We'll get him out there today in some drills." Stefanski added he thinks Schwartz "for sure" has chance to help the team Week 1 in Kansas City.

— Nate Ulrich (@ByNateUlrich) August 25, 2021
3. OBJ Is Easing In
The Browns have been careful about bringing OBJ back cautiously and carefully.
All indications are that he is looking and feeling great.
#Browns WR Odell Beckham Jr. in seven on seven today, caught a pass and got a high-five from a defender obviously glad to see No. 13 ramping up a bit

— Nate Ulrich (@ByNateUlrich) August 25, 2021
Coach Stefanski has not yet committed to a return date for OBJ.
Stefanski side steps question on whether Odell Beckham Jr. will be ready for Sept. 12 opener. "He's on track for today," coach said before adding he's not looking too far ahead.#Browns

— Tom Withers (@twithersAP) August 25, 2021
4. Troy Hill's Cleats Are "Sweet"
Hershey's executives take note.
Here is your next Reese's spokesperson, Browns cornerback Troy Hill.
He is obviously a fan given the "sweet" cleats he wore to practice yesterday.
.@Browns CB Troy Hill with some sweet cleats 🍫

(via @Jake_Trotter) pic.twitter.com/RSHGVvp3m0

— SportsCenter (@SportsCenter) August 25, 2021
5. Bitonio Talks About Nick Chubb
Joel Bitonio paid running back Nick Chubb a huge compliment.
No comment from Chubb, as expected, but we believe he was flattered.
#Browns Joel Bitonio said he thinks Nick Chubb could play linebacker.

— Camryn Justice (@camijustice) August 25, 2021
6. Game Plan For Atlanta Preseason Game Is Yet To Be Revealed
Coach Stefanski has mentioned several times this week that he already has a plan for what players will play in the preseason finale on Sunday Night Football.
He also said he did not want to reveal his plan yet.
Yesterday, he did not share the plan but said he will do so on Friday.
#Browns coach Kevin Stefanski says he'll reveal Friday whether starters will play Sunday in preseason finale.

— Scott Petrak ct (@ScottPetrak) August 25, 2021
It sounds like even the players don't know Stefanski's plan yet.
#Browns Joel Bitonio says Kevin Stefanski hasn't told them whether or not the starters will play on Sunday, yet. "I'll do whatever coach wants. I feel like I'm ready, but they're smart guys, they'll do what they need us to do."

— 92.3 The Fan (@923TheFan) August 25, 2021
We will see the plan in action on Sunday night as the Browns travel to Atlanta to take on the Falcons at 8 PM EDT.
The game airs nationally on NBC.