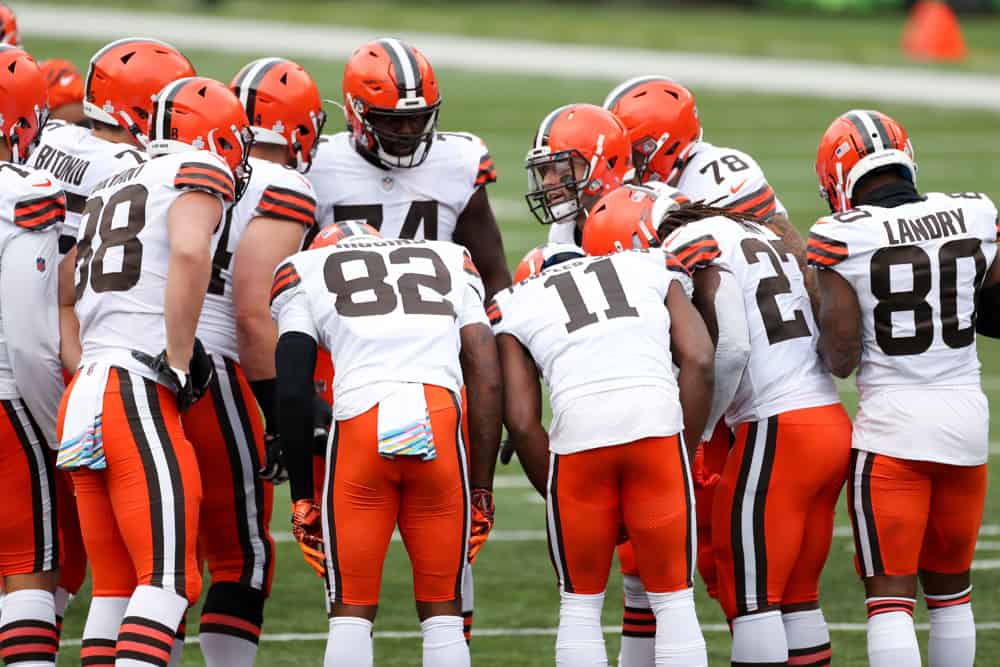 It feels like the offseason just started, but the NFL has already announced the 2021 schedule.
After an 11-5 season in 2020, many believe the Cleveland Browns can go even further this season.
This team certainly has the firepower on offense to get far into the postseason.
They've also done a terrific job of adding reinforcements on defense to improve over the offseason.
This team could truly be a legitimate threat in the AFC after the offseason they've put together.
Week 1, @ Kansas City Chiefs: Loss
Cleveland opens the season with a playoff rematch against the Kansas City Chiefs.
This time around the Browns have a much improved defense.
One that includes additions such as Anthony Walker, John Johnson III, and Greg Newsome II.
Despite that, it is going to take time for this defense to build chemistry and figure out how to work with each other.
Obviously, coming out and beating the Chiefs would be a huge statement win for Cleveland.
Realistically, this Chiefs team has been together for a few years and knows how to play with each other.
It'll be a close fight, but the Chiefs are likely going to prevail again on their home turf.
Week 2, vs Houston Texans: Win
This should be a no-brainer as the Houston Texans have stripped their team of all life during the offseason.
Over the last year or so they've traded, DeAndre Hopkins, David Johnson, and released J.J. Watt.
The saga surrounding quarterback Deshaun Watson continues and it wouldn't be shocking to see him begin the 2021 season on the sideline.
That means, veteran quarterback Tyrod Taylor will likely get the starting job to open the year.
The #Texans are signing QB Tyrod Taylor to an incentive-laden contract, similar to what Cam Newton and Jameis Winston agreed to in recent days, per source. It can be worth up to $12.5 million, but the base value is less than half that. Solid backup money, and more if he plays.

— Tom Pelissero (@TomPelissero) March 16, 2021
It's the home opener for Cleveland and they will be hungry after the loss to the Chiefs.
The Texans don't exactly have much talent on this roster and it's unlikely Taylor has much chemistry with this group.
On paper, this should be a blowout victory for Cleveland and a nice rebound after losing in Week 1.
Week 3, vs Chicago Bears: Win
The Browns continue their homestand with a matchup against the Chicago Bears.
An organization that is beginning to look like the old Browns with how frequently they go through quarterbacks.
It looks like the Nick Foles experiment is over after the Bears traded up for Ohio State quarterback Justin Fields on draft day.
#Bears QB Justin Fields: 95.4 PFF Grade from a clean pocket since 2018

1st among QBs in the 2021 Draft class🎯 pic.twitter.com/xrC8dwjJz4

— PFF (@PFF) May 11, 2021
It's assumed that Fields would open the season as the starter, but possibly Andy Dalton gets the starting nod until Fields learns the playbook.
Regardless, Cleveland should be able to handle either quarterback and come away with the win.
Chicago has a dangerous defense line, but luckily Cleveland has built one of the best offensive lines in the league.
This game will likely be closer than many would think on paper, but Cleveland should pull it out in the end.
Week 4, @ Minnesota Vikings: Win
The win streak continues in a road matchup versus the Minnesota Vikings.
On paper, the Vikings have a dangerous offensive unit, but quarterback Kirk Cousins continues to underperform.
It seems that this team continues to get worse on defense each season, so the Browns offense should have no issues scoring in this one.
This offensive line has struggled to protect Cousins, so they should have a fun time trying to stop Myles Garrett and Jadeveon Clowney.
It wouldn't be shocking to see the Vikings hang around in this game for a little while, but the Browns should end up winning this game by double digits.
Week 5, @ Los Angeles Chargers: Loss
Sadly, the win streak finally ends during a Week 5 battle with the Los Angeles Chargers.
At first glance, this game should be a fairly even battle and possibly a contest Cleveland is favored to win.
Although, it wouldn't be shocking to see the Chargers able to win this one at home.
Second-year quarterback Justin Herbert is coming off a fantastic rookie campaign in Los Angeles.
Most passing TDs by a rookie

Justin Herbert – 31
Baker Mayfield – 27
Peyton Manning – 26
Russell Wilson – 26
Daniel Jones – 24 pic.twitter.com/yS2cDkHnyD

— NFL Stats (@NFL_Stats) May 8, 2021
The Chargers finished off the 2020 season on a four-game winning streak.
Last season, the injuries took a toll on this team, but they finally showed some signs of life towards the end of the year.
This should be a fun matchup to watch between two of the brightest young quarterbacks in the league.
Possibly, an upset victory for the Chargers, but Cleveland shouldn't feel bad about losing this one.
Week 6, vs Arizona Cardinals: Win
Cleveland gets back on track with a home matchup against the Arizona Cardinals.
On paper, this team has a ton of talent including superstar wide receiver DeAndre Hopkins.
Despite that, they weren't able to put it all together last season and their woes will likely carry over into the 2021 season.
They haven't found a way to get a successful running game going and James Conner is unlikely to bring new life to their team.
The addition of J.J. Watt on defense should help, but it won't be enough to stop this Browns offensive unit.
Arizona has a bright future with Kyler Murray, but it's not their time to shine yet.
Week 7, vs Denver Broncos: Win 
This is another case of an organization with a ton of talent that hasn't been able to put it together yet.
Luckily for Cleveland, this team is still a year or two away from being a legitimate threat in the AFC.
They still need time to figure it out as a unit and the Browns should exploit their lack of talent on the offensive line in this Thursday night matchup.
Possibly, Denver makes this game closer than it should be, but Garrett and Clowney will be too much for this Broncos o-line to handle.
Denver fights hard, but they can never seem to finish out games in the fourth quarter, so the Browns win streak will live on.
Week 8, vs Pittsburgh Steelers: Win
This will be the first matchup between these two squads since the postseason.
A playoff battle in which the Browns were able to come away with an upset victory.
The Steelers have not had a fun time versus this Browns team lately.
Week 8 | Browns vs Steelers

Throwback to the last time these two teams met 👀
pic.twitter.com/ddRSL7gEAm

— PFF (@PFF) May 13, 2021
Obviously, Pittsburgh is going to want to come out and make a statement after losing in the playoffs to Cleveland.
Unfortunately for them, their offensive line continues to get worse while Big Ben continues to age.
They have not built a successful offensive unit and it will come back to bite Pittsburgh in this one.
The Steelers defense might be able to hold the Browns' offense in check, but it won't be enough.
Week 9, @ Cincinnati Bengals: Win
Divisional games are never easy and that seems to always be the case against the Cincinnati Bengals.
A team that is likely going to be overlooked coming into the 2021 season.
It wasn't long ago that the Bengals were rebuilding their organization, but landing LSU quarterback Joe Burrow sped up that process.
It's also worth noting that the Bengals selected prized LSU wide receiver Ja'Marr Chase with the fifth overall pick in the draft.
#Bengals legend praises decision to take Ja'Marr Chase with fifth pick in NFL Draft: https://t.co/Hod78jU2jo pic.twitter.com/cB3PvjVhaa

— AllBengals (@AllBengals) May 9, 2021
The Bengals have a young team that is coming together nicely.
Despite that, this unit isn't ready to win and the Browns should be able to keep the winning streak alive in this road matchup.
Week 10, @ New England Patriots: Loss
There is always that one game on the schedule where you lose a game that should've been won.
That is the case here in a road matchup against the new and improved Patriots offense.
It's uncertain whether it'll be veteran Cam Newton or Alabama rookie Mac Jones starting at quarterback by the time Week 10 rolls around.
Regardless, there is always that one upset game where things just didn't go your way.
It's never easy playing in Foxborough and this organization refuses to lose.
Fans shouldn't expect the Patriots to run away with this one, but maybe a late game field goal is the difference maker.
Week 11, vs Detroit Lions: Win
Cleveland is hungry after losing to the Patriots the week prior.
Sadly the Detroit Lions are going to be the punching bag in this one.
An organization that has finally decided to move on from long time quarterback Matt Stafford.
They acquired Jared Goff, but basically put absolutely no talent around him.
This should be a blowout victory for Cleveland and a game that can be turned off by halftime.
Week 12, @ Baltimore Ravens: Loss
This will be a primetime Sunday night matchup between two teams that should be fighting to be the top dog of the AFC North.
A game that will likely be a back and forth throughout that should be fun for everyone watching at home.
Sadly, the Browns have experienced problems trying to hold former MVP Lamar Jackson in check.
Still thinking about how wild this game was 🤯

Who's ready for more Browns-Ravens this season? 🔥 @Lj_era8 @bakermayfield pic.twitter.com/pbvlwPffeP

— The Checkdown (@thecheckdown) May 13, 2021
It's never easy playing on the road and Baltimore continues to build a dangerous defensive unit.
Browns fans shouldn't be upset if they aren't able to come away with this victory.
It'll likely be a shootout that could come down to the final possession in the fourth quarter.
Week 14, vs Baltimore Ravens: Win
The Browns are coming fresh off their bye week and are looking for revenge.
They get a home date with the Ravens and this time they don't let it slip away.
Cleveland is able to learn and capitalize on their mistakes from last time.
As always, Jackson is never an easy opponent and the Ravens can never be taken lightly.
Despite that, Cleveland is able to rally off a victory and send their fans home happy.
Week 15, vs Las Vegas Raiders: Win
At first glance, Cleveland shouldn't have any problems getting the win here.
However, head coach Jon Gruden should never be counted out.
He has quickly put together a strong young core that is hungry to win.
This game will likely be a lot closer than many would expect coming into this game.
Possibly, a game that Cleveland even goes into overtime, but the Browns should be able to prevail.
The Raiders young offensive unit is dangerous, but their defense isn't quite ready yet.
Week 16, @ Green Bay Packers: Win
Normally, a matchup against Aaron Rodgers at home is usually a recipe for a quick loss.
However, the saga between Rodgers and the Packers continues to heat up as the 2021 season approaches.
It sounds like Rodgers is done playing in Green Bay and wide receiver Davante Adams might join him on the way out.
Davante Adams said he'd have to do some extra thinking if Aaron Rodgers left Green Bay. pic.twitter.com/uthrLc647R

— SportsCenter (@SportsCenter) May 11, 2021
That being said, there might not be much talent left on this roster by the time Week 16 rolls around.
It's uncertain what is going to happen, but this should be an easy win for the Browns, assuming Rodgers and Adams have headed elsewhere.
Week 17, @ Pittsburgh Steelers: Win
This should be a fun Monday night matchup between two division rivals.
The Browns were able to win the first time around and they honestly have the firepower to sweep the series.
It's never easy getting a road victory over the Steelers, but Cleveland has the weapons to get the job done.
Fans shouldn't be shocked if this game turns out to be a defensive battle all the way throughout this contest.
At the end of the day, Cleveland has a stronger offensive unit and should be able to pull it together late in the fourth quarter.
Week 18, vs Cincinnati Bengals: Win
Possibly, the Browns might rest some players with the playoffs on the horizon.
Assuming they don't, Cleveland should be able to handle the Bengals once again.
Maybe this time around the Bengals make it closer, but they aren't quite there yet.
A nice way to finish off the season and hopefully enough wins for Cleveland to secure a division title.
Verdict: 13-4 AFC North Winner
Finally, Browns fans will be able to look at the standings and see their team as the top dog.
It took a long time of pain and suffering, but this roster is ready to compete for a Super Bowl.
The AFC could very well come down to a battle between the Chiefs and Browns, which shouldn't shock anyone.
Obviously, Cleveland cannot win every game, but a 13-win campaign is certainly something to be proud about as a Browns fan.