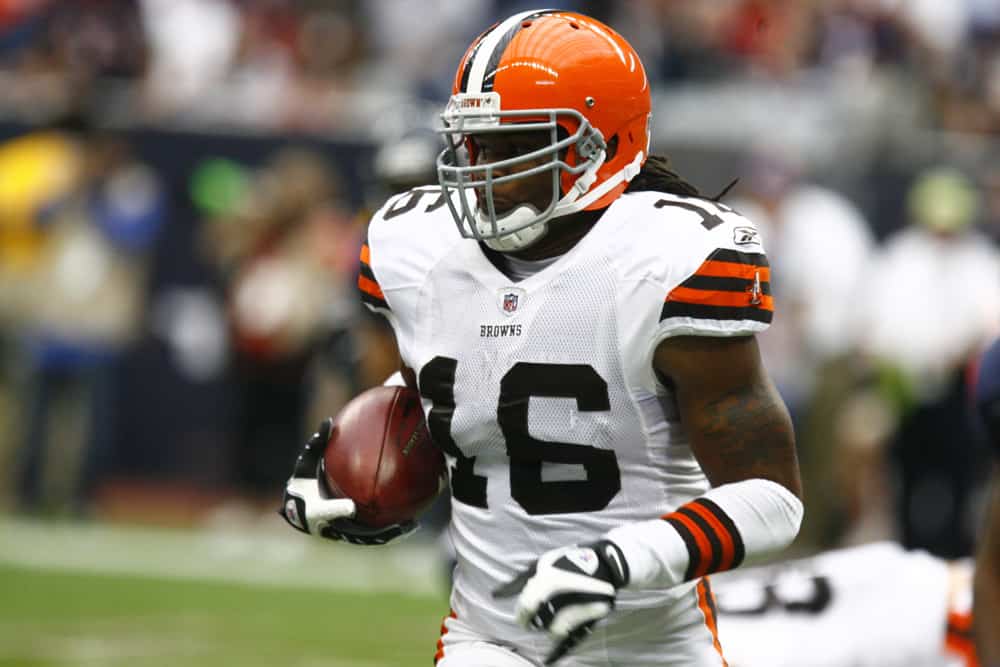 The Cleveland Browns are set to induct kick returner Josh Cribbs and wide receiver Webster Slaughter into their Legends program later this year.
The team announced Thursday plans to honor both Cribbs and Slaughter during a halftime ceremony on Sept. 27 at FirstEnergy Stadium.
The date marks the Browns' Week 3 regular season contest against the Washington Redskins.
"It is always special to spend time with and celebrate Browns alumni, and we are incredibly proud to recognize Webster Slaughter and Josh Cribbs – two of our team's greats that are also exceptional men – as the newest Browns Legends members," said team owners Dee and Jimmy Haslam in a news release. "We deeply appreciate everything they, along with all of our alumni, have done for the Browns on the field and how they continue to contribute to our team and our community in meaningful ways."
The Browns Legends Program started in 2001.
A panel consisting of Doug Dieken, Jim Donovan, Joe Horrigan, Leroy Kelly, Dino Lucarelli, Kevin Mack, Terry Pluto and Chris Willis determines which players are honored.
Since 2010, the team has typically named two legends per season, but the Browns didn't honor anyone in 2019.
However, the team unveiled a statue of Otto Graham last year and inducted Clay Matthews into the Ring of Honor.
To qualify as a Browns Legend, players must fit the following criteria:
The player must have played at least five seasons with the Cleveland Browns.
The player must have been a major contributor at his position.
The player must be retired from the NFL for at least five years.
Slaughter, a second-round pick in 1986 out of San Diego State, had 305 receptions for 4,834 yards and 27 touchdowns in six seasons in Cleveland.
"I will never forget my six years in Cleveland," Slaughter said on the team's website. "I played in other places but none of those places ever gave me the feeling that I had when I played for the Cleveland Browns. It was a different feeling and totally special.

"If I had to pick another team to play for, I would pick the Cleveland Browns. I couldn't pick another team. I had so much fun that I didn't know I was going to have. I met so many friends I didn't know I would meet. It was the most exciting set of fans to play for."
Slaughter made the Pro Bowl in 1989 with the Browns and in 1993 as a member of the Houston Oilers.
He finished his NFL career with 8,111 yards and 44 touchdowns.
Cribbs, an undrafted rookie out of Kent State, was an elite special teams player for the Browns.
He played for the Browns from 2005-2012 and made three Pro Bowls in that span (2007, 2009 and 2012).
"When I look at my time here in Cleveland and everything I've been able to bring to the team — being undrafted and my value to the team and what it meant not just to the team but to the city — it was kind of confirmation that they think that Cribbs guy, he did a job well done, so much so he's a legend to us," Cribbs said. "That means everything to me."
Cribbs owns 11 Browns returns records, finishing his career with 11 special teams touchdowns (eight on kickoff returns and three on punts).
Cribbs is tied with Leon Washington for most kickoff return touchdowns in NFL history (eight).