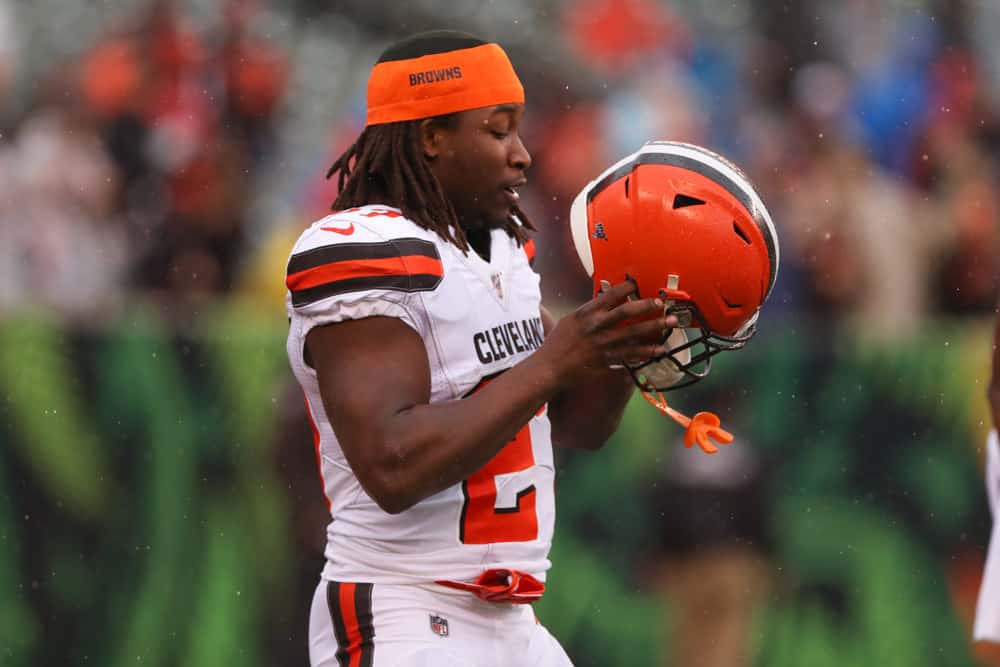 The Cleveland Browns have missed Kareem Hunt.
He suffered the calf strain in the Arizona Cardinals game on October 17.
Though he feared the worst that his season was over, he learned that a four to six-week recovery was more likely.
Hunt has been at practice this week after missing five games.
On Tuesday, he was serving Thanksgiving dinner at the Feed the Need event at Townhall hosted by Baker and Emily Mayfield.
Kareem Hunt, David Njoku, Nick Chubb, Baker Mayfield, Scottish Hammer – Go #Browns pic.twitter.com/7TgTHHeXQB

— Paul Brown 🇬🇧 Browns fan🏈 London News 🎥Vlogger (@PaulBrown_UK) November 23, 2021
That's where Mary Kay Cabot of cleveland.com caught up with him and had a chance to ask a few questions.
What Hunt Said
He is eager to get back on the field.
Being injured and not being able to play has been tough.
Hunt views the Ravens game and every other one remaining in the season as huge games.
"It's a very big game. I feel like for us, every game from now on us is playoff game. If we want to make a run, we've got to do what we do.''
Will Hunt Play On Sunday?
That still is up in the air.
Some thought he would return after the Week 13 bye, but all indications are that he could play in Week 12.
"I'm actually coming along very well. 'm excited. It's been a little journey, but I'm feeling pretty good.''
When he returns to the field, here is his approach.
"I'm just going to come back and the bring the fire and energy I always do. That's all I can do.''
The Fire Has Been Lacking
Hunt's choice of words of bringing fire and energy are particularly poignant because there have been times that the Browns looked flat on offense.
He is a vital piece of the running and passing game that can inject life and hopefully a lot of touchdowns when he returns.