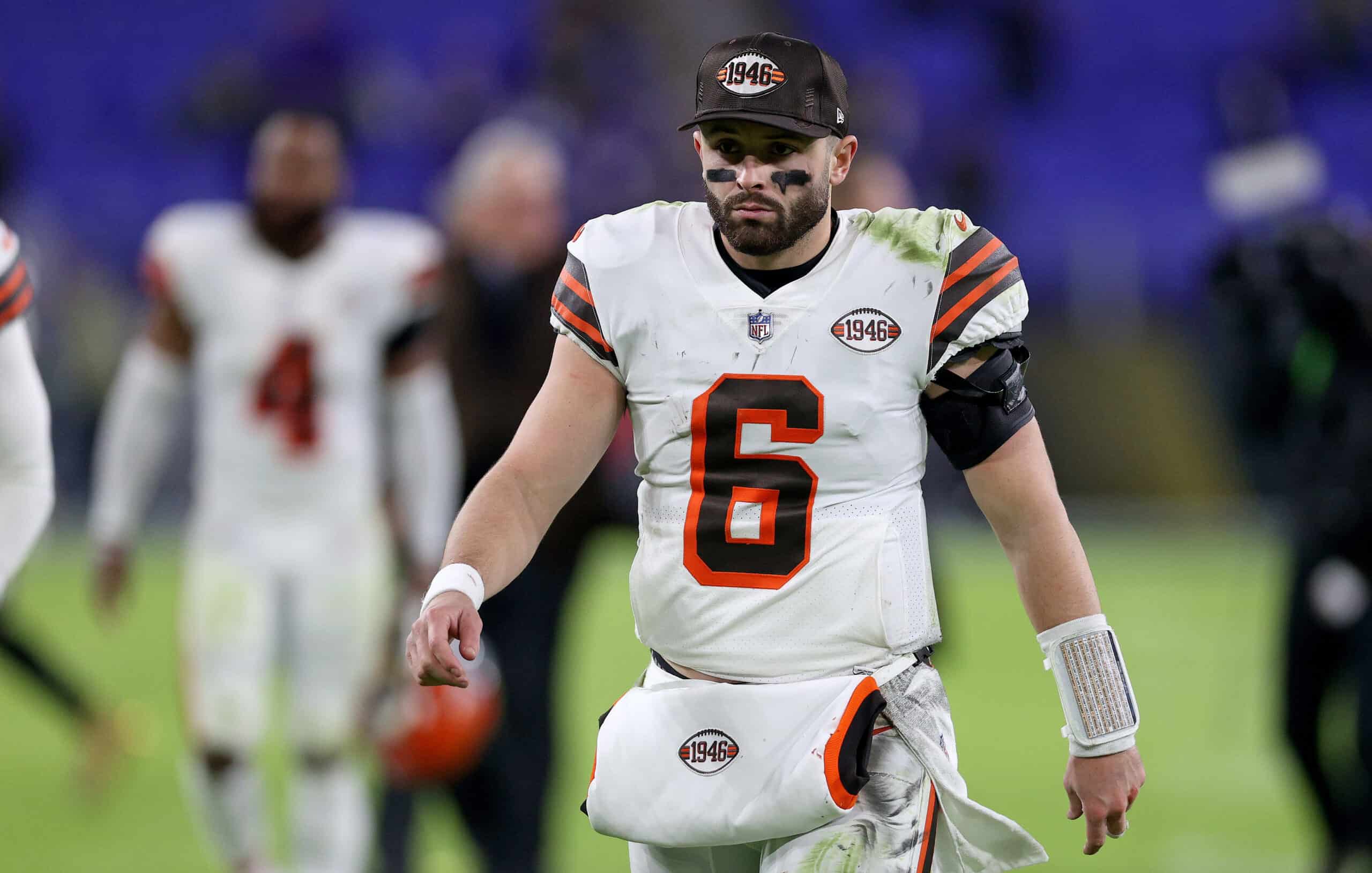 It wasn't exactly a full-length video of Baker Mayfield's biggest misses.
But given what happened after Odell Beckham Jr's dad criticized the Cleveland Browns quarterback, it got attention.
And most of the attention wasn't good for Kareem Hunt Sr.
First: OBJ's dad ripped Baker Mayfield on social media.

Now: It's Kareem Hunt's dad. It's his turn to voice his displeasures on Baker.

He also isn't a fan of punctuation. Epic run-on sentence lol! #Browns pic.twitter.com/wVcEF1pqzz

— John Sabol (@John_Sabol) November 29, 2021
In fact, whatever comment the senior Hunt originally posted is apparently deleted from his social media.
But in a Facebook post reacting to the pushback from Browns fans, Hunt Sr denies he is like the elder Beckham.
Said Hunt Sr,
"I got a right to speak and I ain't posting no videos."
But even in his retort, Hunt mentions Mayfield being "scared to throw."
Which is going to make his statement another locker room issue during what is likely to be a testy bye week.
Was Kareem's Dad Really Attacking Mayfield? 
Kareem Hunt Sr asked a question that was repeated by Browns reporters after the game.
Specifically, he wondered why Mayfield was still in the game when he was obviously injured and ineffective.
When asked if a quarterback change might come after the bye week, head coach Kevin Stefanski got a little confrontational.
"Let me ask you a question. Why would we do that? No, we're not doing that."
#Browns Kevin Stefanski, asked if a change at quarterback was a possibility, says:

"No."

"Let me ask you a question, why would we do that?… No, we're not doing that."

— Camryn Justice (@camijustice) November 29, 2021
For sure, the elder Hunt had reason to wonder why Kareem Jr. bothered to come back and play this week.
Stefanski did not make much use of Hunt or for that matter, his rushing mate, Nick Chubb.
But Hunt did not complain about his son's usage, wondering more about exposing a wounded Mayfield to the Ravens' pass rush.
In other words, Hunt challenged Stefanski far more than Mayfield.
But Kareem Hunt Sr. Did Attack Mayfield, Too 
Of course, Kareem Hunt Sr. would not question Stefanski's decision if he thought Mayfield played well.
According to several social media posts, Hunt made comments critical of the Browns' passer.
But they were typical "fan watching a game" criticisms, repeated by thousands who watched.
Stefanski succumbed to the defensive will of the Ravens, abandoning the run for the pass.
Someone please tell Kevin Stefanski the passing game has been hot garbage for most of the season & Nick Chubb/.Kareem Hunt are the No. 1 rushing combo in the league. #Browns

— Daryl Ruiter (@RuiterWrongFAN) November 29, 2021
And when you boast the top running game and one of the NFL's weakest passing attacks, that elicits questions.
Social media was full of comments wondering what the Browns offense was doing.
It only got worse when they manage 3 points of 3 interceptions at the end of the first half.
And you can't question the quarterback decision without inferring criticism of the quarterback in play.
Family Affair On Browns Social Media 
Hunt Sr. joins Emily Mayfield and Odell Beckham Sr. in making news via social media posts.
For sure, other players and family members are on Twitter, Instagram, and Facebook.
But it is the usual practice to use care in criticizing players or coaches on the various mediums.
Mrs. Mayfield "accidentally" re-posted a message attacking the efforts of her husband's teammates last week.
I repost MANY stories that fans tag me in. I saw 1 pic/post as a salute to Bake's toughness/grit.

I DID NOT SEE where it said the rest of the team should "take a hint and get tougher".

It came to my attention & I deleted it.

They are ALL beyond tough… & ALL have my support.

— Emily (Wilkinson) Mayfield (@emilywmayfield6) November 23, 2021
She took it down soon after, explaining she did not read it carefully enough before sharing.
But even when defending their favorite players, it is difficult not to criticize someone else.
If Case Keenum's wife posted the Browns should put her husband in, that is an assumed knock on Mayfield.
This is why the Browns might spend some bye week time discussing how to deal with (and ignore) social media.