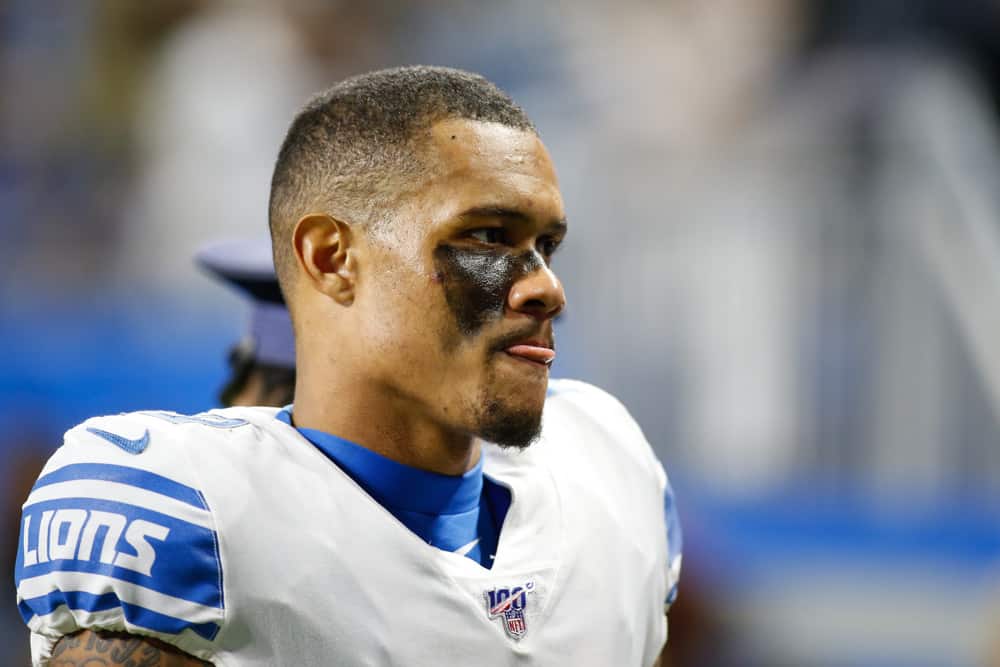 At first glance, it wouldn't seem like the Cleveland Browns would have much interest in a player like wide receiver Kenny Golladay.
This is a team that is fairly stacked on the offensive side of the ball and needs to make some adjustments on defense.
However, someone like Golladay might actually be an option for the Browns.
Golladay is one of the more intriguing offensive players to hit the free agent market.
The Browns don't exactly need Golladay, but it wouldn't be surprising if they kick the tires on him this offseason.
Golladay's Market Value
The Detroit Lions selected Golladay in the third round of the 2017 NFL Draft.
He immediately came out and showed he was an absolute steal of a third-round pick.
Golladay came into the league putting up numbers similar to the legendary Calvin Johnson.
I'm going to steal some stats from Dave Birkett, but these stats are eye-opening to me.

Kenny Golladay's stats throughout the first 16 games of his career: 55 rec, 905 yards and 6 TDs

Calvin Johnson's: 55 rec, 863 yards and 4 TDs #OnePride pic.twitter.com/twxFEZsjzW

— Tony Dombrowski (@tonydombrowski) October 11, 2018
It didn't take him long to establish himself as a legitimate threat in the NFL.
He has already posted two seasons with 1,000 receiving yards or more in his first four years.
Including an 11-touchdown season in 2019 that landed him in his first ever Pro Bowl.
Sadly, Golladay was only able to play in five games during 2020 due to a nagging hip injury.
#Lions WR Kenny Golladay is expected to be out this week and will be considered week-to-week going forward with a hip injury sustained yesterday, sources say. He'll have more tests, but that is where it stands now.

— Ian Rapoport (@RapSheet) November 2, 2020
Obviously, his stats took a hit because of that, but it shouldn't hurt his market value this offseason.
It wouldn't be shocking to see Golladay landing a deal in the range of $85-90 million over four years.
He is one of the few elite wide receiver options heading onto the open market.
Do The Browns Need Golladay?
On paper, this might not seem like an ideal fit for the Browns.
This team already has Odell Beckham Jr. and Jarvis Landry has their two main receivers.
However, it's unknown what kind of condition OBJ will be in heading into the 2021 season.
He went down mid-season with an ACL tear and that's a significant injury that will take time to fully recover.
Seemingly ever since OBJ landed in Cleveland there have been trade rumors flying around.
#Browns WR Odell Beckham Jr. on Stephen A. Smith opining he and Jarvis Landry should request trade because of play of Baker Mayfield: It's the same talk it's always been, rumors here and there, I'm here, I've got Baker's back

— Nate Ulrich (@ByNateUlrich) October 21, 2020
At this point, there could be a legitimate case for the Browns parting ways with OBJ.
He has clearly been unable to create a relationship with Baker Mayfield on the field.
The two of them never seem to be on the same page and it's hurting the Browns offense.
Honestly, this team looked much more efficient as a unit after Beckham went down mid-season.
It wouldn't be shocking to see the Browns move on from OBJ and bring in a player such as Golladay this offseason.
A Realistic Deal
The Browns do have the cap space to get a deal done with Golladay, but need to be smart with their money.
They have some of their young core players such as Mayfield, Nick Chubb, and Denzel Ward needing extensions soon.
Cleveland cannot be reckless with their money and bring in Golladay with Landry and Beckham still on the books.
The front office would need to move OBJ off their roster before bringing in another receiver such as Golladay.
It wouldn't be a terrible idea for the Browns to see what kind of trade value OBJ has to offer since there is clearly some disconnect between him and Mayfield.
The Browns might be better off in the long term with a guy like Golladay on the roster over Beckham.
That being said, Golladay is expected to get a fairly massive deal, which means OBJ would likely need to be off the roster in order for this to happen.