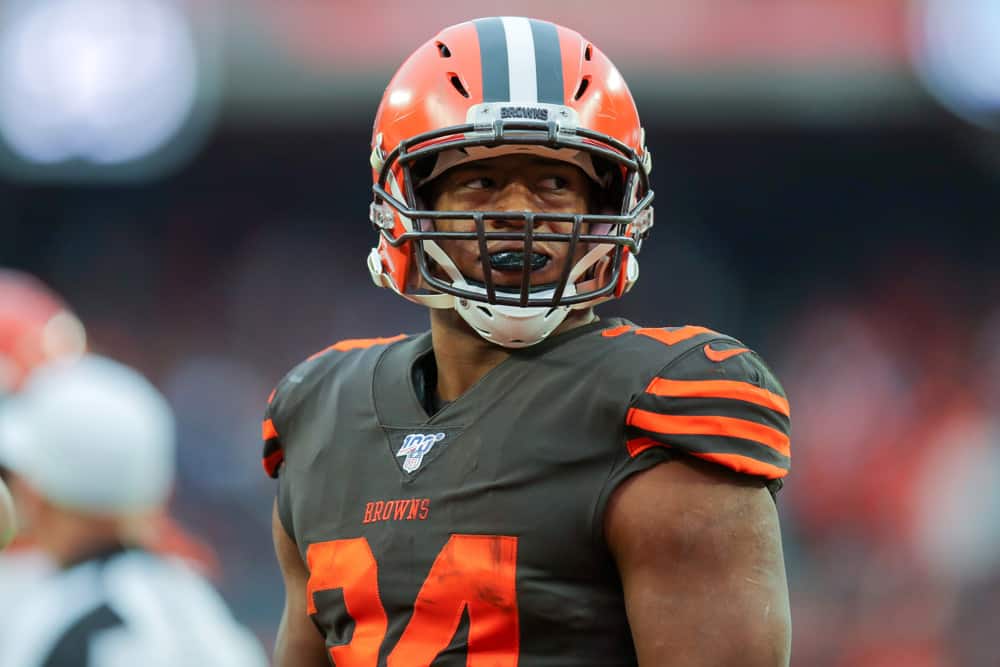 In 2018, the Cleveland Browns selected Georgia running back Nick Chubb in the second round.
Since then, he has exceeded expectations and was finally rewarded with a new contract.
The two sides recently came to an agreement on a new contract extension for Chubb.
A three-year deal worth $36.6 million, including $20 million in guaranteed salary.
Chubb is certainly happy about the extension and glad that he gets to stay in Cleveland.
#Browns Nick Chubb on signing the 3-year extension: "It means everything. I love it here in Cleveland…Cleveland's where I want to be."

— Camryn Justice (@camijustice) August 2, 2021
That's not all, head coach Kevin Stefanski believes this signing sends a good message to the rest of the players.
It shows the organization is willing to extend their players and reward them for their contributions.
Paying Chubb
The extension for Chubb was expected to happen sooner rather than later.
Both sides had been discussing a deal for quite awhile before finally agreeing to a new contract.
Chubb mentioned that it means a lot to him that the organization decided to extend him.
Coach Stefanski mentioned that paying Chubb looks good on the organization that players get paid for their excellent work.
"I think so. I think so much of this the guys know," Stefanski said, via Cleveland.com. "It is a business so you can't keep everybody. As I have always said, I want to keep everybody. Certainly in moments like this when you reward a guy like Nick, I think it probably does send a good message."
There is still a long list of players that are expected to receive extensions from Cleveland.
However, Chubb was overdue for one after putting together three stellar seasons for the Browns.
The organization didn't overpay for Chubb and gave him a reasonable deal to stick around in Cleveland.
Increased Expectations
Both Chubb and the Browns are going to have higher expectations heading into the 2021 season.
Cleveland is coming off a playoff run last year and is looking to build off it this season.
While Chubb has put together back-to-back seasons of 1,000 rushing yards or more.
He is creeping up to the rushing title, but can't seem to pass Tennessee Titans stud Derrick Henry.
On this play, Derrick Henry went for:

⚔️ 53 yards
⚔️ a TD
⚔️ the 2019 rushing title

(via @NFL)pic.twitter.com/Fu2pnZ7r7S

— Bleacher Report (@BleacherReport) December 30, 2019
Possibly, a new deal gives him enough motivation that Chubb can finally beat Henry for the title.
Regardless, fans will expect Chubb to continue playing at an elite level especially after a massive extension.
It appears the Browns are finally building a roster that can win for years to come.
That also means, the organization needs to pick and choose the right players to sign.
Although, keeping Chubb around was a good idea and will hopefully send the right message to the players.