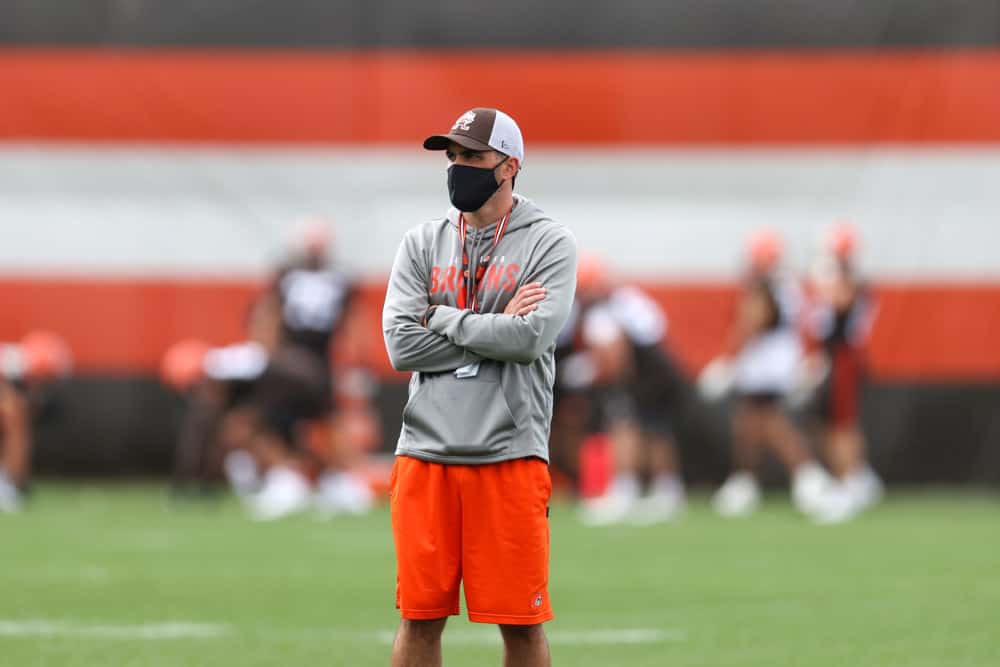 The Cleveland Browns at 6-3 are definitely a different team than Browns' teams in years past.
More than just the obvious difference in wins and losses, there is a culture change in Cleveland.
That is attributed to rookie Coach Kevin Stefanski.
Browns 200+ rushing yard games:
2019: 0 (16 games)
2020: 3 (9 games)

Kevin Stefanski is the first Browns coach in decades that knows what his team does well and actually utilizes it.

Coaching matters.
Kevin Stefanski is a damn good one. pic.twitter.com/rVIU95LzjG

— Nick Karns (@karnsies817) November 17, 2020
Here are things that Stefanski embodies on a daily basis that have made a huge difference to the professionalism and preparation of his Browns team each week.
1. No excuses
Coach Stefanski has a no nonsense approach to football.
When riddled with injuries from training camp forward, he never made excuses.
He talked about how every team in the NFL is dealing with injuries and COVID-19 in 2020.
And more than once, he said the team that handles the 2020 conditions the best will have the most success.
Along with that, he is a proponent of the "next man up" mentality.
He explained that the Browns players have to be ready to perform when their names are called.
This mentality squeezes out any potential drama or emotion that happens in a long 17 game season.
And it helps to manage the big personalities and huge talents that are on the team this year.
2. One game at a time
"You have to BELIEVE! I believe in the men in this room."

Kevin Stefanski speaks to the team following our win over the Bengals ⤵️ pic.twitter.com/B93DV7vQYw

— Cleveland Browns (@Browns) October 26, 2020
Kevin Stefanski is a first year head coach and has the Cleveland Browns in the playoff hunt at 6-3 in a pandemic season. If he doesn't get considered for coach of the year there is something wrong. #Browns

— 🍂😷𝕁𝕖𝕗𝕗😷🍂 (@JXW727) November 16, 2020
Win or lose, Stefanski preaches one game at a time.
He is able to flip the script pretty easily and direct his team forward.
That means they don't seem to have hangovers from big wins or wallow in losses for more than one week.
He also limits the players from looking around to see how other teams are doing in the division.
Stefanski encourages them to control their own performance and outcome.
3. Takes responsibility when appropriate
Stefanski is surrounded by an experienced coaching staff.
That is very helpful for a rookie coach.
However, he doesn't hesitate to take responsibility when things go badly.
The Hue Jackson blame game era is gone.
Jackson was famous for blaming everyone else but himself when the Browns struggled on his watch.
That's not Stefanski's way.
He also isn't motivated by accolades and credit; he praises his coaches and staff for their work.
The changes are noticeable.
Ron Jaworski 
Jaworski recently talked about Stefanski on a recent Bull & Fox podcast.
He said the Browns are organized and professional; these steps in the right direction he attributes to Coach Stefanski.
Stefanski is a Philadelphia product so Jaworski has known him and his family for years.
Andrew Berry
Berry talked about Stefanski during a bye week press conference.
"I think the most impressive part about Kevin is his poise.  He is, genuinely, the same guy every single day, regardless of what has happened on Sunday [and] regardless of what we have dealt with during the day. Even keel. Same quick wit and sense of humor. I think that is the most impressive part, because I think all of us on this call realize how hard and how stressful his job can be."
He called the coaching staff "fantastic" and said the Browns were "in about as good of hands as we can ask for at the helm."