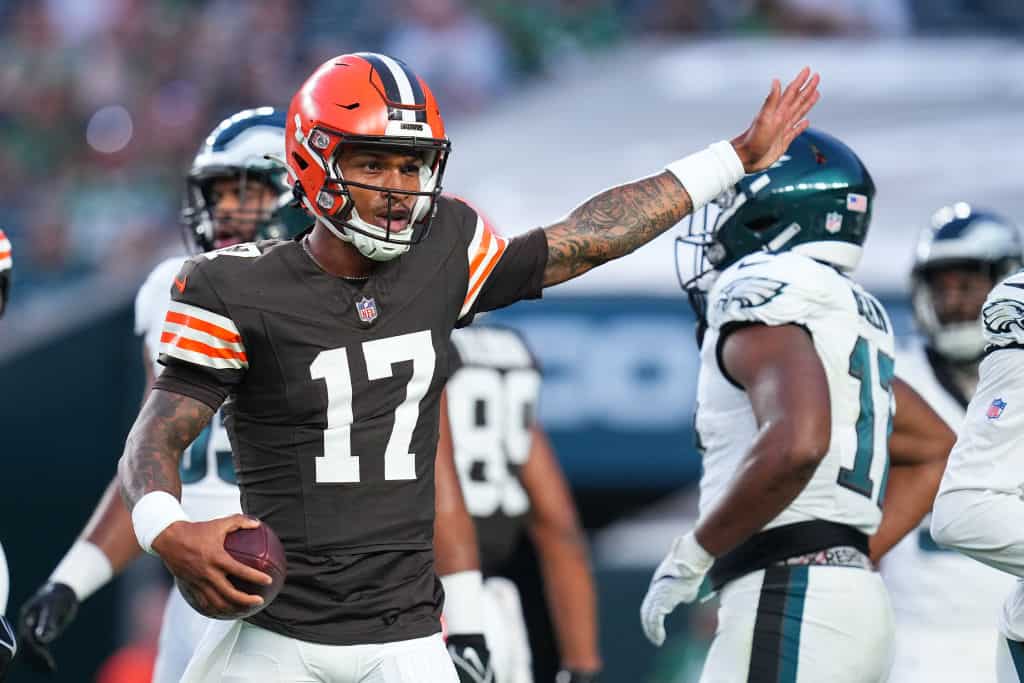 Dorian Thompson-Robinson got the start ahead of Kellen Mond for the Cleveland Browns Thursday night.
His performance was not as brilliant as his first pair of game appearances.
But there were plenty of high points to make fans wonder how he fell to the NFL Draft's fifth round.
Kevin Stefanski was among those raving about one play in particular, per Camryn Justice.
#Browns Kevin Stefanskin on Dorian Thompson-Robinson's blindside block: "I love that kid's efforts, I love the feistiness" but said you can't hurt the team with penalties, obviously.

— Camryn Justice (@camijustice) August 18, 2023
DTR handed the pigskin to Demetric Felton and rolled to the left, thinking he was out of the play.
But when Felton broke off the pile and ran outside, DTR went into blocking mode.
He threw a solid block on Philly's safety, buying more yards for Felton.
Unfortunately, Thompson-Robinson came back for a second shot at the safety and drew a blindside penalty.
Stefanski was obligated as a head coach to say something about penalties not being good.
But he acknowledged DTR's effort and feistiness on the play.
What he didn't mention was something that showed even more maturity and steadiness from the rookie.
Thompson-Robinson immediately rendered the penalty harmless with a pass for the first down.
Dorian Thompson-Robinson is a DAWG.pic.twitter.com/lPX99w4A4n

— Browns fan UK (@brownsfanuk) August 18, 2023
There was no sign that the penalty affected DTR's composure.
He played the entire first half and finished 13/25 for 164 yards with no touchdowns or picks.
Thompson-Robinson also took a sack when a gap closed quickly on a scramble attempt.
But he continued to show good instincts and went through his reads well in an impressive performance.