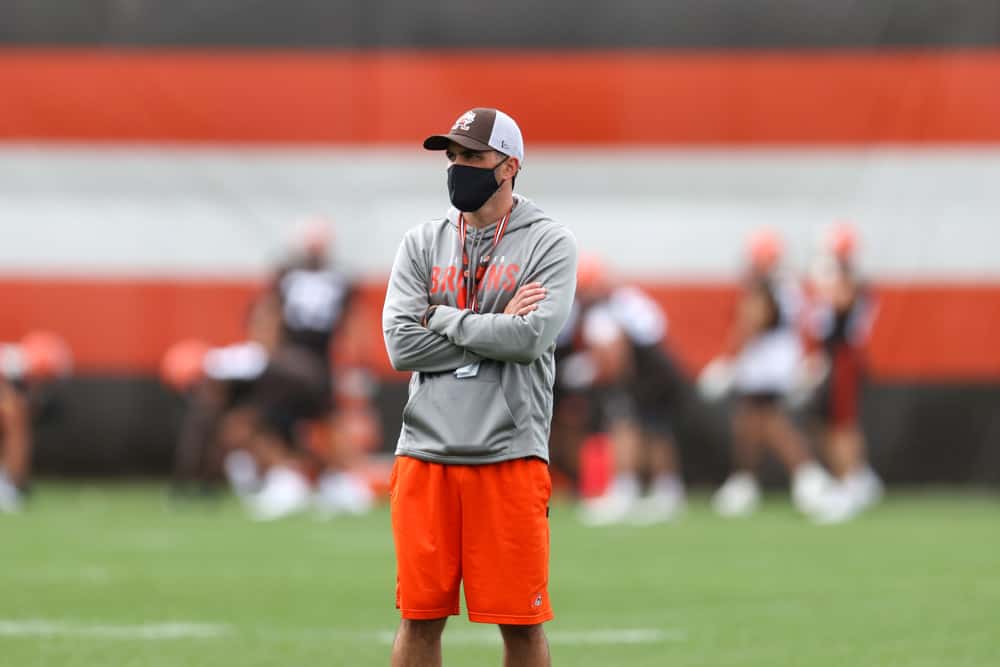 Kevin Stefanski could be forgiven for not knowing all the answers at his first news conference as head coach.
But he still can't answer the most popular question since he took over the Cleveland Browns.
Who will call the offensive plays against the Baltimore Ravens next week?
#Browns coach Kevin Stefanski was asked if play-calling decision could be affected by a shortened preseason. He simply said decision about whether he or OC Alex Van Pelt will call plays will be made before Sept. 13. "I promise you that."

— Nate Ulrich (@ByNateUlrich) June 25, 2020
Stefanski and offensive coordinator Alex Van Pelt have shared the responsibility in the Browns intra-team skirmishes so far.
But that is not exactly like calling preseason games against opposing teams.
It is yet another way the current pandemic crisis affects preparations for the 2020 season.
Stefanski might not have made the decision yet.
But if he has, he is guarding it like the key to the Browns trophy case.
 "We will announce that later," Stefanski told reporters after their Friday scrimmage. |I promise you, you will know before the game."
What's the Big Deal? 
Every new head coach faces the same difficult decision.
After all, their play-calling ability is what got them recognized and awarded with a head coach job.
And it doesn't come naturally to give up some control right after you become the new boss.
But it is not as easy as it seems.
Fans can dream of finding the next Sean McVay.
Since the day he was hired, your faith in Kevin Stefanski being the right coach for the Browns has:

— ESPN Cleveland (@ESPNCleveland) September 3, 2020
But it's even money they'll discover another Freddie Kitchens instead.
There are ways to make the transition easier.
McVay hired one of the best defensive geniuses in the NFL in Wade Phillips.
The Rams wonder boy admits he never worried much about preparing or running his defense.
Phillips brought the added advantage of head coaching experience to mentor his counterpart, too.
The key to Stefanski's success might be Joe Woods' ability to run the defense.
But there are no former head coaches on the Browns sideline to assist with the other game day diversions.
Other Factors Working Against Stefanski 
Stefanski called plays for two seasons, but with significant guidance from Gary Kubiak.
And as good as Stefanski's play-calling was, it was not perfect.
In fact, DT Sheldon Richardson, a former Viking, says Kubiak took over for a few games when Stefanski's offense got a little predictable.
And critics of Stefanski point to his final game when San Francisco's defense was a step ahead of Stefanski's offense all day.
Let me give the Cleveland Browns a heads up….. That was not Stefanski offense out there that was Gary Kubiak offense he just called plays

— CJ Peterson (@ccjaleo2013) January 19, 2020
That was with Stefanski devoted to the play calling.
As head coach, he has to worry about clock management, penalty or call challenges, injuries, and other sideline issues.
Letting the assistants handle things that warrant Stefanski's attention detracts from his head coaching stature.
But addressing those things himself can affect how he sets up his offense for their next possession.
It is a conundrum that tripped up many fine offensive minds when they became head coaches.
Analytically speaking… 
Kevin Stefanski's decision requires more than comparing successful and unsuccessful NFL head coaches.
If the Browns hired Andy Reid, there would be no discussion to be had.
But as enamored as Paul DePodesta might be about his new head coach, Stefanski is not Reid.
In most aspects of life and businesses, it is far easier to assess how someone else does a job than to do it yourself.
Stefanski would do well to let Alex Van Pelt call the plays and see what happens.
#Browns Kevin Stefanski on not getting too complicated on offense: The goal is to confuse the defense and not the offense.

— Scott Petrak ct (@ScottPetrak) September 3, 2020
There is a reason only a fraction of head coaches call their own plays.
With modern communication systems, Stefanski can easily provide in-game counsel if needed.
And he would remain intimately involved with game preparation.
But the coach would do well to learn from the confusion caused by Kitchens' multi-headed playcalling unit.
Fans will hear Stefanski's decision soon.
We have to trust his analytical approach will help make his decision work.