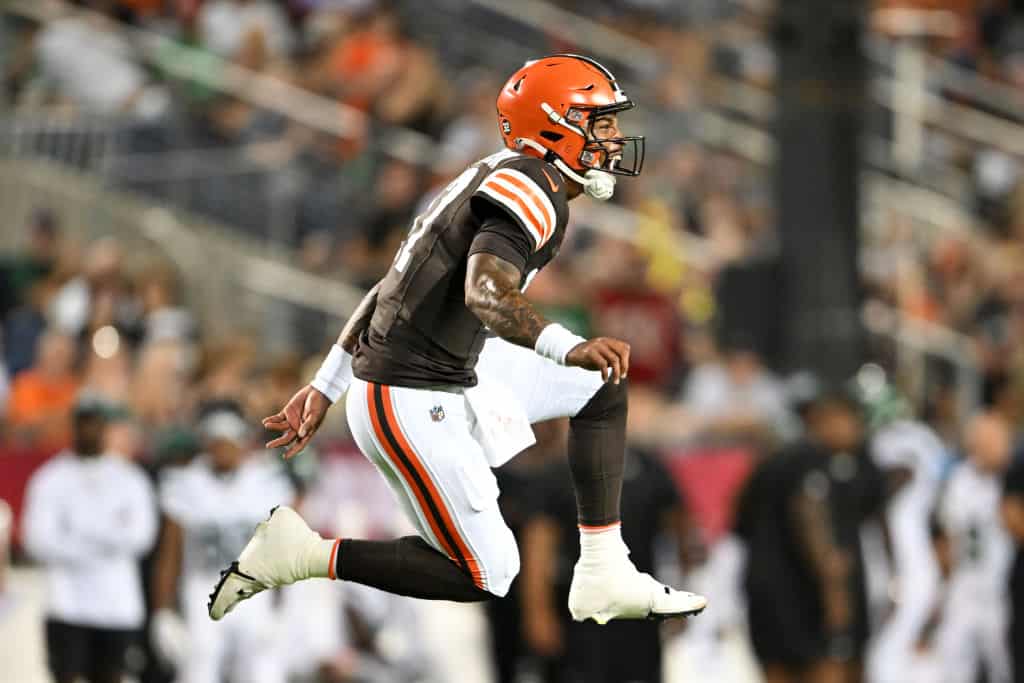 There was an NFL football game played last night, and all is well with the world.
New York Jets and Cleveland Browns fans mostly saw what they expected from a mid-summer mixup of rookies and backups.
But there were some who generated real excitement, including rookie quarterback Dorian Thompson-Robinson.
Head coach Kevin Stefansi had this to say about DTR's first NFL game, via Brad Stainbrook.
#Browns Kevin Stefanski on QB Dorian Thompson-Robinson pic.twitter.com/4NvMKL6mty

— Brad Stainbrook (@StainbrookNFL) August 4, 2023
"He made some plays with his feet. I felt the route on the touchdown was outstanding, and it was a good read and good throw. He had some really nice moments."
Anybody who's watched a Stefanski interview over the years knows this is the equivalent of a rave review.
Thompson-Robinson played the entire second half of the Hall of Fame Game, going 8/11 for 82 yards.
He added 36 rushing yards, showing the instincts and elusiveness that earned him a fifth-round draft selection.
Coming on the heels of a rather vanilla Kellen Mond first-half performance, DTR might have secured his QB-3 spot.
Intangibles On Display 
Thompson-Robinson looked the part of an NFL quarterback right out of the gate.
He was far from perfect where it most matters, displaying some mild throwing inaccuracy.
Time and experience can smooth that over while his good intangibles earn him a longer look.
DTR adeptly ducked under a rusher's reach and scooted for a long gain in his first set.
Dorian Thompson-Robinson 🎯 #Browns pic.twitter.com/NahYVgwYoK

— Browns fan UK (@brownsfanuk) August 4, 2023
Several other times, he displayed excellent awareness of the rush with his pocket movement.
He put a little zip on a couple of passes when he had to, but used more touch when receivers were open.
Austin Watkins Jr. made a nice move and Thompson-Robinson hit him in stride for his lone touchdown pass.
But DTR's biggest play was to throw a block that cleared the path to Demetric Felton's 13-yard touchdown run.
Did We See A Watson-Chubb Preview? 
DTR is not Deshaun Watson (yet) and Felton is not Nick Chubb.
But the pair spearheaded a second-half offense that fans wouldn't mind seeing in September.
DTR's running and scrambling threat played well off of Felton's backfield motions and routes.
They combined for 82 rushing yards on just 13 attempts, a 6.3 yards-per-rush average.
#Browns rookie QB Dorian Thompson-Robinson just led a 93-yard TD drive — and it ended with him becoming a lead blocker!

DTR doing a little bit of everything.

— Ari Meirov (@MySportsUpdate) August 4, 2023
Felton looked as spry and fast as DTR, and his pass-catching prowess warranted attention.
New York was not fielding the most experienced defenders by this point of the game.
But it was notable how the backfield mates' motion bought an extra second for blockers and receivers to get rolling.
And it's easy to imagine Watson and Chubb doing the same thing to defenses down the road.