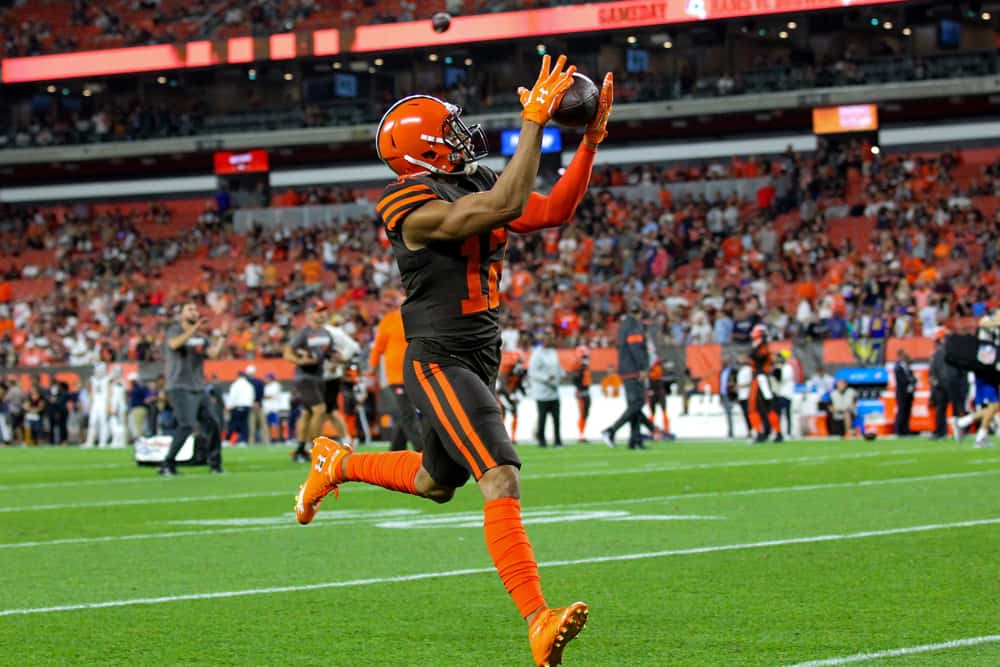 Looking for that Draftkings sleeper pick?
Khadarel Hodge is poised to be that guy during Week 1 against the Baltimore Ravens.
The team's receiver took a lot of reps with the first team and could be a name that nobody is talking about.

Putting In The Work 
"Major props to Khadarel Hodge. He did not take no for an answer, put his foot in the ground, and worked his ass off and now has a WR3 spot on a stacked #Browns offense. Hodge's work ethic has shown to be better than mostly everybody else's in the WR group". @brownsculturee

— Brownsupdater (@browns_updater) September 8, 2020

Earlier this week, Hodge posted a picture of himself with a motivational line to confirm this.
If people are doubting as far as you can go, go so far that you can't hear them anymore. 💫 pic.twitter.com/e8IIRxY66X

— KhaDarel Hodge (@ItsKhaDarel) September 9, 2020
This is a huge jump for the third-year wide receiver.
Last year, Hodge played in all 16 games and recorded just four receptions for 76 yards.
This makes him a prime candidate to break out a few big plays against the favorite to win the AFC.

Looking, Crisp
As mentioned, Hodge practiced with the first-team unit.
Hodge himself even posted a video of his work with the team.
Baker Mayfield to WR KhaDarel Hodge today at practice, with coach Stefanski watching (via #Browns) pic.twitter.com/eHCZyPuRl7

— BrownsWave \\: (@BrownsByBrad) September 10, 2020
This is no different from earlier in August as Hodge was playing with this unit back then as well.
#Browns Baker Mayfield rolls out and finds WR KhaDarel Hodge (no sound, via Cleveland Browns) pic.twitter.com/zKNLGSpf0P

— BrownsWave \\: (@BrownsByBrad) August 19, 2020
Special Teams
Even if Hodge does not make many plays on offense, he will continue to contribute on special teams.
That was a role that he served last season.
#Browns ST coordinator Mike Priefer on KhaDarel Hodge: He's tough, plays like a DB, smart.

— Scott Petrak ct (@ScottPetrak) September 10, 2020
Haters
Just because Hodge has carved out this role for himself does not mean everyone is stoked about it.
Some of the public believe that the role should be given to late-round draft pick Donovan Peoples-Jones.
I'm not buying KhaDarel Hodge as the Browns WR4. It's patently ridiculous to me that he can get more open more often than DPJ. Peoples-Jones is WR4, likely WR3, between weeks 4-6 and through end of season.

— Ryan Thon ✊🏻❤️ (@rmthon) September 7, 2020
He is clearly not the #3 WR according to this depth chart. Landry and OBJ are the top 2. Rashard Higgins and KhaDarel Hodge would be the 3rd and 4th. That means, at best, DPJ is the number 5.

— Adam Patrick (@killoranusmc) September 8, 2020
Hodge has made it this far.
Let's see if he can prove everyone wrong again.