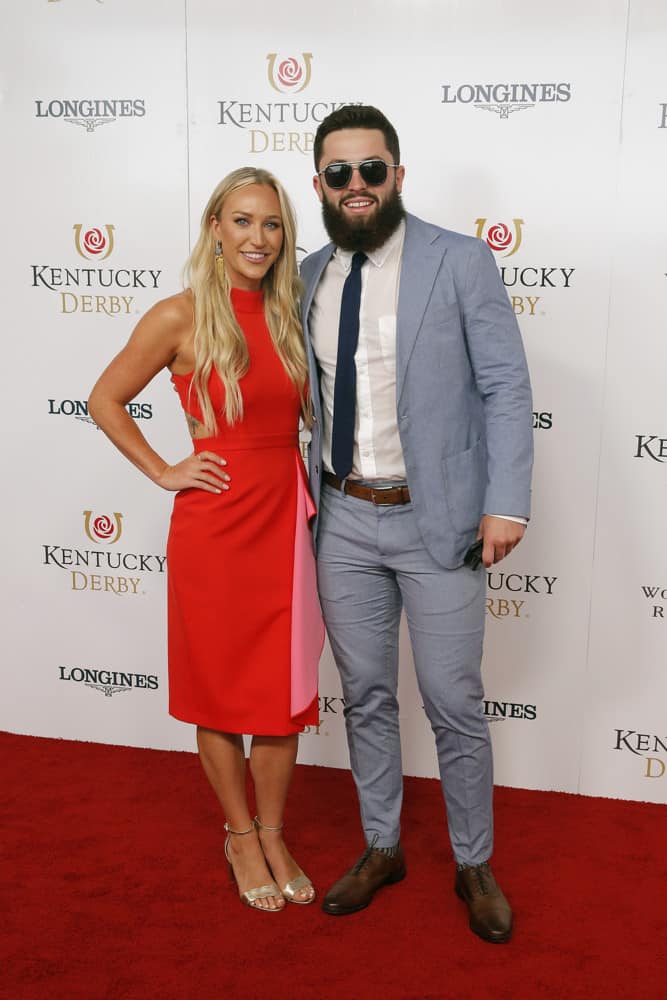 On September 12, Baker Mayfield announced that he will be standing for the national anthem for Sunday's Week 1 contest against the Baltimore Ravens.
— Baker Mayfield (@bakermayfield) September 12, 2020

Mayfield's wife Emily Wilkinson then screenshotted Mayfield's post and added "proud wife @bakermayfield" to her Instagram story.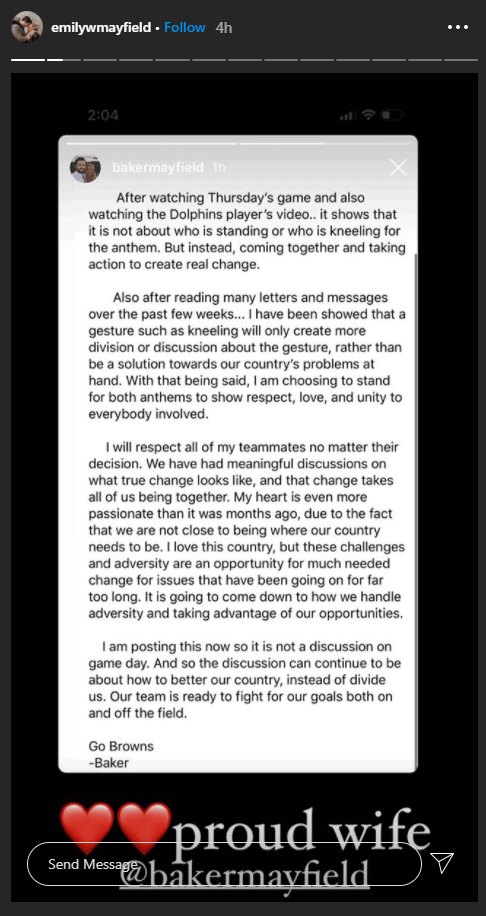 Wilkinson is supporting her husband and his decision.
View this post on Instagram

Mayfield and Wilkinson are very close, and they do many things together.
Earlier in the offseason, they donated $50,000 to the Cleveland Food Bank.
Mayfield also had a very nice message for his wife on her 29th birthday in April.
Mayfield, who also celebrated his birthday in April, turned 25 years old earlier in 2020.
Mayfield Could Be Heading into New Territory in Week 1
While the offseason had its odd twists and turns, Mayfield is ready to bounce back from his sophomore slump.
Mayfield has a new head coach and play-caller in Kevin Stefanski.
They will be looking to lead the Browns to an upset victory in Week 1 at M&T Bank Stadium.
Mayfield's center J.C. Tretter is questionable for Week 1 after having a minor knee procedure.
Tretter has yet to miss a game in his three years with the team, so it will be new territory if Mayfield takes snaps from a different center.
Mayfield had an interesting two games in 2019 against the Ravens:
Week 4: 20 completions, 30 attempts, season-high 342 passing yards, 1 TD, 1 INT, 102.4 passer rating
Week 16: 20 completions, 33 attempts, 192 passing yards, 2 TD, 1 INT, 84.4 passer rating
In Week 4, the Browns had arguably their best win of the season with a 40-25 victory over the Ravens in Baltimore.
However, Week 16 was a 31-15 Browns loss.
Mayfield and company are hoping for another strong performance on the road against the Ravens this year.
If Cleveland can start the season on a strong note, this regular season could end with a playoff berth.