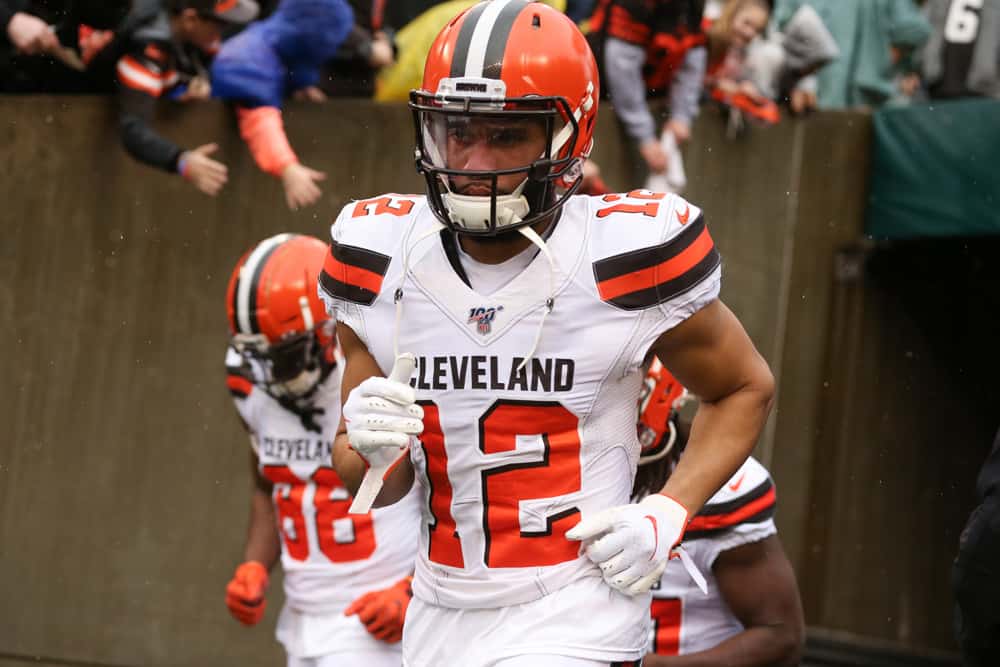 Andrew Berry and Kevin Stefanski earned the trust and faith of the Cleveland Browns fans.
And when the team cut their roster to 53 yesterday, there wasn't much backlash.
But that doesn't mean every cut was popular.
News that Khadarel Hodge was released elicited considerable angst from the Browns' social media followers.
Tough to see a super talented WR like KhaDarel Hodge get cut. Thanks for everything. Definitely not looking forward to seeing him suit up for another team. #Browns pic.twitter.com/uHazUZglSf

— Dave @ BIGPLAY (@BIGPLAY_dave) August 31, 2021
Even after weeks of debate among the faithful foretold his precarious hold on a roster spot.
Hodge hauled in a Baker Mayfield touchdown pass against the Falcons' Sunday.
His fans hoped the big play gave was enough to make him part of Cleveland's 2021 playoff drive.
But now it looks like that play was his Browns swan song.
But Hodge Says It's All Love in Cleveland 
One person who seems to realize the reality of the situation is Khadarel Hodge.
Likely aware of the disappointment of many Browns fans, he took to social media yesterday himself.
"Thank you, Cleveland. It's all love. A lot more to prove!!" he posted.
The post is likely to further endear him to Browns fans.
Thank you Cleveland. It's all love 🤎🧡

A lot More to prove‼️ pic.twitter.com/EZLwB4cUdZ

— KhaDarel Hodge (@ItsKhaDarel) August 31, 2021
But more importantly, it indicates he understands the decision and realizes he has room to grow.
He might catch on with another team looking for a special teams ace at the end of their wide receiver group.
And Cleveland fans hope he lands back on their practice squad if not.
But even that is not guaranteed as other priorities could take precedence on the Browns' 16-member unit.
Hodge's Impossible Challenge 
Khadarel Hodge started the 2020 season as the third wide receiver behind Odell Beckham Jr and Jarvis Landry.
But when Beckham was injured, it was Rashard Higgins who took the WR-2 role.
Injuries took their toll on Hodge, who missed 8 games over the course of the season.
He made some big catches when he had the chance, but there were only 11 receptions in 2020.
#Browns QB Baker Mayfield says WR KhaDarel Hodge's efforts don't often get recognized, but he does the dirty work and team appreciates that:

"When he gets that time to shine, he's going to play the guitar."

— 92.3 The Fan (@923TheFan) August 30, 2021
Beckham is back and Higgins re-signed for guaranteed money.
The emergence of Donovan Peoples-Jones and the addition of 3rd-round draft pick Anthony Schwartz left little room on the roster.
But it was receiving prowess of Demetric Felton that delivered the final blow to Hodge's chances.
The multi-talented running back and returner is essentially the team's sixth wide receiver, too.
Could Hodge Return After Other Roster Moves? 
Jacob Phillips' spot on the 53-man roster will open up Friday when he is moved to the injured reserve.
There could be others who join him, like Nick Harris who is working through a back injury.
But Cleveland only held onto 3 edge rushers, and speculation is the first addition will round out that group.
Besides the limited roster positions, there is the question of why the Browns would add a receiver like Hodge.
One thing to remember about #Browns WR KhaDarel Hodge, who's been waived: He was due to make $2.13 million, which is a lot for a 6th receiver. If they bring him back, they can do so at the 4 yr vet min of $990K. Every million helps.

— Mary Kay Cabot (@MaryKayCabot) August 31, 2021
They could re-sign him at a veteran minimum, which would make his release pure economics.
And one could argue the Browns need him on special teams, given their poor performance on coverage without him.
But the addition of Jeremiah Owusu-Koramoah and other young players on the unit probably fills that void.
And cements Hodge's status as a popular, but former Browns player.