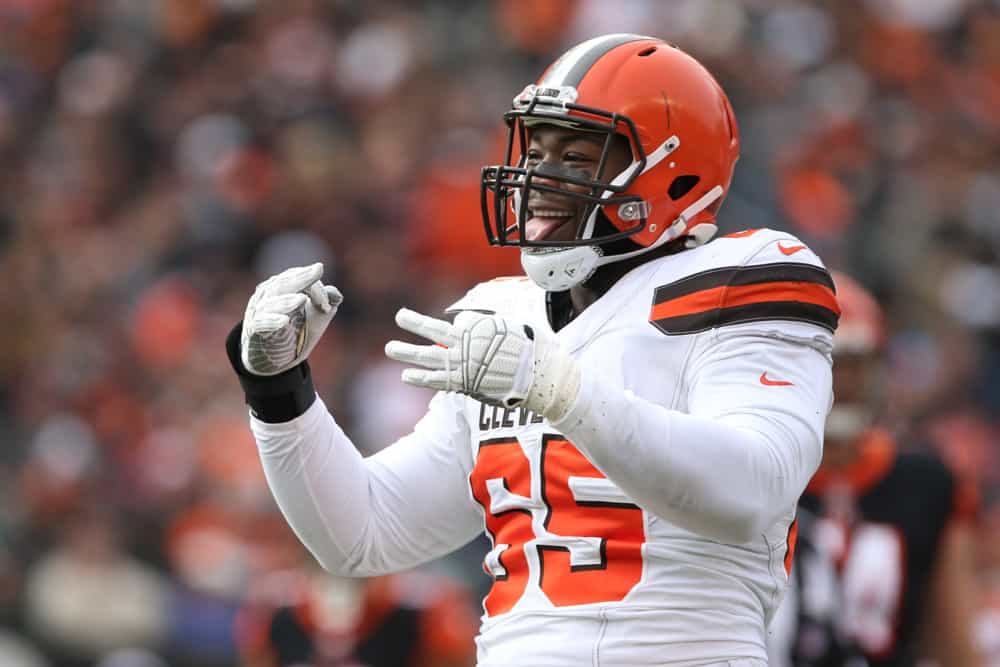 There's no doubt about it, the Cleveland Browns 2020 debut was not easy to watch.
But by the end of the season, one defensive statistic might stand out.
Cleveland held the Ravens to 107 rushing yards, 45 of which came from quarterback Lamar Jackson.
Mark Ingram and rookie J.K. Dobbins managed just 3 yards per carry on their 17 combined rushes.
BJ Goodson led the Browns in tackles with 9.
But it was the defensive line that disrupted the Ravens' explosive rushing attack most of the game.
And no one did it better than Larry Ogunjobi.
#Browns Ogunjobi led all defenders in Week 1 in defensive grade🎇 https://t.co/qzrG4V4JYI

— PFF CLE Browns (@PFF_Browns) September 14, 2020

At least not according to Pro Football Focus, which graded Ogunjobi higher than any other defensive player across the league this week.
None of the Browns posted flashy statistics against Baltimore.
But Ogunjobi's early tackle for a loss and a forced fumble that almost turned the tide of the game stand out.
He tacked on four tackles (3 solo) along the way.
The fourth-year defensive tackle was a problem for the Ravens offensive line all day.
Hard Offseason Work Pays Off
Ogunjobi is a free agent after this season.
But he says that is not the reason he is determined to make 2020 his best season yet.
Back in August, Ogunjobi told Andrew Gribble of ClevelandBrowns.com,
"I just go into every offseason trying to get better than the one before. This offseason, I feel like it was one of my best ones, if not my best one, because of my attention to detail, my level of training I was doing, and the people I was around. Overall, I was focused and worked on all of the things I didn't do so well. I (am) more comfortable with myself and what I'm doing. I'm really excited for the season."
His hard work quickly made a believer of his newest defensive line coach, Chris Kiffin.
"From the day I met him, I could just tell how hungry he is, how eager he is and that he wants to be great, Kiffin told reporters on a preseason Zoom session. "He has all the intangibles. He has the tools, the athletic ability, the skillset, and the strength to not just be good, but to dominate."
Ogunjobi worked with a new trainer this year with the goal of becoming a better overall athlete.
The highest graded #Browns on offense and defense from yesterday's opening-day loss (min. 25 snaps):

Wyatt Teller (91.2)
Larry Ogunjobi (94.1)

— PFF CLE Browns (@PFF_Browns) September 14, 2020
With that, he hoped to become faster and stronger with more endurance.
Sunday's performance indicates he achieved that goal.