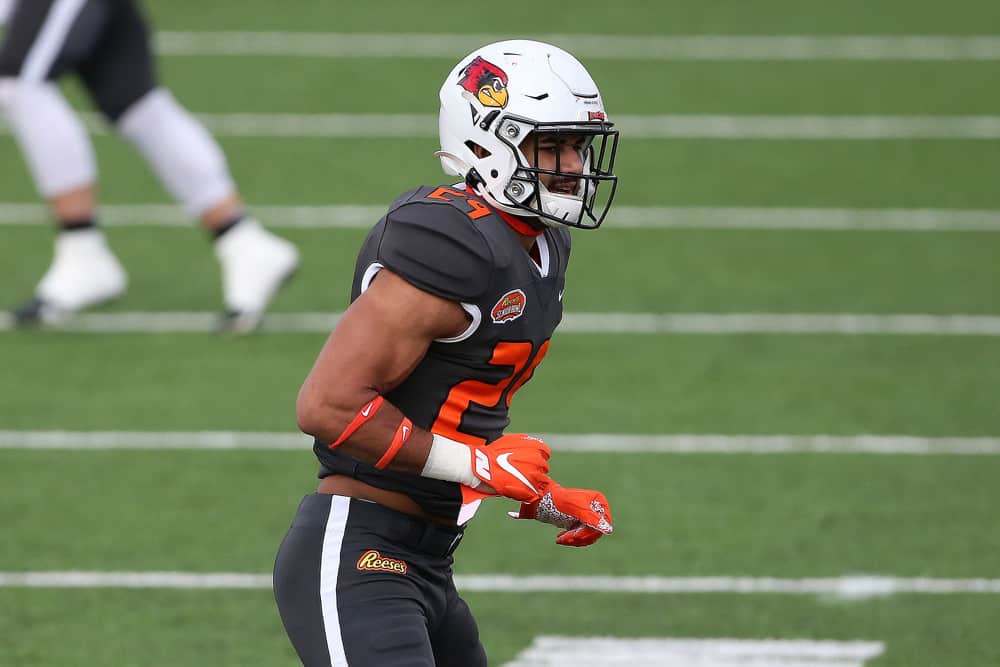 Despite a fantastic year from the Cleveland Browns in 2020, they need some help to compete again in 2021.
The team has addressed many needs during the free agency period and the 2021 NFL Draft looms.
One of the positions of need in 2021, safety, was filled when the Browns signed former Ram John Johnson III.
Ronnie Harrison and 2020 pick Grant Delpit should be back to full form this year after missing last season (Delpit) or parts of the season (Harrison) with injuries and Covid issues.
If all three can stay healthy, they will improve a unit that was ranked last in the NFL by Pro Football Focus in safety coverage for 2020.
Even if this core can bring much needed stability to the Browns defense, it doesn't hurt to have more depth.
Cleveland fans witnessed this last year when Delpit went down during training camp and Harrison missed parts of two months late in the season.
Therefore, this is a look at safeties the Browns should target in Days 2 and 3 of the draft.
Please note that this list is not meant as a ranking system, just a list of players to consider.

Richie Grant, senior, UCF
If the Browns look for someone with significant college experience at the safety position, they will find it in Grant.
Grant was a three year starter who also saw extended opportunities as a freshman.
Coming out of high school, Grant did not have a lot of colleges knocking at his door.
He played both sides of the ball as a defensive back and receiver from Choctawhatchee High School in Fort Walton Beach, Florida.
Grant played just well enough in high school that he was given a two-star ranking from 247 Sports.
Central Florida was his lone I-A offer and Grant took it.
After redshirting in 2016, Grant got on the field for stretches in 2017 where he posted 32 total tackles, one forced fumble, and two passes broken up.
In 2018, Grant had a field day with opponents.
That season, he collected 108 total tackles, two forced fumbles, three passes defended and six picks.
After the year, Grant was named a first-team, All-American Athletic Conference selection.
Highest-graded safety in run-defense last season:
💥 Richie Grant, UCF – 90.0 pic.twitter.com/9ocPqaJjk4

— PFF Draft (@PFF_College) February 22, 2021
2019 saw Grant grab 78 total tackles, one forced fumble, eight passes defended, and one interception which he returned 39 yards for a score.
He was again named a First-team All-Conference pick for the year.
In 2020, Grant had 72 total tackles, one sack, two forced fumbles, two fumble recoveries, five passes broken up, and three interceptions.
His play on the gridiron this past year led to Grant being named a finalist for the Jim Thorpe Award, given to the nation's top defensive back.
As a safety, Grant has the football smarts to anticipate routes and get to passes before they arrive.
He is a solid tackler who can pack a punch when he has a head of steam.
On film, one can watch Grant read the quarterback's eyes and get an early jump on the pass.
Grant can hang with most receivers and will attack the high point of the ball with gusto.
Grant is only 6'0" and 200 pounds, but he plays a lot bigger.
He can backpedal well and accelerate to the ball quickly.  I really like how Grant doesn't give up on plays.
There are film clips where he chases the ball carrier down field and attacks, sometimes forcing a turnover.
Richie Grant!! Built by @UCF_Football 💪💪#ChargeOn pic.twitter.com/BF8TgGG3B4

— HoldenCantor (@HoldenCantor) January 28, 2021
In run support, I appreciate that Grant gets low and drives through the ball carrier for the tackle.
Grant will tackle high, but he more often than not uses a good base and drives up and through the tackle.
Larger running backs and tight ends don't scare Grant.
He will lay the wood to anyone who crosses his path.
NFL scouts note that Grant can accelerate well, but he doesn't have top end speed, especially in man coverage.
They also note that he doesn't always display good fluidity in his hips, which leads to tardy changes in direction.
Grant can get taken out by blockers, specifically those with larger masses.
Grant will have to maintain (or even increase) his weight in the pros to be effective against NFL blockers.
More than a few scouts observe that Grant has trouble taking consistent angles to the ball carrier.
Overall, Grant is considered a good safety prospect for the 2021 draft.
He may come off the board in Round 2, but most likely he is destined as a third or fourth round pick.

Paris Ford, junior, Pittsburgh
Ford is a Pennsylvania football player to his core.
He attended Seton-La Salle High School, where he played both sides of the ball, and transferred to Steel Valley High School during his junior year.
During Ford's senior year, Steel Valley crushed every opponent they faced, including a 49-7 victory in the state championship game.
Ford was ranked as a four-star recruit after scoring 22 touchdowns in his final prep year.
Even more impressive, he scored five different ways including rushing, receiving, fumble return, interception return, and a punt return.
To complete his amazing prep career, Ford was named an Under Armour All-American and Class 2A All-State.
He had offers to play for numerous Division I teams but wanted to stay in-state and chose Pitt.
Ford spent his first season in Pittsburgh as a redshirt.
In 2018, he played in five games, mostly on special teams.
Ford also contributed five total tackles that year.  2019 was the season that made Ford a household name.
As the Panthers put together an 8-5 record, Ford had 97 total tackles, three forced fumbles, 11 passes broken up, three interceptions, and one pick returned for a score.
After the year, Ford was named a First-team All ACC.
As he prepared for the 2020 season, Ford was placed on the preseason watch lists for the Bednarik, Jim Thorpe, and Nagurski awards.
He got off to a good start last year, collecting 41 total tackles, three passes broken up, and three interceptions.
However, as Pitt struggled and lost four straight games, Ford decided to opt out of the remainder of the season to focus on the 2021 NFL Draft.
As a defender, the 6'0", 190 pound Ford is versatile enough to play in the slot, on the perimeter, as a two-high safety, and a thumper in the tackle box.
Quite a number of film clips from the past two years show him putting the hurt to receivers and running backs.
Ford is willing to take on all comers.
75 Days until Pitt Football

Paris Ford with one of the more violent hits you'll see on the football field. 12 was ejected for this one, but listen to the pop this hit makes 💥 pic.twitter.com/OQaMNHcM63

— Capel Faithful (@CapelFaithful) June 22, 2020
In coverage, Ford is a natural when backpedalling and can change directions quickly.
On tape, one can see Ford watching the quarterback's eyes and reading the play quickly.
He can get sideline-to-sideline in a flash and close on receivers with little trouble.
Ford enjoys challenging receivers and will do his level best to outwork his opponent for the ball.
As a pro, Ford will need to work on a few things.
I noticed throughout his film that Ford tackles high, a lot.
When he does go low, he has a tendency to dive for the ball carrier's feet.
That may work in college, not so much in the NFL.
Scouts note that Ford needs to improve his tackle angles and he can be a liability in the deep portion of the field.
During the Pitt Pro Day, Ford did not do as well as he should have and NFL personnel who attended the event noticed that he had not prepared for some of the drills.
Basically, Ford is ready for the NFL, but it may take a few years before he really comes into his own.
Look for him to be selected on Days 2 or 3 of the draft.

Andre Cisco, junior , Syracuse
Cisco is a New York native who transferred to IMG Academy in Florida before his junior year of high school.
While at IMG, Cisco played alongside current Cleveland Browns safety Grant Delpit and fellow 2021 Draft prospect Dylan Moses.
By the time he graduated from IMG, Cisco was a three-star recruit with offers from Illinois, Nebraska, Vanderbilt, Northwestern, and Syracuse.
Wanting to play closer to home, Cisco chose the Orangemen.
Right from the beginning, Cisco proved he belonged in the college game.
During his freshman season in 2018, Cisco had 60 total tackles, a forced fumble, nine passes defended, and seven interceptions.
His interception mark tied the season high in the FBS and led to Cisco being a First-team All ACC selection.
Various other outlets tabbed Cisco as an All-American.
In 2019, Cisco continued to play well, contributing 65 total tackles, one forced fumble, one fumble recovery, five passes broken up, and five picks, one of which was returned for a score.
He was tied for seventh in the country with his interception total and chosen as a Second-team All ACC member.
Andre Cisco too (FS from Syracuse). https://t.co/dyFyl2GjUG

— Adam Banig (@avbanig) January 3, 2021
2020 should have been huge for Cisco.  Unfortunately, after collecting 11 total tackles, and one interception during the season's first two games, Cisco was injured during warmups of Syracuse's game against Georgia Tech when he ran into a teammate.
That injury turned out to be a torn ACL which ended his season.
While watching film from the past few years, it is apparent that Cisco is good at taking advantage of opponents' mistakes.
He reads the quarterback's eyes well and sniffs out plays as they are developing.
Cisco's timing is good and he can make receivers think twice before challenging him.
At 6'0", 209 pounds, Cisco is lithe enough to stay with receivers and heavy enough to lower the boom.
He thrives on contact and can deliver some well-timed blows.
Cisco is a fierce tackler and he attacks the line of scrimmage in run support.
While in coverage, Cisco can close quickly, has fairly good hip rotation, and is physical against receivers.
He plays better in split safety looks, but can contribute in zone and man.
Cisco backpedal's well and times his break to disrupt receivers in his area.
He is adept at watching the quarterback until he commits and then plays the ball.
There are moments when Cisco's aggressiveness gets the better of him.
He has missed tackles and not taken good angles toward the ball because he looks too eager to make a play.
Cisco will have to be more disciplined in coverage as well.
As good as he is watching the QB, he can get caught committing too early and getting beat by a receiver.
Though Cisco has been used in man coverage, it is not his strength.
He also got beat deep a number of times in college.
Basically, scouts think his best position in the pros will be as a free safety, taking advantage of his freelance tendencies.
Teams may also be scared off by Cisco's injury.
He may need time to get back into the rhythm of the game and feel comfortable around contact.
After limited Pro Day, former Syracuse DB Andre Cisco updates ACL rehab: 'I haven't had any setbacks': https://t.co/uJJYeqLPbQ pic.twitter.com/b0a9PGM908

— SyracuseOn247 (@SyracuseOn247) March 19, 2021
Due to Cisco's good 2018 and 2019 seasons, he may find a team during Day 2 of the draft.
It's also very likely, considering his injury, that he comes off the board on Day 3.

Jamien Sherwood, junior, Auburn
When watching film of Sherwood, the viewer quickly sees that he is built like a pro safety.
At 6'2", 220 pounds, Sherwood brings the pain on opposing ball carriers.
He is built like a tank and, therefore, hits like a tank.
Sherwood hails from Jensen Beach, Florida and was a four-star recruit coming out of high school.
He had numerous offers from big schools such as Florida, Miami, Georgia, and Michigan.
Eventually, Sherwood chose the SEC and Auburn.
Upon arriving on campus, Sherwood played in 10 games as a true freshman.
During the 2018 season, he logged 22 total tackles, 1.5 sacks, two passes defended and one interception.
In 2019, Sherwood was still a reserve, but collected 43 total tackles, one fumble recovery, and five passes broken up.
This past season, Sherwood began the season as a Third-team Preseason All-SEC selection.
As a starter, he had 65 total tackles, one sack, two fumble recoveries, and three passes broken up.
During the 2020 season, Sherwood had at least 10 tackles in three games.
Because of his size, Sherwood is a very good run defender.
He is not afraid of contact and will challenge anyone toting the rock.
I like how he squares, wraps up, and drives through the ball carrier during tackles.
On occasion, Sherwood tries to go for the knockout blow and only uses his shoulder.
That won't always work at the next level.
Auburn SAF Jamien Sherwood (@JamienSherwood) is the perfect modern day SS. He is one of the best run defenders in the nation and is a sure tackler. He has the frame to be a day one starter at the next level. Really talented player, who Auburn moves all over the field. #NFLDraft pic.twitter.com/5P9joqx9ZZ

— Jack Borowsky (@Jack_Borowsky) December 7, 2020
As a taller safety with heft, Sherwood can cover most tight ends as well as receivers working routes in the slot or the middle of the field.
Despite being long, he has good explosion coming out of his backpedal.
Sherwood might not have the loosest hips, but he can rotate quick enough and close the distance on opponents quickly.
Sherwood's length helps in outpointing receivers for the ball.
He will challenge the pass and work to take away the ball from his opponent.
Sherwood only had one pick during his time in Auburn, but that does not take away from his ability to affect the offense's passing game.
There's a lot to like about #Auburn Safety Jamien Sherwood's game. Physically imposing player who plays downhill and makes plays in the short and deep zones.

Great in run support, was the QB of their secondary. Can see him making calls in the back end and very instinctual. pic.twitter.com/jI9HiPgCMA

— Devin Jackson (@RealD_Jackson) March 6, 2021
While watching film of Sherwood, I noticed that he doesn't have a lot of looks in man-to-man defense.
He can also get beat deep, especially by quicker receivers.
If a team has a talented and versatile tight end, Sherwood may struggle with him.
Right now, pro scouts believe Sherwood will either need to lose weight to play safety in the NFL or gain more weight and shift to linebacker.
More than a few scouts believe the latter will happen.
Since Sherwood works better in the short to intermediate range, it will benefit him to work more as a linebacker or a type of hybrid safety/linebacker.
More than likely, Sherwood is selected somewhere between rounds 5-7.

Christian Uphoff, senior, Illinois State
As any NFL fan knows, not every player who sticks in the league is from a large university.
It is just as likely that a player from a small school can make an NFL roster and contribute.
Think Steve McNair from Alcorn State, Jerry Rice from Mississippi Valley State, or Walter Payton from Jackson State University.
The point is, you just never know.
Christian Uphoff is just such a player, hailing from Illinois State University in Normal, Illinois.
After signing with the Redbirds out of high school, Uphoff's college career started slowly.
As a redshirt freshman, he played in 11 games and only had six tackles.
During his sophomore year, Uphoff collected 18 total tackles, six passes broken up, and one interception.
He also contributed on special teams that season, returning kicks 18 times for 470 yards and a 26.1 yards per return average.
His special teams ability brought Uphoff an honorable mention All-Missouri Valley Conference selection for 2018.
In 2019, Uphoff played in every game as the Redbirds finished the season 8-4 and made the FCS playoffs.
The team won their first two playoff games before succumbing to a mighty North Dakota State squad.
For his part that year, Uphoff had 70 total tackles, seven passes broken up, and two picks.
On special teams, he returned 12 kicks for 286 yards and a 23.8 yards per return average.
Due to the Covid pandemic, Illinois State decided to defer their 2020 season to this spring.
However, Uphoff chose to forgo the season to prepare for the draft.
His 2019 stats were good enough that he received a Senior Bowl invitation.
Observations from early 7v7: Ambry Thomas and Tre Brown getting reps in the slot, Christian Uphoff is the most fired up and vocal guy out here. pic.twitter.com/8bMZvZCxp6

— Cyril Penn IV (@cyrilpenn4) January 26, 2021
When watching Uphoff on tape, it is readily apparent that he is a smart player who takes advantage of opponents' miscues.
He is a ball hawk, able to break up passes as well as pick off errant throws.
Uphoff is 6'2", 213 pounds and uses his height to dislodge receivers from the ball and their route.
In coverage, Uphoff does well in man-to-man and has quick, fluid hips to turn and run from his backpedal.
It is obvious not only in coverage but also on special teams that Uphoff is fast.
He displayed the ability to stay with receivers on the perimeter as well as in the slot.
I really like how he watches the quarterback and tracks his receiver at the same time.
Uphoff's length is perfect for breaking up passes and making a quarterback think twice before throwing his way.
He will challenge receivers at the catch point and use his hands effectively to shut down the play.
In run support, Uphoff more than holds his own.
He is a confident tackler and attacks immediately after acknowledging the run.
Uphoff has enough weight and power to devastate the ball carrier.
He squares up well and drives through the opponent.
Illinois State SAF Christian Uphoff (@UphoffChristian) is one of the top SAF's in the nation. Great size for the position and is really good against the run. I expect an All-American season from the Illinois State product. #NFLDraft #DraftTwitter pic.twitter.com/7XEaDcb2b8

— Jack Borowsky (@Jack_Borowsky) July 10, 2020
Scouts note that Uphoff can be overconfident at times and mistime coverage responsibilities or tackles.
That allows the offense to take advantage of his miscues for big plays.
As good a tackler as Uphoff is, he doesn't always take the best angles to the ball.
He needs to work on disengaging from blockers as well.
Uphoff has a lot going for him.
Not only can he play the position and hold his own in both the run and pass game, he has versatility as a special teams player.
It's possible a team takes a flier on Day 2, but Uphoff is most likely a Day 3 selection.