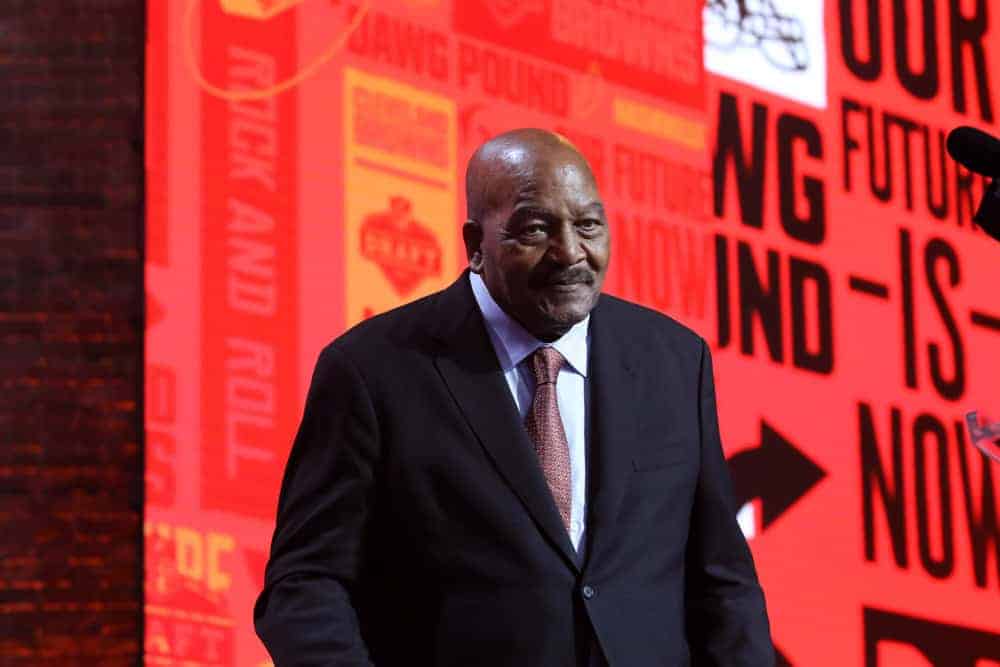 Arguably the best player to ever wear a Cleveland Browns uniform, Jim Brown, is turning 86 today.
Born on February 17, 1936, Brown is a living legend.
Happy Birthday to #football legend and actor Jim Brown born #onthisday in 1936!
🏆Pro Football Hall of Fame @Browns
🏆College Football #HOF @CuseFootball
🏆3x #MVP, Rookie of the Year, 9x Pro Bowl
🏆NFL Champion 1964 #Browns #legend #footballcards #topps #HappyBirthday #NFL pic.twitter.com/dm5Pg8gIyt

— Dave's Vintage Baseball Cards (@gfgcom) February 17, 2021
Even though fans believe they know everything about Brown, it is still fun to look back at his amazing career and life.
Here are a few interesting tidbits about Brown.
1. Was As Good At Lacrosse As He Was At Football
It is rare to hear about a college football athlete playing more than one sport these days.
However, Brown did it at Syracuse and excelled in many sports.
Besides football, there was lacrosse which Brown was passionate about.
Brown was so good at lacrosse that he was enshrined in 1983 in the National Lacrosse Hall of Fame located in Sparks, Maryland.
Jim Brown was inducted into the National Lacrosse Hall of Fame in 1983, becoming the first-ever African-American to receive the honor. Many consider Brown to be the greatest to ever play the game. He once said "I'd rather play lacrosse 6 days a week and football on the seventh." pic.twitter.com/LWpYloPpVP

— Sports Plus (@PrepSportsPlus) June 17, 2020
Regarding his love of lacrosse, Brown once said:
"I'd rather play lacrosse 6 days a week and football on the seventh."
2. Played College Basketball Too
If you need more evidence that Brown was a unique and versatile athlete, consider the fact that he played basketball for two years at Syracuse while also playing football and lacrosse.
He averaged over 13 points per game.
Happy Birthday to Jim Brown!
At Syracuse he not only played football, but basketball and lacrosse too!
A legend! pic.twitter.com/VWhhSYEi6n

— Old-Time Buckets (@oldtimebuckets) February 18, 2020
3. Won An MTV Movie Award
Brown had a successful acting career after retiring from football.
His work spanned the generations.
He won an MTV Movie Award in 1997 for Best Fight when he famously fights an alien in the movie Mars Attacks.
The alien did not stand a chance.
#MovieFightsLive Jim Brown in Mars Attacks pic.twitter.com/YrDB6cJuOo

— Tj Dex (@TjDex) June 28, 2018
4. Shares A Birthday With Another GOAT
Super athletes were definitely born on February 17.
NBA legend Michael Jordan shares a birthday with Brown.
Jordan is 59 today.
Happy Birthday to these two GOATS
Jim Brown
Michael Jordan pic.twitter.com/X26gF3dbvo

— Angelo7266 (@angelo7266) February 17, 2022
5. Won Rookie Of The Year And MVP In The Same Season
Brown was the first player to ever win both NFL Rookie of the Year and NFL MVP in the same year.
It is not an understatement that he dominated from the beginning to the end of his NFL career.
Happy 86th Birthday Jim Brown!