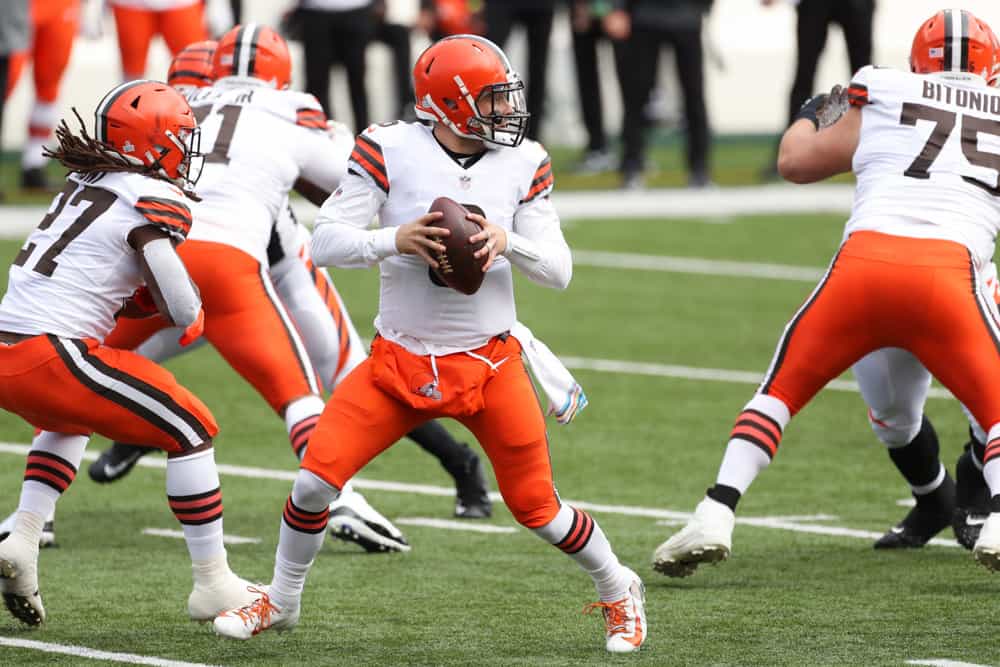 The Cleveland Browns play the New York Giants on Sunday Night Football on December 20.
This Week 15 matchup is a must-win for both teams which is part of the reason the NFL flexed it from a day game to the prime time national game of the week.
Right call. Giants defense red hot vs a solid Browns team. Could be a really fun game! https://t.co/Cs2rgPRgHF

— Alex Utano (@autano34) December 9, 2020
Cleveland dropped a tight game to Baltimore on Monday night to go to 9-4 on the season.
The Giants are 5-8, 1 game behind first place Washington in the woeful NFC East.
How To Watch Browns Vs Giants
The pregame show Football Night in America airs on NBC at 7 pm EST.
Kickoff follows at 8:20 pm.
The broadcasting team will either consist of Al Michaels and Cris Collinsworth or Mike Tirico and Cris Collinsworth if Al Michaels is on a bye week.
Michele Tafoya is the sideline reporter.
How To Listen to Browns Vs Giants
The three flagship stations for Browns football are:
On satellite radio, the SiriusXM Browns broadcast station is Channel 388.
Outside of Cleveland, the Browns radio affiliates are:
Akron
WAKR – 1590 AM
Akron
WONE – 97.5 FM
Canton
WHBC-AM – 1480 AM
Canton
WHBC-FM – 94.1 FM
Columbus
WTOH – 98.9 FM
Corry (Pa.)
WWCB – 1370 AM
Dayton
WHIO-AM – 1290 AM
Dayton
WHIO-FM – 95.7 FM
Dayton
WZLR – 95.3 FM
Dover
WJER – 1450 AM
Erie (Pa.)
WPSE-AM – 1450 AM
Erie (Pa.)
WPSE-FM – 107.1 FM
Fostoria
WFOB – 1430 AM
Geneva
WKKY – 104.7 FM
Jamestown (N.Y.)
WQFX – 103.1 FM
Lima
WWSR – 93.1 FM
Mansfield
WRGM – 1440 AM
Mansfield
WVNO-FM – 97.3 FM
Marietta
WJAW – 100.9 FM
Norman (Okla.)
KREF – 1400 AM
Sandusky
WMJK – 100.9 FM
Tulsa (Okla.)
KAKC – 1300 AM
Uhrichsville
WBTC-AM – 1540 AM
Uhrichsville
WBTC-FM – 101.9 FM
Wooster
WQKT – 104.5 FM
Youngstown
WKST – 1200 AM
How To Live Stream Browns vs Giants
Those interested in live streaming the game can access it on the following platforms:
Browns Defense May Face Backup QB Colt McCoy
The Cleveland Browns defense looked vulnerable against the mobile Lamar Jackson.
Giants' starter Daniel Jones is also mobile but not nearly as much as Jackson.
Jones' status is unclear at this point since he is dealing with two separate leg injuries to the hamstring and lower leg.
Judge hasn't decided if #Giants QB Daniel Jones will start Sunday night vs. #Browns. Dealing with couple injuries.

— Tom Withers (@twithersAP) December 16, 2020
When asked about his availability for Sunday, Jones said:
"I'm just taking it day by day and doing my best to listen to the trainers, listen to the coaches and get healthy and prepare mentally and physically to play. That's my job right now, and that's just kind of where my focus is."
If Jones is unable to go, backup Colt McCoy will get the start.
McCoy led the Giants to an upset 17-12 victory over the Seattle Seahawks on December 6.
Browns Injuries
As usual, the Browns have a mixed bag of news on the injury front.
First is the good news.
Austin Hooper and Denzel Ward returned to practice on Wednesday.
Hooper suffered a neck injury in practice last week and did not play in the Ravens game.
Ward has a strained calf that has sidelined him since the Eagles game in Week 11.
Now it's time for the bad news.
Wyatt Teller is not practicing.
His status is day-to-day with an ankle injury that is unrelated to his previous calf injury.
Teller played almost the entire Ravens game.
Hopefully, Teller's status improves as the week goes on so he is available Sunday night.