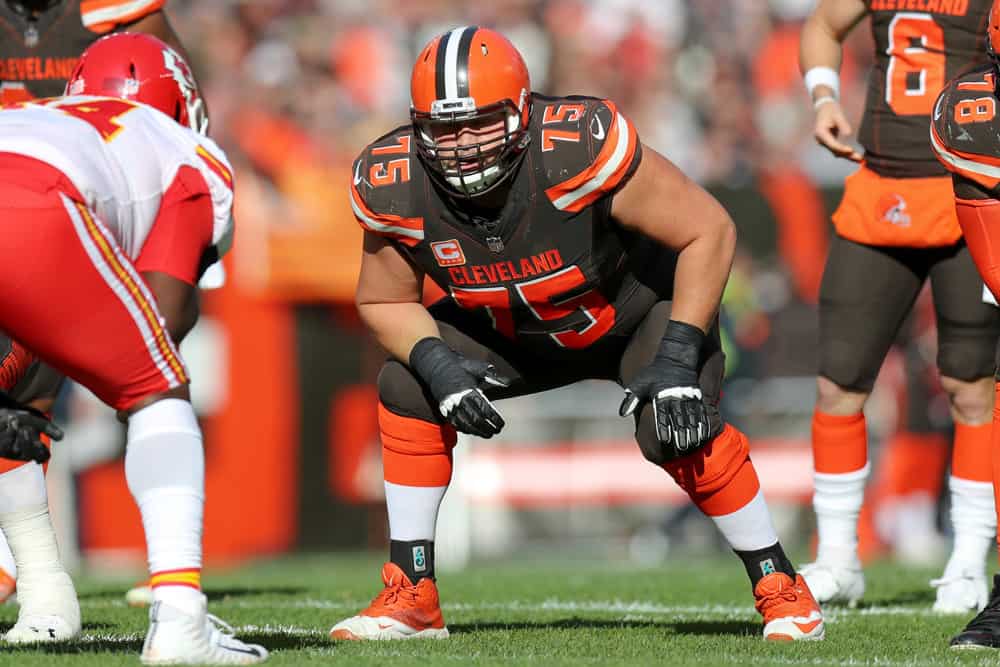 The Cleveland Browns are going to need their veterans to step up in a major way during the 2020 season.
The NFL has decided to cancel all preseason games, so there won't be any action until the regular season.
That means, it's going to be up to the coaches and veteran players to get these younger guys ready to play.
The Browns don't exactly have many veteran leaders on their team since a majority of their roster is young.
However, there is one guy that the organization should be able to lean on early in the season.
That person is two-time Pro Bowler and six-year veteran left guard Joel Bitonio.
Why Bitonio?
New Browns general manager Andrew Berry did an incredible job of bringing in talent this offseason.
The offensive line in Cleveland last season was horrendous, but he revamped it with a couple of moves.
The Browns added right tackle Jack Conklin and selected Jedrick Wills with the No. 10 overall pick.
Even after those moves, Bitonio is likely still the best guy on the Browns o-line.
Can't stop watching Joel Bitonio (LG) work his ass off to cut off this shade–such a tough block–and Greg Robinson work to get a good chunk of the WILL to get Chubb free at the second level.

Just fantastic backside OL work and why 88-yard TDs happen. pic.twitter.com/yyUZANrpqQ

— Jake Burns (@jake_burns18) September 30, 2019
The 28-year-old is one of the most underrated players on the offensive line in the NFL.
Bitonio did deal with injuries earlier in his career, but that seems to be behind him now.
He has played in three straight full 16-game seasons with Cleveland.
The Browns are lucky to have a guy like Bitonio by their side.
What Can Bitonio Offer Cleveland?
First off, Bitonio is one of the best left guards in the league right now.
He is an elite option at left guard and was basically the only bright spot on the offensive line last season.
Another great thing about Bitonio is that he can help Wills adjust to his new position.
At Alabama, Wills played almost exclusively at right tackle throughout his career.
However, the Browns signed Conklin to play right tackle, so Wills will be forced to move.
This was filled with a ton of info, including the specifics of why Cleveland drafted first-round #Bama OT Jedrick Wills and why they feel confident about him making the transition to left tackle. https://t.co/6EidoBWQwK

— Ian Rapoport (@RapSheet) May 5, 2020
The hope is that Bitonio and the coaching staff will be able to help Wills smoothly adjust to the new spot.
Switching spots on the offensive line might sound easy, but it's much more difficult than many people think.
Bitonio will be playing right alongside Wills and should be able to offer him advice and guide him.
The loss of the preseason is going to hurt, but at least the Browns have players like Bitonio.
A veteran player that plays the game the right way and is a trustworthy option all season long.
As of right now, Bitonio is going to be counted on to be the leader of the offensive line.
That seems like quite a lot to ask of one player, but he certainly is up to the challenge.