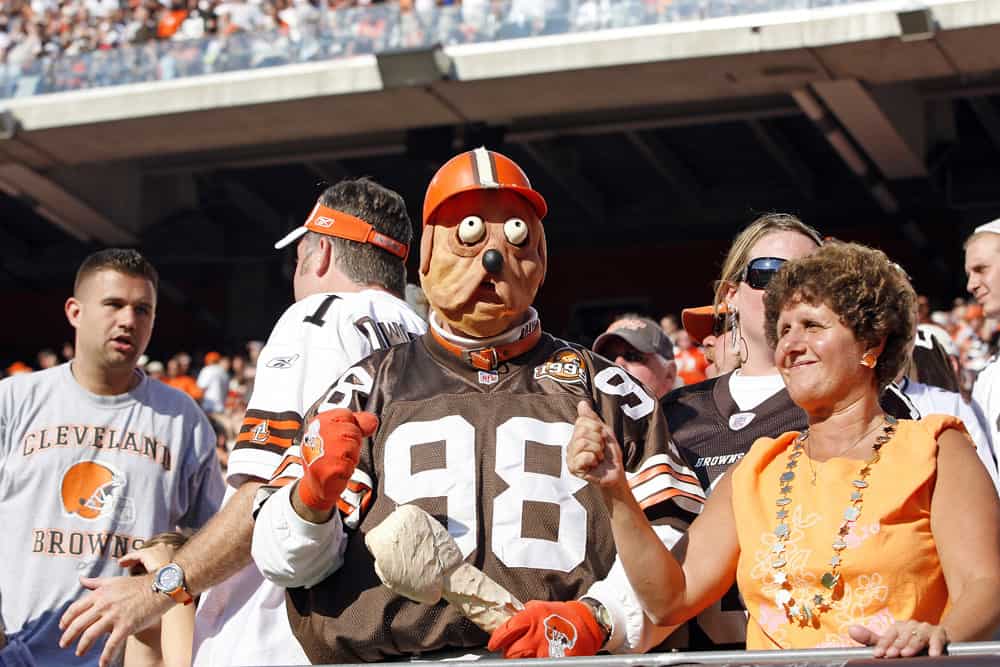 Legendary NFL head coach, John Madden, lent his name to a new electronic football game back in 1989.
Nobody could have guessed what an iconic and innovative enterprise John Madden Football would become.
Least of all, the affable-yet-frumpy, old-school Madden himself.
It survived accusations of a Madden Curse, affecting the Cleveland Browns' Peyton Hillis among others.
Peyton Hillis: From Madden Cover To Bust (Complete Story)#clevelandbrowns #browns #dawgpound #brownstwitter #believeland #brownsnation #peytonhillis https://t.co/49963sOhl3

— BrownsNation.com (@BrownsNationcom) February 25, 2021
And Madden NFL emerged as the survivor of the 1990's NFL electronic games war.
The franchise made the most of every bit of new tech over the years.
And their annual debut is one of the most anticipated events in the gaming world.
Moving from cartridge-contained to internet-connected systems lets them make adjustments in real-time.
And that is a feature they are likely to use in the year ahead when it comes to their latest innovation.
Because they vastly under-rated the impact of the Cleveland Browns' Dawg Pound.
Cleveland's Home Field Advantage Undersold 
Madden '22 introduces a "home-field advantage" to each team.
Some range from minimal momentum or time advantages to multiple factors for teams like Green Bay.
Cleveland's twist is a nod to the Dawg Pound, affecting visitors in the Red Zone.
Basically, an opposing team's "hot" receiver gets a temporary "?" bubble just before a red zone snap.
This indicates he is unsure of the play as if he couldn't hear over the Dawg Pound's barking.
AFC North #Madden22 pic.twitter.com/b55mBB2XxJ

— Madden NFL 22 (@EAMaddenNFL) July 1, 2021
If the play starts before the "?" disappears, it's a potential disadvantage for that one receiver.
That's it.
Meanwhile, every Baltimore running back gets stronger when playing from ahead in the 4th quarter.
Pittsburgh's opponents face the same "unsure of play" disadvantage on every 3rd and 4th down regardless of field position.
And Cincinnati… well, their fans have to be satisfied with a slight time advantage in a no-huddle offense.
Should Cleveland Have a Better Home Field Advantage? 
Home field has not provided many advantages for the 21st-century Browns.
Baker Mayfield's arrival heralded a new era in Cleveland history.
Since drafting their new franchise quarterback, the Browns are 15-8-1 at home.
That includes their 2020 home field performance, finishing 6-2 in the friendly confines of FirstEnergy Stadium.
But for an organization that prides itself on trend-based innovation, Madden NFL still did Cleveland wrong.
In the 20 years before Kevin Stefanski. the Browns beat the steelers 6 times.

In just 1 year with Kevin Stefanski the Browns beat the Steelers 2 times in back to back weeks. pic.twitter.com/leGa7N7DsY

— Nick Karns (@karnsies817) May 17, 2021
NFL schedulers handed the Browns a chance to improve that mark this season, too.
Cleveland could be favored in all 9 home contests this season.
The Browns also overhauled their defense, adding speed and pass coverage ability at all 3 levels.
Mayfield proved reliable in Cleveland's balanced offense, too.
As the victories mount in 2021, we suspect the Madden NFL folks will upgrade the Browns home-field advantage.