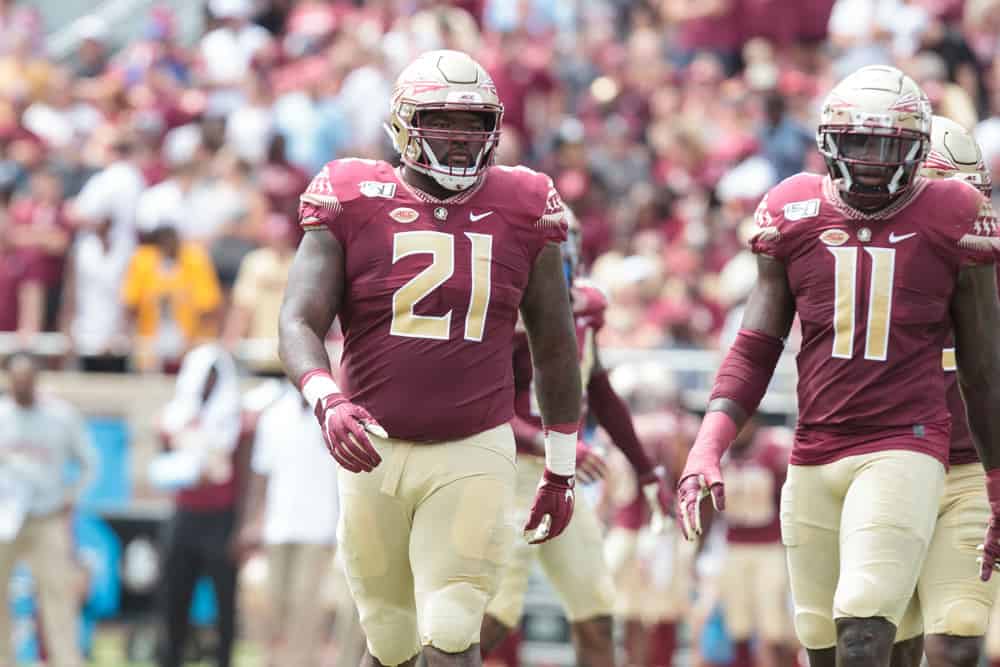 Marvin Wilson's NFL Draft Day didn't go quite as he expected.
But sometimes disappointment gives way to a tremendous opportunity.
And going undrafted offered Wilson a chance to pick where that opportunity might be best realized.
Rookie Marvin Wilson calls his arrival in Cleveland as the 'perfect situation' to begin his NFL career

📰 » https://t.co/rz9c3cLr0X pic.twitter.com/GhpLgDHKFs

— Cleveland Browns (@Browns) May 18, 2021
Wilson fielded multiple UDFA offers before accepting a guaranteed contract from the Cleveland Browns.
He enters an 8-way competition for 4-5 interior defensive linemen roster spots.
His guaranteed salary offers some security and maybe even an inside track on making the team.
But it doesn't guarantee him a prominent role in Joe Woods' defense.
The #Browns are signing former Florida State DT Marvin Wilson to a huge rookie free-agent deal that includes a $30,000 signing bonus plus $162,000 in guaranteed base salary, per source. Cleveland won a swift bidding war for Wilson, one of the top players to go undrafted.

— Tom Pelissero (@TomPelissero) May 1, 2021
Wilson knows he has to prove the Browns' offer was worth the investment right from the start.
Normally, UDFAs find it difficult to break through a group competition of veterans and draft picks.
But Jordan Elliott is the only IDL to play a down for the Browns last year, creating a wide-open competition.
How Wilson Became a Browns UDFA 
Cleveland signed several players who were adversely affected by the Covid season after solid junior years.
Wilson's 2019 season ended prematurely due to injury which likely convinced him not to enter the draft as a junior.
But Wilson didn't help matters coming into the 2020 season with some extra weight and conflict with his coaches.
He managed to block a pair of kicks and a punt on special teams.
But overall, he looked a step slower and his defensive numbers suffered in the 6 games he played.
Browns sign Florida State DT Marvin Wilson, per @TomPelissero

Season grades
🔸 '18: 90.1
🔸 '19: 90.7
🔸 '20: 67.7 pic.twitter.com/t1Z3V3vJ00

— PFF College (@PFF_College) May 1, 2021
Despite another injury, Wilson was still widely projected to be a mid-round pick in the 2021 NFL draft.
When he went undrafted, Wilson's phone started ringing immediately with UDFA offers.
Wilson did not share details of what other teams were willing to pay him.
He says he selected Cleveland because he felt they offered him the best shot at making the team.
But the Browns' assortment of free agents and draft picks will have something to say about that.
Scoping Out Wilson's Competition
Cleveland signed veteran Malik Jackson to go along with Andrew Billings returning from his Covid opt-out.
They are the presumed starters heading into training camp.
Browns GM Andrew Berry signed another veteran, Sheldon Day, early in free agency.
But he added the more-experienced Damion Square later in the process to push Jackson and Billings.
The lone incumbent, Jordan Elliott, is in the higher end of the mix as well.
Browns Signing Florida State DT Marvin Wilson https://t.co/hmXgqSKknB pic.twitter.com/RW8DdiiKLl

— NFLTradeRumors.co (@nfltrade_rumors) May 1, 2021
He played important snaps as a rookie, and while he didn't stand out, he was far from a liability.
Former Ohio State standout Tommy Togiai has the inside track on Wilson as a 2021 draft pick.
But several draft evaluators graded Wilson ahead of Togiai, although others did not.
Malik McDowell might be the only player behind Wilson in the depth chart as he attempts an injury comeback.
He enters training camp relying as much on effort and determination as his UDFA teammate.
How Wilson Climbs The Depth Chart 
Marvin Wilson wants to leave coaches dazzled by a dominant training camp performance.
There is a reason he entered 2020 as a projected early-round draft pick.
Finding the magic, as well as the strength and speed, that led to a breakout 2019 effort assures him a roster spot.
But there are other factors working in his favor, too.
Cleveland has one of the youngest teams in the league by design.
Browns UDFA Marvin Wilson: 90.7 PFF Grade in 2019

2nd among all DTs in CFB 💪 pic.twitter.com/vJ2vQjBrVG

— PFF College (@PFF_College) May 7, 2021
Andrew Berry is building a lasting playoff threat and prefers locking up young talent over long-time veterans.
Wilson will do well to keep up with Day and Square, as well as Billings and Jackson.
Keeping close and showing potential for growth might be enough to jump ahead of the veterans on the depth chart.
At the very least, he has to do enough to maintain his "potential" status.
That will make it difficult to move Wilson to the practice squad where other teams can pilfer him.
Our Training Camp Prediction 
As much as every team would like to keep the best players after camp, other factors come into play.
Cleveland's interior line competition promises to be a lively one.
But it is their defensive ends and linebackers who change the dynamic.
With exceptional edge rushers and solid additions at the second level, Cleveland can gamble on youth inside.
Along with the fear of losing players off the practice squad, this can give Wilson another advantage.
The #Browns D-Line group could wreak havoc for teams in 2021. 🧨

DE: Myles Garrett
DE: Jadeveon Clowney
DE: Takk McKinley
DE: Porter Gustin
DE: Curtis Weaver

DT: Malik Jackson
DT: Andrew Billings
DT: Jordan Elliott
DT: Tommy Togiai
DT: Marvin Wilson

The talent doesn't end. 🔥 pic.twitter.com/ipnc1yEksk

— The Hottest Take Sports Podcast (@Hottest_TakePod) June 16, 2021
Andrew Berry would love to see Marvin Wilson line up next to Tommy Togiai or Jordan Elliott for many years.
We expect Damion Square to step in if Billings or Jackson falters in training camp.
Two of those veterans will join Wilson, Togiai, and Elliott in a 5-man IDL rotation.
If Cleveland opts to use 4 interior linemen, Billings will have to emphatically beat out Wilson to keep his position.
And we won't be surprised if Wilson beats the odds to earn a start or two before the end of 2021.